British artisan cheesemakers faced ruin when lockdown hit them with a sudden slump in orders, but help was at hand
The week after Britain went into lockdown, cheesemaker Graham Kirkham started to panic.
"The phone stopped ringing and there were no orders coming in," says Kirkham, who makes Britain's only farmhouse raw-milk Lancashire.
"Our store room was full of cheese and the reality of the situation suddenly clicked. I was like, 'oh my god, how are we going to sell all this?'."
Made in Goosnargh near Preston, Kirkham's Lancashire usually sells two tonnes a week, but orders in the first week after lockdown slumped to just nine wheels. It was not alone in seeing sales drop off a cliff. Many of the UK's small-scale cheesemakers were left in the same desperate situation, with orders collapsing at a time when maturing rooms were full of cheese, much of it short shelf-life. The sudden loss of trade was largely due to the closure of the hospitality sector – a vital channel for artisan cheesemakers. However, many didn't realise just how vital until the orders stopped coming in.
"That's what caught us out," says Kirkham. "We supply our cheese to wholesalers, and then we don't know where it goes.
"We had no idea how much was going into foodservice. For many of us, it was 70% to 75% of our sales. I thought 40 years of cheesemaking was going to be ripped from under my feet."
At the time, he had 30 tonnes of cheese in his maturing room to shift and things looked bleak, but his story and those of many other struggling cheesemakers was brought to the attention of the nation in articles by prominent food writers, such as Jenny Linford, and celebrity chefs, including Jamie Oliver, who took to Instagram to implore people to "save British cheese".
"I thought 40 years of cheesemaking was going to be ripped from under my feet"
The results were remarkable, with a groundswell of support from the public, who bought boxes of cheese online direct from makers and through specialist retailers, such as Neal's Yard Dairy, Paxton & Whitfield and The Fine Cheese Co. Supermarkets also stepped in. Booths launched a campaign to support small cheesemakers, while Tesco, Waitrose and Aldi increased listings of speciality cheese.
The combined efforts meant Kirkham and the UK's other artisan cheese suppliers managed to clear their maturing rooms and avert immediate disaster.
At Lynher Dairies, owner Catherine Mead says business is back to around 80% of what it was pre-lockdown – a much better position than when the company lost 60% of sales almost overnight when restaurants closed. "We can work at this level, although it's not easy," she says.
Lynher managed to get through the crisis thanks in part to support from Waitrose, which launched a Best of British selection box containing five artisan cheeses, including the supplier's Cornish yarg. The reopening of restaurants has also helped, but Mead is still cautious about the future.
"It's so difficult to read the market at the moment because we can't compare to previous years," she says.
"That really affects us in terms of long-term planning. We're not going for every sale at the moment, so the business is more sustainable. It's about reducing our risk and exposure so that we are more agile to respond to changes."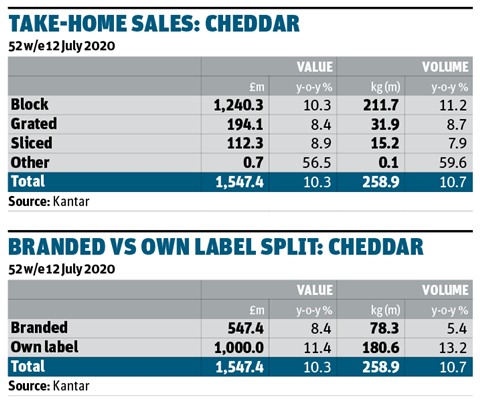 Block cheese boom
The irony for small cheesemakers is that, while they were fighting for survival, sales of cheese in the supermarkets were booming, with Brits stocking up on cheddar and other block cheeses during lockdown.
As such, value sales of cheddar through grocery increased 10.3% in the 52 weeks to 12 July to be worth nearly £1.55bn [Kantar]. Volumes are up 10.7%.
While stockpiling played its part at the start of the pandemic, the surge has been mainly driven by people eating more meals at home – a trend that has evolved as the situation has changed.
"As the novelty of our new normal has faded, the realities of having to put more meals on the table while juggling the demands of homeworking and schooling have gradually eroded much of consumers' early enthusiasm for creativity in the kitchen," says Cathedral City marketing controller Neil Stewart.
"As a consequence, many are turning to simple yet tasty favourites that offer familiarity and comfort, and that they can be sure the whole family will enjoy."
Shoppers are also looking to make the most of the food they buy and reduce wastage, he adds.
"This means better fridge management, turning to versatile staples to fulfil more meal occasions. The humble cheddar block is a mainstay of many family favourite meals: from topping a pasta bake to the basis of a quick snack with crackers."
It's not just cheddar that has benefited from these massive changes in people's lifestyles.
In the 12 weeks to 12 July, value sales of wensleydale increased 25%, Somerset brie was up 31.5% and British goat cheeses jumped 14% [Kantar]. But some British cheeses lost out as the mults took them off chiller shelves to make room for more cheddar.
That goes some way to explaining why value sales of cheshire and white stilton were down 11% and 9% respectively in the same period.
"There was strain on the supply chain and some range rationalisation to accommodate the big blocks of cheddar in supermarkets," explains Alison Taylor, marketing manager at Belton Farm in Shropshire.
"We have seen temporary delists of some crumblies, but things are starting to move back to normal and we're seeing lines go back on shelf. It's good to see consumers haven't forgotten about territorials and sales are back to where they were pre-pandemic."
Like many smaller cheesemakers, Belton made up for losses in foodservice with increased sales online and in farm shops, delis and cheesemongers.
Its territorial variants – which were made with the intention of being sold via supermarkets' premium own-label ranges – have performed well, as has its organic cheddar and Red Fox red leicester brand. The latter was helped by a regional TV campaign under the strapline 'There's more to cheese than cheddar'.
"People are trading up because they have fewer places to spend their money," says Taylor.
"They're not going out to restaurants or on holidays, so are cooking more at home and finishing that off with a beautiful cheeseboard. Once they've tried something new and like it, they'll buy it again."
It's a similar story from Rich Clothier, MD of Somerset cheddar maker Wyke Farms, which saw a drop in exports and foodservice sales but an increase in retail.
"There's been a polarisation in retail: lots of growth in the bottom and top ends," he says. "We saw a massive uplift in sales of some of our premium lines, like Ivy's Vintage Cheddar."
That brand, which was previously almost exclusively for export, will now be developed with new portion sizes and gift packs to target farm shops and the gifting sector.
Cheshire-based Joseph Heler, which makes a range of traditional British cheeses from red leicester and double gloucester to cheshire and cheddar, has seen sales double in 2020.
This is partly thanks to a new range of territorial cheeses launched in Morrisons at the start of the year, but marketing manager David Wells adds that some of its lines benefited from supply problems for cheddar during lockdown, which resulted in consumers revisiting and discovering other British cheeses.
"We'd seen red leicester continuously grow in popularity over the last few years, as consumers broaden their horizons away from cheddar," he says. "During and after lockdown we've seen consumers embrace this even more, many now adding red leicester as a weekly staple."
Less plastic and more recyclable cheese packs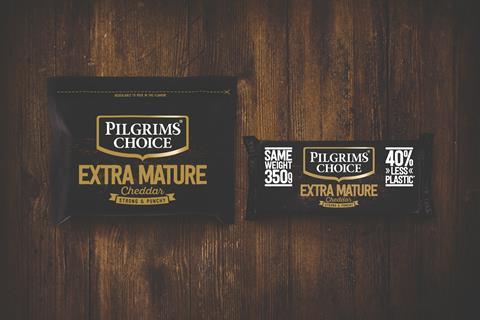 Invariably made of hard-to-recycle plastic, cheese packaging has come under scrutiny from eco-conscious consumers. In response, a number of suppliers have introduced green-minded initiatives.
Ornua Foods, for example, reduced plastic packaging on its Pilgrims Choice cheddar by 40% in September by simply changing the shape of the cheese. The new chunkier blocks are expected to reduce plastic use by 83 tonnes a year.
Tesco has adopted the same format for its own-label cheddar range, supplied by Ornua, in a move that will save a further 95 tonnes of plastic annually.
This was preceded earlier this year by Cathedral City owner Saputo's tie-up with TerraCycle. The new scheme allows shoppers to drop off flexible plastic cheese packaging from any cheese brand at locations across the UK.
Once collected, they are separated by polymer type, cleaned and extruded into plastic pellets to make items such as picnic benches.
Saputo aims to make its packaging fully recyclable by 2022.
Butlers Farmhouse Cheeses has already achieved this goal, launching fully recyclable packs in October.
The Lancashire maker of Blacksticks Blue has developed single-polymer plastic packaging that can be recycled as one unit, including the label, with no compromise on shelf life.
"Sustainable cheese packaging doesn't have to be – and absolutely shouldn't be – a goal for five years' time, or for the 2022 plastic tax levy," says packaging expert Ian Schofield, who worked with Butlers on the project.
Healthier choices
Many people have been demolishing posh cheeseboards to comfort themselves during these turbulent times. Meanwhile, others have been taking more interest in healthy eating.
That's not only because the opportunity to work off calories has often been limited, but also because of growing evidence of the link between obesity and risk of death from Covid-19.
Indeed, the World Health Organization advises that maintaining a healthy diet plays a "crucial role" in helping shake off coronavirus as quickly as possible.
While cheese and health are not always seen as natural bedfellows – at least not when it comes to weight management – suppliers are changing that perception with innovative new products that tap demand for gut health, more protein and reduced calorie options.
Take Singletons & Co in Lancashire. It's best known for making Beacon Fell Traditional Lancashire and Forest of Bowland Cheddar. In July, it launched Kefir Cheddar into Sainsbury's.
"When lockdown hit, our online sales levels and consumer base trebled almost overnight"
Kefir promotes gut health, "so we've incorporated that in cheese" by including live cultures, says Singletons head of sales Henry Openshaw. "Sainsbury's has made a real feature of it, displaying it with low-calorie and lactose-free cheeses, and it's done well."
High protein brand Eatlean also won a listing with Sainsbury's this year, while sales have increased 200% through the cheesemaker's own online shop.
"We spotted the opportunity to establish Eatlean in e-commerce early in the brand's life," says founder George Heler.
"When lockdown hit we were well prepared. Our online sales levels and consumer base trebled almost overnight and these levels have remained ever since."
This acceleration in sales of better-for-you cheese is also reflected in the non-dairy cheese alternatives market. It has had a stunningly successful year, with brand leader Violife's value sales up 50% in the 52 weeks to 12 September [IRI] as shoppers continue to equate the absence of animal-derived products with healthier eating.
Confidence in its further success was highlighted by Flora owner Upfield in January, when it completed its purchase of Violife's owner, the Greek vegan cheesemaker Arivia, in a deal said to be worth about €500m (£453m).
While it shows optimism for a brand, what happens next with British cheese overall is hard to predict. Much depends on the kinds of – possibly tighter – restrictions for retailers and shoppers brought in by the government in the run-up to the festive period.
Christmas wishes
Christmas is always an important trading period for cheesemakers but is likely to be even more critical for smaller producers this year. This is particularly true for stilton makers, which suffered significantly during the coronavirus crisis.
Sales fell by around 30% between March and May, according to the Stilton Cheesemakers Association, because of the closure of restaurants and the impact on exports, airlines and events.
A big jump in retail sales has helped partially offset some of this, says Robin Skailes, director at Nottinghamshire Stilton company Cropwell Bishop, but business is still behind where it was last year, meaning Christmas will be even more important than normal.
"Predicting what Christmas will look like is very difficult," he says. "If the rule of six is still in place that will obviously mean that families can't meet in the same way. People will be looking for smaller cuts of cheese, so we're looking very carefully at the size of wedges we cut for our mail order business."
The other issue will be how supermarkets manage the flow of customers in the crucial trading period just before Christmas.
"Food shopping for Christmas is getting later and later each year, so how the supermarkets manage things in terms of letting people into their stores and online deliveries will be key," says Skailes. "Most supermarkets massively overtrade in the week before Christmas, but that is going to be really difficult with social distancing measures."
Despite the challenges, Skailes remains upbeat about the festive period. "It really was doom and gloom back in April, but things have levelled out and it's nowhere near as bleak now," he says. "We look towards Christmas with optimism."
Host of events and initiatives support Brit cheesemakers
When crisis hit artisan cheese suppliers following the lockdown of foodservice, there came a surge of initiatives to support the industry. Here are a few highlights.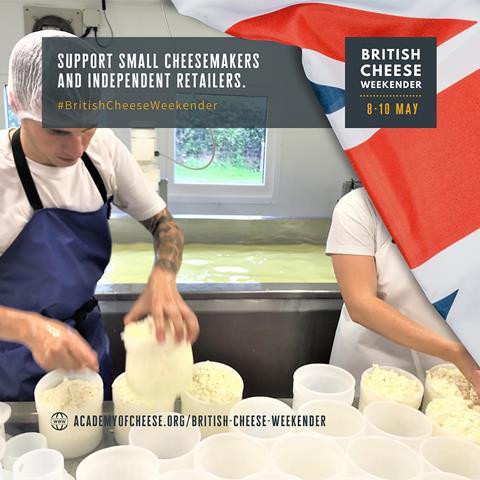 British Cheese Weekender
Co-founded by cheese writer Patrick McGuigan and Academy of Cheese director Tracey Colley, this online festival comprised more than 35 virtual events over the early May bank holiday weekend.
They included talks, tastings, panel discussions, farm tours and a cheese quiz.
About 10,000 people tuned in to the event, which was backed by the Specialist Cheesemakers Association, the Guild of Fine Food and HRH The Prince of Wales.
Save British Cheese Box
In the spring, Jamie Oliver posted videos on his Instagram account, passionately imploring his 8.3 million followers to buy Neal's Yard Dairy's Save British Cheese selection box. It featured a changing lineup from 25 British producers most at risk of collapse.
The result of the celebrity chef's efforts was spectacular, attracting thousands of online shoppers. More than 14 tonnes of cheese, much of which was in danger of going to waste, were sold because of it, ensuring the survival of many micro producers.
Booths campaign to support artisan cheese
Booths launched a push to support small cheesemakers after finding out just how badly some of its suppliers had been affected. The northern supermarket group introduced in-store measures such as ordering more cheese from small producers, funding a 33% discount on certain lines, adding artisan cheeses to its click & collect service and displaying point-of-sale information about producers. It also ran a media campaign with the hashtag #supportartisancheese.
Virtual Cheese Awards
Annual cheese awards generate huge amounts of publicity for small cheesemakers, but flagship events such as the British Cheese Awards were cancelled this year because of Covid-19. This prompted cheese industry veterans Nigel Pooley and Sarah de Wit to launch an online awards in July.
It saw more than 300 British cheeses judged remotely, before a live-streamed day of final judging watched by 3,000 people.
The Supreme Champion trophy went to a washed rind cheese called Renegade Monk, while all profits were donated to the Specialist Cheesemakers Association and the Royal Agricultural Benevolent Institution.
This article is part of The Dairymen - our annual guide to the dairy industry that's packed with insight and analysis on all the latest trends. To read the report, subscribe here.
A new sugar tax? The Dairymen drinks category report 2020
1

2

3

4

5

6

Currently reading

The cheese rescuers: The Dairymen British cheese category report 2020

7

8