Pioneering females are disproving the old-fashioned view that dairy is an industry for men. Meet the dairywomen reshaping the narrative
The name of this annual supplement says it all: The Dairymen. For centuries, the dairy industry has been male-dominated. And it still is. When speaking to women for this feature, it became clear most had experienced lack of diversity – whether in farming, manufacturing or merchandising.
For Ruth Grice, farm liaison & sustainability manager at Long Clawson Dairy, the misguided belief that women couldn't run dairy farms changed the course of her career.
She grew up on her family's dairy farm with the understanding her parents would sell it when they retired, rather than pass it down to their daughters. "There weren't really any obvious roles for women other than what was deemed to be a supporting, hidden role," Grice says.
So, after university, she spent 17 years in the charity sector – and returned to farming only after meeting women who "had the ability to shape the narrative" on what it means to be a woman in dairy.
She's now a partner in her family farm, where "each of us has our strengths", she says. "Just because I can't do X, doesn't mean I can't add value."
A similar ethos can be seen across the industry as a whole. In the past, "there were definitely segregated roles for men and women", says Diane Cox, master cheese grader at Wyke Farms. "It has certainly changed a lot, and now there's a lot more opportunity and a lot more women in the industry."
To attract even more women, the industry needs to show "how great the jobs are", insists Fran Ball, VP of UK production at Arla Foods.
She points to a decline in "traditional roles, which maybe you would say women are not attracted to because they are very physical".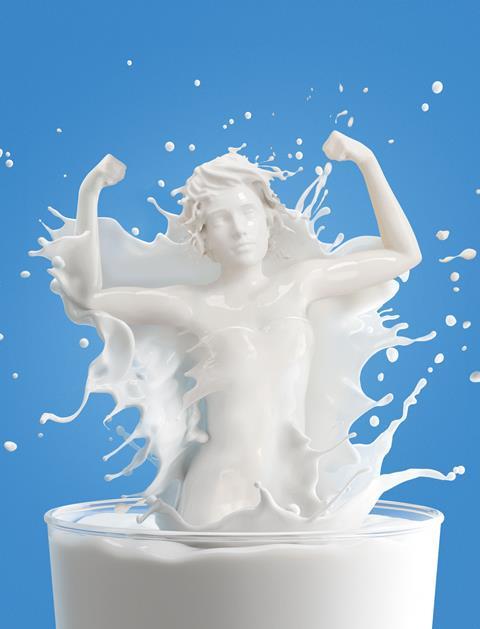 The wide range of roles on offer needs to be hammered home at school level, suggests Stacey Hedges, founder & MD of Hampshire Cheese Company. "You have got to start at early teenage years and try and get them interested in farming and make them realise that it is not just a male domain," she says.
To do this successfully, improving the visibility of women already in dairy is crucial. Grice says the lack of women on the covers of farming titles when she was younger – "it was tractors or white middle-aged men" – added to her belief that women and farming weren't compatible.
The myriad opportunities in dairy for woman need to be "highlighted more, as opposed to the lens being on what people can't do – which is very much what I feel I grew up with", she adds.
Cox believes an affirmative approach to recruitment creates a "positive cycle" for women. "If you see people in the industry, then you see the opportunities there more, so it sort of opens up things".
Ball is also a strong believer in creating positive role models for young women looking to go into dairy. For her part, she leads by example, offering the likes of flexible working for parents wanting to attend their children's events.
It's illustrative of a shift in leadership style that has been propelled by women at the top. There is now an industry-wide recognition that "workplaces that work for women tend to work for everyone", says Judith Bryans, CEO of Dairy UK.
"Today, there are many women who hold great roles in the UK dairy sector, and I see a lot of men who are strong advocates for empowering women in the workplace," she adds.
Bryans herself is one of those women who holds a great role in UK dairy. She ranks among the most powerful listed here – each instrumental in breaking the industry's glass ceiling and making a case for their gender. Here are the 10 leaders helping to turn the Dairymen into the Dairywomen.
Shelagh Hancock
CEO, First Milk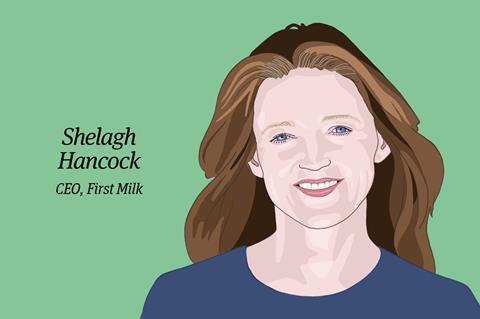 With more than 30 years' experience in food and agriculture, Hancock has earned a rightful place at the top of this list. Having originally trained as an animal nutritionist, she worked for over 10 years with agricultural supply co-operatives, before holding roles at Milk Link and Glanbia Foods.
She progressed to become MD of Medina and Arla's business unit director in milk before taking on her current role – CEO role at First Milk – in 2017. There, she leads the charge in trying to attract more women to dairy – and is "delighted when I see other women stepping into senior positions".
"The more visible successful women are in businesses, the easier it is for women to see that actually it is possible," she says (see big interview, p28).
Emilie Grundy
VP butter, spreads & oils, Saputo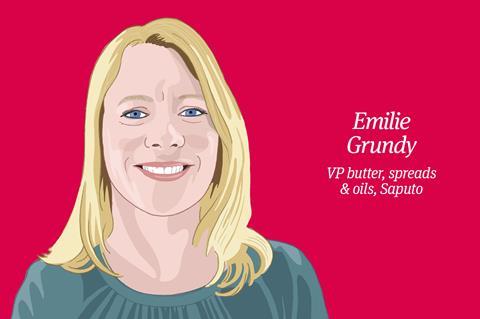 Grundy is a heavyweight at Clover and Frylight owner Saputo. There, she is responsible for sustainable oil Sourcing and improving the nutritional profile of its sizeable spreads and oils portfolio.
Her career in fmcg spans more than 13 years – and she has spent eight of these at the business. Grundy joined Dairy Crest in 2015, four years before its takeover by Saputo. Having been head of marketing for butters, spreads & oils, she was promoted last year to VP. In that role, she has "embraced the challenge and inspired colleagues across the business to support her ambitious plans", Saputo says.
Her strength lies in her "deep understanding of the supply chain", which has translated into "clear direction for the teams". She has supported projects across the supply chain, such as developing "ground-breaking" recipes to improve nutritional profiles.
Grundy has also been critical in driving the company's agenda on sustainability, diversity and equity & inclusion.
Jennifer Dyne
Head of ice cream, Unilever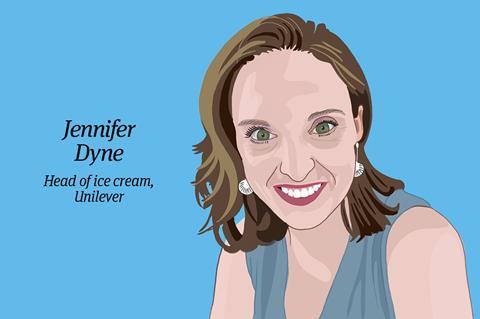 Since taking over as head of ice cream in July 2022, Dyne has been responsible for Unilever's powerhouse brands such as Magnum and Ben & Jerry's.
It's her latest role in a 13-year stint at the fmcg giant, which began as assistant brand manager for Rajah Curry Powder and Mrs Ball's Chutney in South Africa. Dyne went on to manage key brands and sectors, before moving into ice cream in 2018.
Unilever describes Dyne as an "action-driven leader who challenges the status quo". She works to encourage personal growth and is a strong believer that bringing out the best in others brings out the best in oneself, the supplier adds.
All in all, she is as an "impactful and dynamic businesswoman", who "brings a huge amount of energy and a sense of fun to her team leadership".
Dyne hasn't just shown her skills in dairy: she has led a significant transformation agenda at Unilever, supporting the business to move to a simpler and more category focused-operating model last year.
Judith Bryans
CEO, Dairy UK
Bryans – who has worked in dairy for nearly 20 years – is described by Dairy UK as a 'trailblazer within the industry'
Holding a PhD in nutrition from King's College London, Bryans took the helm of Dairy UK in 2013. At the time, Dairy UK chairman Billy Keane heralded her appointment as a demonstration of the increased importance of public health and nutrition messaging in the dairy industry.
Bryans is armed with plenty of experience, having worked in dairy for nearly 20 years. Prior to this role, she was a director at Dairy UK predecessor, The Dairy Council, for seven years.
She is described by Dairy UK as a "trailblazer within the dairy industry, both at home and abroad", whose contributions have "paved the way for future generations of women" in the sector.
As head of Dairy UK, her role involves strategic development and general management. She has brought together diverse stakeholders and members, uniting them in efforts to improve sustainability, health and the supply chain.
"As I look back, I don't know what I expected from the sector, but what I found was a vibrant progressive industry that was passionate about its products, heritage and future," says Bryans.
"I quickly became utterly fascinated with every facet of it, both at a domestic and an international level," she adds.
Adding to her list of achievements, Bryans became the first female president of the International Dairy Federation in 2016, serving a four-year term.
She is currently chair of the IDF Task Force for Women in Dairy and the Task Force on Food Systems.
Catriona Mantle
Head of milk, organic & yoghurt, Arla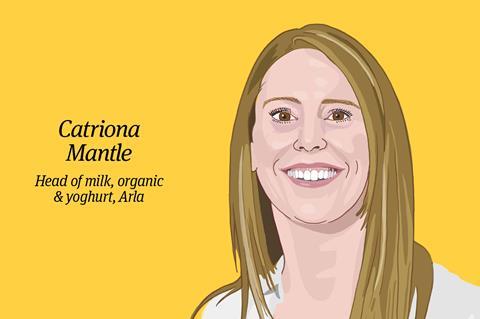 At Arla, Mantle plays a "key role in leading the growth strategy for milk", says its VP marketing, Danny Micklethwaite. It's the culmination of a varied career for Mantle, who started out at the likes of Unilever and Asda, working across marketing, category management and merchandising.
Then, in 2010, she joined Arla. Starting out in shopper marketing, she went on to become senior category & brand manager for organic before being promoted to her current role, where she manages key customers such as the major retailers.
As head of milk, her interest in organic continues to shine through – she is also marketing director for the Organic Trade Board.
She is also keen to spearhead NPD. Under her leadership, Arla BOB Semi Skimmed – which contains half the fat of standard whole milk, but promises a whole milk taste – was launched last year.
"Not only is she a strong leader, but she also works with junior talent across the business to help them become strong leaders themselves," says Micklethwaite.
Helen Priestley
Marketing & category director, Müller Milk & Ingredients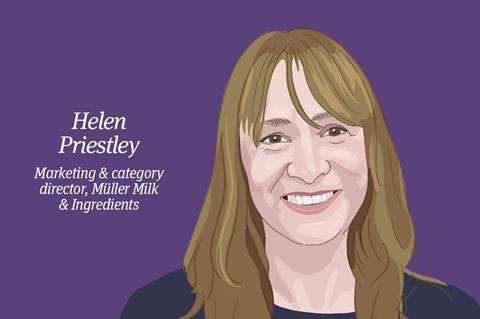 Since joining Müller Milk & Ingredients in February 2021, Priestley has been a "brilliant influence", say her colleagues.
Under her leadership, the Müller Milk brand was relaunched last year, culminating in its most successful ever 12 months – achieving 30% volume growth [NIQ 52 w/e 31 December 2022].
"Delivering these results shows the determination and strong work ethic that Helen brings to the task at hand," says Rob Hutchison, CEO of Müller.
Priestley – a former marketer for First Direct and News UK – also has responsibility for product development within the Good Stuff range. Its most recent launch was its longer-life Barista Milk variant, which is marketed as "ideal for frothing".
She is described by Hutchison as having "incredible enthusiasm and advocacy for building a better dairy future".
Sarah Smart
CEO, The Collective UK & Europe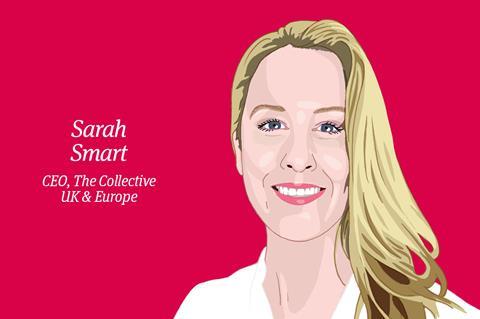 Smart has more than 22 years' experience working with challenger food brands, including over 10 at The Collective. Having started out as marketing & innovation director in her native New Zealand, she progressed to GM, and became CEO for The Collective UK & Europe in March 2020.
In that time, she has "steadied and steered the ship under a very challenging macro context", colleagues say. It's taken "nerves and careful navigation, plus great trust in her UK exec team and strategic partners, who have ultimately backed her in return".
Under her leadership, The Collective has driven category growth and increased brand awareness in the UK by 29% thus far in 2023, the Kiwi brand says.
She also drives a flexible working culture at The Collective "with a continuous focus on team dynamic and ways of working".
Smart is a champion of UK-New Zealand trade, which has secured her inclusion in global networking service Kea's list of 500 "world class New Zealanders" – an honour that secured her an invitation to King Charles's coronation.
Heloise Le Norcy-Trott
Group category & marketing director, Lactalis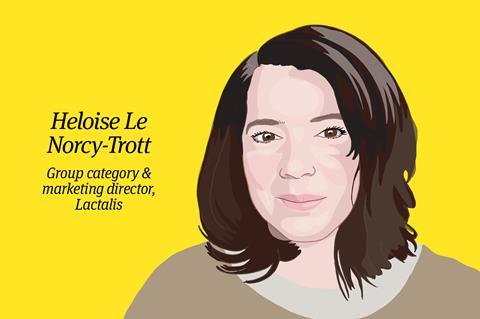 Le Norcy-Trott heads up the marketing of some of the largest dairy brands in the UK, including Président, Seriously and Leerdammer.
Having worked for the food industry on and off since 1999 – for companies including Kraft Foods and Premier Foods – she joined Lactalis in 2013.
In her 10 years leading the UK & Ireland marketing team, she has created memorable, integrated campaigns that "deliver real impact and business results" says Lactalis. One of her most significant works was 'It's Got To Be Galbani' – now in its fifth year and expected to reach 22 million consumers.
Le Norcy-Trott also launched the purpose-led Galloway Gathering initiative to help tackle food poverty and rural isolation in Scotland.
She is described as a "strong strategist and creative thinker with a passion for consumer insight". She is "that rare breed that combines intellect, creativity and superb commercial acumen", the company says.
Vivien Wong
Co-founder, Little Moons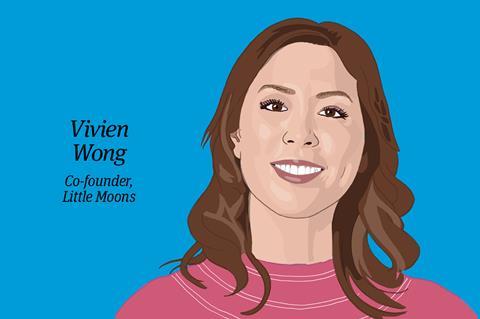 Wong launched mochi ice cream challenger Little Moons in 2010 with her brother, Howard. A decade later, the brand had its breakthrough , as viral videos helped fuel near-900% value growth in grocery.
Since then, Little Moons has been bagged a trio of Grocer Gold Awards: SME of the Year 2021, Food Brand of the Year 2022 and Exporter of the Year 2023.
Last year, the business was valued at £100m following investment from US private equity firm L Catterton. In the same year, industry titan Mike Hedges took on the role of CEO.
Under Wong's leadership, Little Moons has continued to innovate in the category. Latest to join the growing lineup were its Refreshos sorbet mochi balls, launched in January 2023.
Wong is described by Anna Draper, Little Moons head of marketing UK&I, as a leader "who balances deep empathy and kindness with a steely resilience and incredible work ethic". She creates an environment "where everyone regardless of background or seniority, is encouraged to succeed and given the tools and support to do so".
Wong has "often been the lone woman" in boardrooms and factories but continues to lead "in her own unique way" and has helped "to drive a real change in the culture and expectations around success".
Natasha Bowes
Founder & CEO, Biotiful Gut Health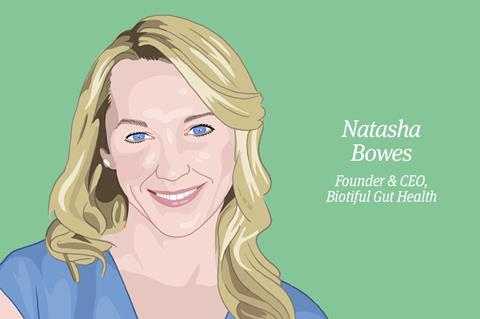 Bowes founded Biotiful Dairy in 2012 to fill a gap in the UK market for kefir – the cultured, fermented milk drink that was part of her diet as a young figure skater in her homeland of Russia.
The business, which rebranded last year as Biotiful Gut Health, claims to be the market leader for kefir-based and gut healthy dairy, attracting six million consumers. Its accounts for the year ending 31 March 2022 showed turnover of £19.5m and profit of £7.5m.
Throughout its 11 years, Biotiful has proven agile and innovative in its efforts to make kefir mainstream – growing its portfolio with the likes of yoghurt, chilled coffee and plant-based lines.
Most recently, it added a reduced sugar duo of drinks for kids, promising to support gut health and immunity, and promote strong teeth and bones.
While not every launch has landed – a foray into kefir cheese was brief – Bowes has been ceaselessly committed to growing Biotiful.
"The feedback that has been given to me by my large competitors is that Biotiful has changed the way UK retailers think about innovation in dairy," she says. "Our mission is to make gut health, predominantly via dairy, accessible to every family every day in the UK."