Dairy has come a long way since Shelagh Hancock was the only woman at the table. The First Milk CEO talks sustainability and her future vision
When attending an industry dinner about 30 years ago, Shelagh Hancock faced a startling realisation. "The speaker said, 'Good evening, lady and gentlemen'. I looked around the room of hundreds of people and I was the only woman," says the First Milk CEO.
It was a moment that brought home the lack of female representation in the industry. To her relief, things have come a long way since. "It's fantastic to see so many women across lots of different aspects in business, and at these functions, and at all sorts of different levels," she says.
For Hancock, the desire to work in the formerly male-dominated industry began at a young age. A nature lover who spent childhood summers on her uncle's farm, the County Armagh native began her career working with agricultural supply co-operatives on animal nutrition. Then, in 2001, she moved to a marketing manager role at Glanbia.
From there, she rose through the ranks at the likes of Milk Link, Arla and Medina Dairy, finally taking the top job at First Milk in 2017.
As the head of the UK's largest British farmer-owned dairy Co-op, Hancock is keen to use her power and influence to advocate for women in the industry. While she's no longer the only female at the table, figuratively speaking, there is still much work to be done on representation. She points to the manufacturing side of First Milk, which is still about 70% men.
Name: Shelagh Hancock
Job title: CEO, First Milk
Age: 56
Marital status: Married to Dave for 30 years; children Lyra, 20, and Lucas, 18
Best career decision? In the early 2000s, moving from the agricultural supply sector into dairy
Best piece of advice received? A Dr Sam Collins Aspire event told me to "be yourself"
Most embarrassing moment: My inability in my early career to stop myself going red when speaking at key events
Favourite book: Probably the Culture series by Iain M Banks
Hobbies/interests? I really enjoy being outdoors: trail running, hill walking and beekeeping, along with being an avid gardener, growing veg
On the plus side, there have been breakthroughs. The business was recently welcomed its first female engineer – "which is brilliant", she says. "We obviously want to promote more of that."
To achieve that aim, it's created a Women in Leadership course and a Women in Agriculture group. Through such moves, the company will "continue to evolve and change, which will make it more attractive for women. The more visible successful women are in businesses, the easier it is for women to see that actually it is possible," Hancock stresses.
For her, now is the time to "build on the momentum" and ensure First Milk can offer "great engagement and keep our people motivated".
Hancock's determination to build a better business goes further than gender equality. She is equally keen to stress the significance of the climate emergency. As such, sustainability is front and centre of First Milk's business operations.
Most notably, the company has positioned itself as a leader in regenerative farming, recently rebranding to First Milk – The Regenerative Co-op.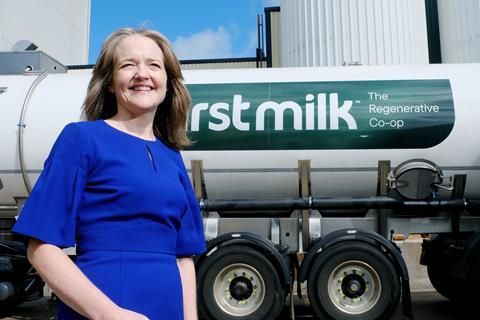 Regenerative farming
The journey started a few years ago, "with a vision statement around enriching life every day to secure the future", says Hancock, and "doing the right thing; trying to nourish future generations".
Rather than taking a one-size-fits-all approach – "every farm is different", she points out – farmers use a satellite mapping tool to enter information about which interventions are taking place in which field. These can range from carbon sequestration to encouraging biodiversity and improving water quality.
The scheme has proven a success. First Milk now has 93% of its farmers signed up to regenerative farming plans – accounting for up to 98% of its milk production.
This engagement represents a significant shift from a few years ago, when discussion around dairy's impact on climate change was "very negative" and "we were very defensive", Hancock says. The industry had its "head in the sand", she admits.
Today, it is open to solutions. "What we have done is move into a positive narrative, so we can say 'actually we need to do things that really can demonstrate how we can have a positive impact on nature and the climate'," Hancock says. "As soon as members grasped that, there was absolutely the engagement."
Still, it's hardly job done on this front. "Government needs to pull people together," she insists. That's even in the face of more immediate challenges such as the cost of living crisis. "What we can't lose sight of is we are living in a climate emergency," she stresses.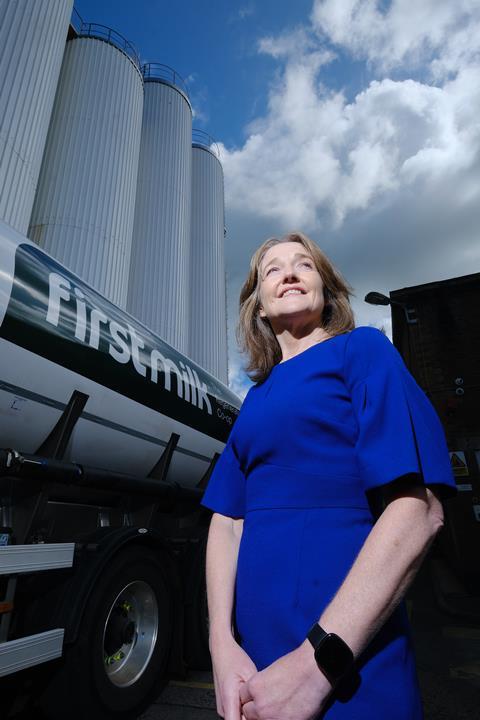 That Hancock is able to take such a bold stance is a sign of how successful First Milk's turnaround has been. In 2015, the business was in such a precarious financial position it was forced to restructure. It resulted in the loss of around 70 senior roles and a £3.3m reduction of member payments – equating to an average cut of 33p per litre of milk for over a year.
When Hancock came in as CEO, half her battle was "changing the mindset" of staff, members and customers to believe "in an optimistic future", she says. Such an achievement was "about giving people the belief and confidence that they can actually do this".
First Milk has certainly reaped the benefits of that confidence. Revenues grew 38% to £465m in the year ending 31 March 2023, while operating profit stayed stable at £5.1m. "As a co-operative, we're not focused on growing profits as such," Hancock insists. "It's about investing in the long term."
To that end, the business has ploughed £40m into improvements during her six years as CEO – most recently spending £20m on five high-capacity cheese block formers, upgraded milk intake and milk storage, and a 120-tonne automated cooling store. These have increased cheese output almost 40% to around 80,000 tonnes a year.
The improvements don't stop there. First Milk launched its first branded offer in 2022: Golden Hooves vending machines, which dispense milk and, more recently, cheese, across farm shops and independents. This "deliciously regenerative" brand is "something that will continue to grow", Hancock promises. Another ambition is to establish more partnerships such as its recent deal with Arla to produce whey protein powder.
And finally, the business wants to improve its public perception by building on its recently achieved B Corp status. As Hancock sums up, it's all about showing how dairy can be a force for good.