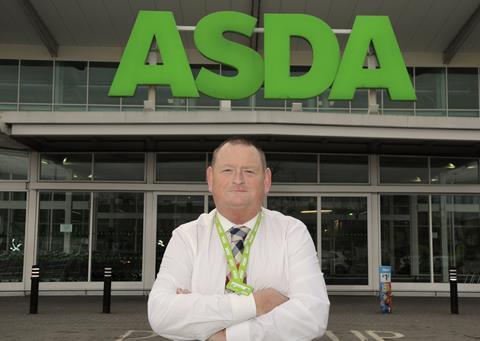 Store: Asda Eastlands
Store manager: Martin Flower
Opened: June 2002
Size: 82,210 sq ft
Market share: 21%
Population: 952,298
Grocery spend: £22,037,473
Spend by household: £56
Competitors: 174
Nearest rivals: Aldi 1.0 miles, Asda 1.3 miles, Co-op 1.5 miles, Iceland 1.0 miles, Lidl 1.4 miles, M&S 1.4 miles, Morrisons 1.3 miles, Sainsbury's 1.6 miles, Tesco 0.3 miles, Waitrose 7.3 miles
Source: CACI. For more info visit www.caci.co.uk/contact. Notes: Shopper profiling is measured using Grocery Acorn shopper segmentation. Store catchment data (market share, population, expenditure, spend by household, competition) is within a five-mile radius. For CACI's shopper segmentation of the other stores we visited this week see our service & availability report.
Tell us a bit about your career path with Asda. I've worked for Asda for 14 years, and worked for Morrisons for 20 years before that. The stores I've worked in have been pretty much around the city centre of Manchester, and I've been at Eastlands for five years now.
What's so unique about running this particular branch? It's a very challenging city centre store – we have the Manchester City Stadium over the road from us, the national cycle velodromes on the other side, and now they're building a new big arena, which is going to be the biggest arena in the UK. So that brings exciting times and extra trading when events are going on, particularly around food-to-go and all the snacks people buy going into those events.
How have customers reacted to the refugee appeal to help the Ukrainian humanitarian crisis? The company donated £1m and we've sent a couple of truckloads of stock across to the people who need it on the border between Ukraine and Poland. As a store, we've got a community room and we've been a bit of a focal point for the local community to be able to come in and donate products, which we are then passing on to the relevant charities. We've also got grants people can apply for, which go to the Asda Foundation. This can support local charities to get stuff to the frontline. It's a very sad situation but the community is coming together to help these people out.
Is the Smart Price range increasing in your branch? To combat inflation for our customers, we are introducing 75 new Smart Price lines across this store. We introduced some of those lines last week and it's on a bit of a rollout programme, but we have a good chunk of those back in now and they are selling quite well.
What changes have you had to make due to the looming HFSS legislation? Just this week we've converted the carbonated drinks and soft drinks aisle to comply with the new law. We're moving the sugary drinks further to the back of the aisle and bringing the healthier options into the middle aisle. There's a lot to do, but it is phased over the year.
We understand you have recently revamped your in-store bakery… We've had a real push on bakery around the tail end of last year and start of this year to try and improve the standards and the quality of the product. We've gone to new suppliers who are doing a much better job in terms of delivering a better brand and better-quality product, hence why the shopper saw the improved availability around bakery. We're concentrating intensely on less range and better product, and the customer reaction has been really positive.
Tell us about the new digital advertising efforts in store. It's a trial we're running at the moment – we have digital screens in the aisles and some big hanging signs with rolling screens that flick up with different adverts for product brands, such as Cadbury and Heineken. In the actual aisles, for example with Cadbury, we've got two side panels that are digital. Then on the shelf, there are also some digital displays that might show Cadbury buttons rolling across the front of the screen. And we are seeing increases across the products we've been advertising.