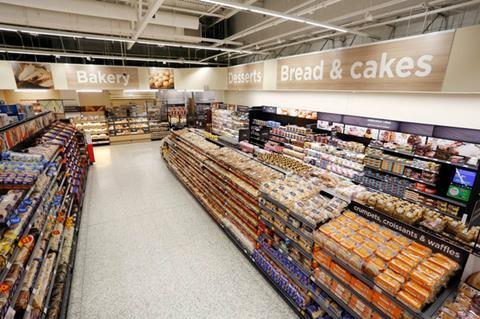 Shoppers endured long queues outside supermarkets on the Saturday afternoon of another gloriously hot bank holiday weekend. And this week's winner, Asda, was no exception: our shopper had to wait in a queue running the length of three sides of the large car park. While barriers were in place to manage the line, there were no staff and little signage in place.

"There could have been a little more information available in the car park and staff could have at least greeted customers as an acknowledgement of their long wait," our shopper said.

But the Hulme store helped Asda claim its first victory during the pandemic, with standards high in the "generally clean, tidy and well-maintained" store, apart from some packaging on the floor in one area, a few gaps in the fresh aisles and empty shelves in the rice, pasta and oil sections.

Asda had the best availability this week, with just one item (own-label piccalilli) out of stock. Staff were working hard to replenish shelves and most maintained good social distancing while also being mostly helpful and friendly.

Signage about social distancing and trolley cleaning instructions, as well as occasional announcements, were also helpful - though our shopper felt more could be done.

Second place Waitrose in Lichfield was "well stocked and tidy", but two lines were out of stock and four others were not stocked. After a long wait to get inside, our shopper found good hygiene and social distancing measures in place, with trolleys wiped down as they were returned. However, product displays at the front of store created a bottleneck of customers near the fruit & veg, and no staff were there to manage the flow.

Poor availability let the Tesco Newton Abbot store down, with six lines out of stock - including little gem lettuce, eggs, frozen peas and Warburtons bread - and another not stocked. Our shopper said the fruit & veg area felt understocked, with three staff trying to replenish, and fresh meat was running low.

The store itself was light, spacious and "remarkably calm", with wide, easy-to-navigate aisles and a one-way system clearly marked with stickers. Only one staff member went out of their way to locate a missing item, but all staff were "clearly busy and even so were friendly and helpful".

Errors on the receipt lost marks on the otherwise positive, quick checkout.

Our mystery shopper also found the car park layout unhelpful, with not enough signage, though staff did "a great job" assisting customers.

The queue outside Sainsbury's in Tadley doubled back along the side of the store, with no floor markings until close to the front. Our shopper had trouble finding a trolley and was finally handed one by another customer leaving. She was not able to find a cleaning station to wipe it down, despite signs advertising them.

Staff urged customers to use the SmartShop service to help reduce queues at checkout. The store was tidy and well-maintained, with staff restocking in some areas and availability patchy, though only two items were missing from our shopper's basket.

Poor availability dragged the Morrisons New Brighton store down. The store was "clean and nicely laid out", but with no one-way system our shopper found social distancing a strain at times. The queuing system for checkouts was confusing and led to a breakdown of social distancing as shoppers were directed to one aisle to wait.
This week's results:
| WEEK 48: Saturday 23/05/2020 (1.00pm-4.00pm) | WINNER | | | | |
| --- | --- | --- | --- | --- | --- |
| | Asda | Morrisons | Sainsbury's | Tesco | Waitrose |
| Location | Hulme | New Brighton | Tadley | Newton Abbot | Lichfield |
| Date | 23/05/2020 | 23/05/2020 | 23/05/2020 | 23/05/2020 | 23/05/2020 |
| Time slot | 1-4pm | 1-4pm | 1-4pm | 1-4pm | 1-4pm |
| Shop starts | 02:25pm | 01:10pm | 01:31pm | 01:19pm | 01:53pm |
| Visit Duration | 01:15 | 00:56 | 01:16 | 01:05 | 01:18 |
| Shop Duration | 00:52 | 00:50 | 00:49 | 00:56 | 00:50 |
| Car Park (10) | 6 | 7 | 3 | 8 | 7 |
| Signposting (up to 1) | 1 | 1 | 0 | 0 | 1 |
| Queueing time to park (up to 2) | 2 | 2 | 2 | 2 | 2 |
| Trolleys (up to 2) | 2 | 1 | 1 | 1 | 2 |
| Queueing time from parking the car to enter the store (up to 3) | 0 | 2 | 0 | 3 | 0 |
| Feedback (up to 2) | 1 | 1 | 0 | 2 | 2 |
| | There was a long queue of customers around 3 sides of the large car park with effective barriers in place to safeguard them. However, the only staff and signage in place were by the store entrance, so any new or unfamiliar customers were more or less left to figure things out for themselves. I felt that there could have been a little more information available around the car park and that staff could have at least greeted customers as an acknowledgement of their long wait to enter the store. | There was a security guard at the front of the store letting people in, car park wasn't really busy even though they share it with home and bargain, iceland. trolleys were all mixed up with other stores. | The queue was doubled back along the side of the store, there were no floor markings until you got to about 6 metres from the door, so 95% queue was not marked out. The queue was orderly, there were barriers to there was one left in the trolley port, but it was the one chained in. Was wondering around and a woman offered me hers after she had finished unloading. There were no signs before the car park, I knew 'ish' where the store was, but was specifically looking out for signs, there were none from the direction I was travelling and the car park sprung up on me. | Staff were doing a great job assisting the customers but the layout of the car park was not helpful at all. The undercover portion of the car park was closed off with bollards and the trolleys were neatly stacked underneath. However, they were not particularly visible and so staff were having to turn customers around to get a trolley. The signage for the trolleys was not well placed as it was in a corer over by the trolleys. Also, shoppers had to manoeuvre their trolleys up and down a kerb if they came in from the wrong direction. I had to wheel my trolley into the road and wait for someone to let me cross to get to my car. Then when leaving I realised the usual exit route was closed and there were no diversion arrows to follow so I guessed the way out. The usual covered trolley area was cleverly used to usher shoppers through to the entrance and was lined with plants for sale. This is probably the best use of a queue I have seen so far. It was pretty, you felt isolated from other shoppers and didn't make you feel like the queue was crazy long. | The car park was clearly signed. It was quite busy but I found a space easily. There were trolleys tied together to make barriers to organise the queue of shoppers with taped marking on the floor and signs asking people to maintain a safe distance to keep everyone safe. There were also signs to say that NHS workers should inform staff and they would be given priority. Trolleys were being wiped down as they were returned and there were plenty, neatly stacked, at the store entrance. |
| Store standards (20) | 17 | 14 | 14 | 14 | 14 |
| First impression (up to 5) | 5 | 1 | 4 | 5 | 3 |
| Feedback | Inside the foyer, there were trolley cleaning materials available for customers to use, but unfortunately, no hand sanitizer. Staff were available around the entrance area, but didn't seem to engage much with customers. There was a decent amount of helpful signage about social distancing instructions and trolley cleaning directions as well as the Sunday browing hour available for NHS workers. Occasional announcements were made in regard to maintaining social distancing, however, I felt they were too infrequent. | They had wipes for trolleys handed out as you entered the store, other than that no one way systems, so people were mixing quite a bit | Member of staff advising when to enter the store, woman on entry advising to use the scanners where possible. Couldn't see any cleaning stations, although signs outside said there were some. | Tesco staff were pleasant and helpful. The security station inside the entrance was a bit of a mess and there was a guard talking quite loudly about how "everyone is more niggly this week, not just on or two but everyone". That said, later in my shop another guard was wandering around the store and reminding people very politely that they needed to follow the arrows on the floor. | There was a product display as I entered the store which lead to a slight bottle neck situation and there were shoppers in the way as I tried to enter the veg section but this soon cleared as they moved in. No staff were inside the store to manage this. There were announcements over the tannoy reminding shoppers to stay safe with markings and stickers on the floor to indicate 2 metres. |
| Displays (up to 3) | 3 | 3 | 1 | 0 | 0 |
| Availability and replenishment (up to 5) | 3 | 3 | 3 | 3 | 4 |
| Feedback | There were reasonably attractive displays for barbecue equipment and Ramadan near the store entrance. However, there were several gaps in the fruit and veg section, as well as empty shelves in the rice, pasta and oil sections. I noticed that staff were working to replenish stock, but not in these sections. | Baking aisle was bare of all flour, some were empty but staff were replenishing fruite | The store was fairly tidy, there were staff restocking, keeping their distance when shoppers were about. There were shelves that were sparse, very little availability in the bakery. | There was no whole lettuces and several sections of Fresh F&V felt understocked but there were 3 staff filling shelves and doing their best to keep up. Bakery - Flour was nearly all gone but again there was a member of staff in the aisle restocking. Fresh meat - Didn't have empty shelves but products were not plentiful and stocked "behind" as usual, it felt low on stock but still a large variety. Ham section was a bit lean too (excuse the pun). Flowers were being replenished when I arrived. Bakery - This was low on stock but after I did my mystery shop I went back in to get my own shop and there were 2 staff filling the section. | The store overall was quite well stocked and tidy. There were cages around that were mainly being used to rescue-stock with only one or two that appeared unmanned. There were some gaps in the shelves but there were alternatives available. |
| Obstructions (up to 3) | 3 | 3 | 2 | 2 | 3 |
| Spillages (up to 2) | 2 | 2 | 2 | 2 | 2 |
| Condition of the store in terms of cleanliness (up to 2) | 1 | 2 | 2 | 2 | 2 |
| Feedback | Aside from some items of packaging on the floor, the store was generally clean, tidy and well maintained. | Quite clean, and nicely laid out, but customers in aisles both ways | It's a well maintained store, the new additions of the safety measures looked well thought out | The store felt light and spacious and remarkably calm. It was not crowded and aisles were wide and easy to navigate. The one way stickers on the floor were not used in every aisle (understandably) so people were sometimes confused as to which way to go. | The store was clean and tidy with restocking trolleys kept to the sides and not causing an obstruction. Aisles felt clear and as they were limiting customer numbers it was easy to shop safely. |
| Store layout (10) | 10 | 5 | 4 | 9 | 6 |
| Did the store layout seem logical and intuitive? (up to 2) | 2 | 1 | 2 | 1 | 2 |
| Was it easy to navigate the store while also feeling safe? (up to 6) | 6 | 2 | 2 | 6 | 4 |
| Did the store offered any Click & Collect services? (up to 2) | 2 | 2 | 0 | 2 | 0 |
| Shop Floor Service (20) | 16 | 15 | 8 | 11 | 10 |
| Product location (up to 5) | 5 | 5 | 0 | 0 | 0 |
| Staff politness/responsiveness (up to 5) | 4 | 3 | 2 | 3 | 4 |
| Feedback | When I asked a female staff member with long dark hair whether there was any piccalilli in stock, she helpfully walked to the section and scanned the label with her PDA. She then replied 'no' and told me which day it would next be in stock. When I asked a male staff member with short black hair whether there were any iceberg lettuces available, he helpfully checked in the warehouse before bringing one out for me. However, his lack of a smile or acknowledgement made me feel like I was being a nuisance. | Staff helped me find clementine's, with regards to baking things said theyd sold out. Were really polite. | I couldn't see any tinned spaghetti on the shelves, very empty - staff member said had been sold out for a while, he offered beans as an option. When I asked about the cans of coke I was after, the woman didn't know if they sold any of the small 'fun size' cans, we could only see the 250 and 330ml one available | I spoke to 3 staff about products I could not find. They were all very polite but only one of them offered to check stock for me; Jake was in F&V replenishing stock. I asked about lettuce and he told me that they were "short on lettuce today" and to be fair that was obvious because the whole section was empty so I didn't expect him to go out the back and check. Evelina was in Frozen and again she told me that peas had not been coming in. She did also offer that the space where they should be was filled with other items so they didn't have any out back either. Manda (from Lithuania, he said this was his abbreviated name) was in Dry Goods and was absolutely lovely. He tried to check the stock on Baked Beans for me but his app wasn't working. He was very apologetic and was the only one that asked me to step back from him as he moved to scan the item. All staff were clearly busy and even so were friendly and helpful. | I asked one female member of staff who was restocking some snack-a-jacks, about some fruit pastilles, she was very helpful and checked the shelf for me but explained that they didn't stock the multipack, only single packs or large bags which were currently out of stock. I also asked her about the popcorn which she also checked and told me it was not stocked. She didn't have a Waitrose uniform on, or a name badge. She was young with long, dark hair that wasn't tied up. I overheard another staff member ask if she was ok so she may have been new. I also asked about the chicken thighs and chicken burgers and the young man was also very polite and helpful. He checked his hand held device and said they didn't stock the burgers but they did have the larger pack of the chicken thighs which he fetched from the storeroom. He had a uniform on but his badge was partially covered - it ended in 'ex' so I assume his name may have been Alex. There were two female members of staff chatting near the deli counter with uniforms but no name badges visible. I asked them about the balsamic vinegar and orzo pasta and the 'temporarily unavailable' sign. They just said that it meant it was currently out of stock, but didn't check the shelf or offer to check the back. |
| Was it easy to find a member of staff (up to 3) | 2 | 3 | 2 | 3 | 3 |
| Were staff easy to identify through their uniform or name badges (up to 2) | 2 | 2 | 2 | 2 | 2 |
| Staff presentation (up to 5) | 3 | 2 | 2 | 3 | 1 |
| Feedback | N/A | Staff were working quite closely together | N/A | N/A | All the staff I approached maintained a safe distance and staff waited for me to pass to continue restocking. |
| Tills and checkouts (20) | 16 | 13 | 19 | 16 | 19 |
| How well managed were the queues leading up to the till-operated checkouts in terms of maintaining order and social distancing? (up to 2) | 1 | 0 | 2 | 2 | 2 |
| How well managed were the queues leading up to the self-service checkouts in terms of maintaining order and social distancing? (Please observe after you've completed your shop, and include observations around attentiveness to customers requiring help due to flashing lights/unattended items in bagging area) (up to 2) | 2 | 1 | 2 | 2 | 2 |
| How long did it take to queue (prior to scanning) (up to 4) | 2 | 4 | 4 | 4 | 4 |
| Please rate checkout staff on their customer service and safety (up to 7) | 6 | 3 | 6 | 5 | 6 |
| Time for G33 items to be scanned (including payment) (up to 3) | 3 | 3 | 3 | 3 | 3 |
| Was the till receipt free of mistakes? (up to 2) | 2 | 2 | 2 | 0 | 2 |
| Feedback - please provide any further details/feedback on the tills and checkout: | By the checkouts, there was floor marking present to indicate where customers should queue. However, no staff assisted me with the queueing process. The cashier was friendly and helpful. He greeted me with eye contact and scanned my items in good time. He also asked me whether I needed any bags. He then asked for payment before thanking me for my custom and handing me a receipt. Finally, he offered me a friendly farewell. | Staff were directing you to queue but it meant you had to walk pasted people and queue in one lane, was really confusing, as i went to till to then be told to get in line, and then told to go to same till i previously was at | Jo, on the till, was Very friendly, chatting whilst scanning the shop, I asked a question about one of the services, she gave me an answer then called to a colleague to check she had the correct information, which she did | I did not write down the name of the young lady who served me and I am sorry for that. She was really friendly and respectful of speed of scanning items.The till receipt was not correct for the following items: Wiltshire Sliced Ham (125g) shelf price £3, receipt price £2. Free range organic eggs (x 12 mixed size) shelf price £1.80, receipt price £3.50. Semi skimmed milk (2 ltre) shelf price £1.10, receipt price £1.09 There were NO queues at either self service or manned tills and this was such a benefit. The area was clean and calm. | As I approached the tills there were members of staff around who were managing customers. There was only one other person waiting and I as I approached a team member asking if I wanted to pay and immediately asked me to come to her till, I asked if he other lady was 1st but apparently she was about to be served. Ella was friendly and efficient but not particularly chatty. She asked if I was ok for bags and scanned the items quickly and carefully. I asked about the complimentary hot drink that Waitrose usually offer but she explained that it was currently unavailable. She said thank you and good bye as I left. |
| Availability score (20) | 18 | 9 | 17 | 7 | 12 |
| Of the 33 items on your shopping list how many were: | | | | | |
| Available (up to 20) | 32 | 27 | 31 | 26 | 27 |
| Out of stock (-2 per item) | 1 | 5 | 1 | 6 | 2 |
| Not stocked (-1 per item) | 0 | 1 | 1 | 1 | 4 |
| Availability % | 97.0 | 84.4 | 96.9 | 81.3 | 93.1 |
| Please note down the items on your shopping list that were out of stock (please highlight the products that have managed to get a satisfactory substitutions) | Asda piccalilli 295g (substituted for Asda mustard piccalilli 290g). | Flour, descicated coconut, biocarbonate of soda was out of stock, whole baking aisle was bare, pistachios out, mccoys crisps classic out but got walkers instead | Tinned spaghetti in tomato sauce | Little Gem Lettuce - substituted for a bag of lettuce. Free Range eggs x 15 mixed - substituted for 12 x organic eggs. Birds Eye peas 1.3kg - substituted for Birds Eye Petit Pois. Warburtons medium sliced white - Substituted for Warburtons Toastie. Tesco Hot Cross Buns x 4 - substituted for a packet of 6. Tesco crepes - Substituted for Pitch brioche | 567g chicken fillets were OOS but I purchased the 1kg pack. Orzo pasta OOS - no alternative. |
| Please note down the items on your shopping list that were not stocked (please highlight the products that have managed to get a satisfactory substitutions) | N/A | Blackbeans sea isle got organic blackbeans | 12 mini cans of coke | Branston Baked Beans x 6 pack - substituted for 3 cans | Multi pack fruit pastilles, Heck chicken italia burgers, Farringtons balsamic vinegar, Butterkist sweet cinema popcorn. No substitutes purchased. |
| Please give any other details or info about your shopping trip, good or bad | There store entrance area was slightly littered. | Quite quiet so shop was completed quickly, queing to pay was confusing as only down one aisle which resulted in people not really socially distancing. Staff were very helpful | Staff and shoppers were very calm and quiet, no floor markings but people were still observing distancing etiquette. Did see some groups of staff chatting, there were 2 people chatting to another whilst he was restocking. Caused an obstruction In the freezer aisle, which she was aware of because had to move all the way down before coming back to finish conversation | There were pro's and con's of shopping during this time and mostly I dread the thought of doing my weekly shop, however, the biggest compliment I can pay Tesco Newton Abbot is that after I finished my mystery shop I decided to go straight back in and do my weekly shop. This was not at all my intention but I actually found the experience as near to "normal" as it used to be. With regards to 'Display' I suspect that my idea of what I need may be different to other shoppers as I try to steer away from sugary drinks, alcohol and high sugar foods and these are mostly what I saw in the promotions. My checkout lady offered me a small plastic bag for my fresh chicken and that was a first for me and very much welcomed. All in all, the shop was fast, I got everything I needed to (or a happy substitute) and it was a pleasant experience. | The shopping trip was good. It's a pleasant store and staff were polite and helpful. It was well organised with staff cleaning trolleys down after use. The queue to enter was longer than I expected and I wish I'd brought my NHS ID to take advantage of the speedy service available. |
| TOTAL SCORE (100) | 83 | 63 | 65 | 65 | 68 |