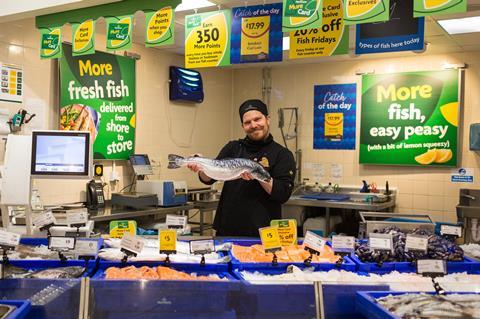 The first full basket for weeks in the Grocer 33 helped the Morrisons Peckham store to victory, with 74 points overall.
Availability at all the supermarkets has tracked well below historic levels in the past year and Morrisons has been no exception, averaging 91%, so this full basket – its second of the year and only the sixth achieved across all the retailers in the first 47 weeks of the competition – was more good news. The shop also featured full marks for shop floor service as "helpful, attentive" and easy to find staff, in a clean, tidy, well-lit and well-stocked store.
The only letdown was the checkout. Our shopper had to wait 10 minutes, as there were only two staffed checkouts open. "People were having to queue down the aisles with their trolleys," said our shopper.
Asda Wallsend scored 71 points. Store standards were excellent, as was shop floor service, with our shopper able to find a member of staff straight away, who suggested an alternative to the Kettle crisps.
But availability let the store down, with the matches out of stock and eight items not stocked including the baby peppers, Bacofoil roasting foil and aforementioned Kettle crisps.
The checkout experience also impressed, despite a two-to-three-minute wait.
Waitrose Lutterworth came third with 70 points. Service was good, and "smart" staff directed our shopper to the location and checked shelf labels for missing products (but only checked the store system at customer services).
The mixed salad was out of stock and the napkins and bagels were not stocked.
Our shopper was surprised to see so many items reduced early in the day. Four reductions were appreciated, but for a couple of items there was no choice, with only one pack of rainbow salad available, reduced and with that day's date. The salad had "definitely seen better days".
Our shopper only had to wait two or three minutes for a checkout, though, and the cashier was friendly – though they did not ask for a store card or offer a free Waitrose coffee.
Signage was mostly helpful, but cooked meat and poultry items had been swapped to different fridges.
Tesco Banbridge scored 67 points, with the store tidy and displays full, The layout was excellent, with great signage, and staff were helpful: the checkout assistant was "lovely, very chatty and welcoming" and offered to pack our shopper's bags.
Staff on the shop floor were also very helpful, offering alternatives to missing products.
Availability was low, however, with four items out of stock and two not stocked.
Last place went to Sainsbury's Garthdee, Aberdeen, with 56 points. It "did not feel like a happy, well-looked after store".
Our shopper did not find the layout "particularly intuitive" and the store did not have the usual "flow" of aisles, featuring three corners and a long back aisle.
Staff were difficult to find. After nine minutes trying to find someone to locate the Pimm's, a store assistant was eventually found, and was "smiley and friendly". They directed our shopper to the napkins but did not offer to take her.
There were three manned tills open with short queues, so our shopper only had to wait for a couple of minutes. The checkout assistant looked "miserable" and barely spoke, but did take very good care of the produce while scanning.
Two items were out of stock and two were not stocked.