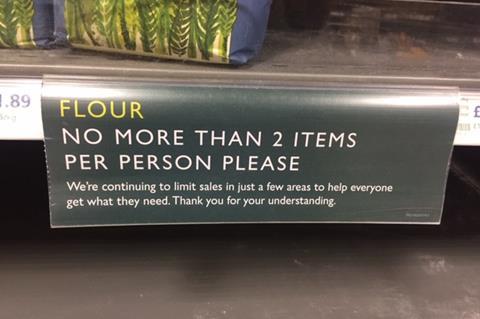 Availability has been getting better with each passing week, but on this Saturday morning shop it sank, and our mystery shoppers also expressed unease about a lack of social distancing by customers and staff during the sixth week of lockdown.

The winning Waitrose shop in Bracknell was an exception on both counts. It fared best on availability, though the pasta, frozen butternut squash and frozen garlic bread were missing from our shopper's basket.

And our shopper appreciated being handed a sanitised trolley by a member of the Waitrose social distancing team once she reached the front of the queue. She also found the store "calm and tidy", with plenty of stickers and signs reminding customers of social distancing rules. Staff wore face masks and were busy replenishing shelves, but restocking trolleys blocked some aisles.

"This Waitrose store is maintaining the current safety measures well," our shopper said. "It seemed well managed and clean throughout. I would happily do my weekly shop here."

Sainsbury's in Liverpool scored the highest marks for shop floor service, checkout and layout, but was let down by poor availability, with six items out of stock and two not stocked, and our shopper noted large gaps on a number of shelves, with handwash, soup, beans, sauces and some fresh lines hard to come by. However, she was very impressed by friendly and polite staff working tirelessly to restock shelves. All staff practised good social distancing when helping our shopper track down products and the checkout experience was quick and efficient.

Morrisons in Banbury had plenty of special bulk-buy products throughout the store, from super-sized bags of flour to teabags and bottled water, as well as prepared fruit & veg boxes for £5. However, our shopper felt the store was messy, and was also uncomfortable with a lack of respect for social distancing, with not enough markers in the store, staff not marshalling customers and employees getting too close to shoppers.

"I was surprised that so few members of staff were wearing gloves and masks," she added.

Our shopper in Durham took almost two hours to complete her shop at Tesco, with a long queue outside the store and a one-way system slowing down movement inside. There were regular announcements to remind shoppers about social distancing, but "not all staff members seemed to be adhering to the measures". Our shopper added staff were not wearing gloves or face masks.

A number of shelves were empty, with six products not stocked and canned food, home baking and fruit & veg sections all affected. "I would not visit any supermarket currently during peak times and would avoid this store due to the one-way system," our shopper said.

The Asda Bodmin shop was "shocking", with little effort to control customers or make them feel welcome or safe. There was no partitioning of incoming and outgoing shoppers at the entrance, no distancing markers on the floor, and staff as well as shoppers regularly got too close to one another, while the staff member on the PA system came across as "threatening rather than reassuring".

Checkout was also "a nightmare", with a handwritten notice forcing all customers with trolleys to queue in the final aisle of the store, resulting in a 30-minute wait. "People grew impatient, social distancing was not maintained and there was no one to manage it," our shopper said.
This week's results:
WEEK 45: Saturday 02/05/2020 10am-1.00pm
WINNER
Asda
Morrisons
Sainsbury's
Tesco
Waitrose
Location
Bodmin
Banbury
Liverpool
Durham
Bracknell
Date
24/04/2020
25/04/2020
26/04/2020
27/04/2020
28/04/2020
Time slot
4-7pm
4-7pm
4-7pm
4-7pm
4-7pm
Shop starts
01:12
10:00
10:05
10:58
10:47
Visit Duration
01:25
01:10
01:24
01:50
01:02
Shop Duration
01:20
00:59
01:12
01:14
00:31
Car Park (10)
9
8
8
7
9
Signposting (up to 1)
1
1
1
1
1
Queueing time to park (up to 2)
2
2
2
2
2
Trolleys (up to 2)
2
1
2
2
2
Queueing time from parking the car to enter the store (up to 3)
3
3
2
0
2
Feedback (up to 2)
1
1
1
2
2
There were no queues at the front of the store. There was a man with a walkie talkie who pointed me in the direction of the antibacterial spray, but I wouldn't say there was much effort to make you feel welcome or to help with social distancing. For example, customers going out of the store were not sectioned off from customers going in
Trolley bays were overflowing into the car park. There were 2 entrances to the store which have been separated by garden items to allow an entrance and an exit. There was a small queue which kept moving - managed by a member of staff and there were 2m distance markings on the floor in the queue to enter the store
When I left my car and went to get a trolley it was unclear whether the trolleys near the front of the store had been sanitized or not before taking one and there was not a staff member in sight to ask. Someone managing the queue did appear after a few minutes, by which time I had taken a trolley anyway and joined the back of the queue to get in. The queue seemed to move along quite quickly and it wasn't too long before I was close to the front of the store. Up to this point there had been no markings on the floor showing people where to stand. Most people seemed to be keeping two metres from each other but I did have to turn around and glare at the man behind me a few times as I felt he was getting a bit close! At the front of the store there were a few floor markings, which would have been helpful further down the line as well. Social distancing notices saying 'stop the spread' were visible in the windows of the store and on the lamposts outside. After an eight minute wait I was called in by a man in a hi-vis jacket and allowed to enter the store. There were no entry/exit barriers in place.
There were three members of staff managing the very long queue that were clearly wearing high vis jackets. Trolleys were passed by another staff member before entering the store. There was no signage to indicate where the queue should start but even though it's a very large store and car park, it was easy to identify the queue since it was so long. The car park staff were friendly and grouped together so doing very little other than indicating where the queue started.
The car park was very well signposted from the main road roundabout. There were plenty of car parking spaces for the size of the store. On arrival a staff member was collecting the few trolleys which had been returned to the trolley bay (customers were supposed to take them back to the entrance for staff to disinfect after use) to be disinfected. The staff member was appropriately dressed in high-vis and wearing PPE in the form of gloves. Customers queued respectfully around the perimeter of the car park, adhering to the 2m social distancing rule. There were some stickers on the floor immediately outside the store which I presume to have been 2m apart. At the entrance to the store there were 4 members of staff. One young guy was disinfecting the trolleys before stacking them in a trolley bay, whilst a young girl distributed them to customers when it was their turn to enter the store. A third girl was standing in the actual doorway and shouting to her colleagues when it was safe to let another customer enter. I do not know what the role of the fourth staff member was - he seemed surplus to requirements - but I did enjoy their rather loud conversation about how he had "had to cut short his time travelling the world by three months because of Coronavirus, but was somewhat relieved as he had already overspent his budget".
Store standards (20)
7
11
13
11
14
First impression (up to 5)
1
1
2
3
3
Feedback
There were no queues to enter, but I would not say it was particularly calm and well ordered. The gentleman at the entrance was leaning against a crash barrier with a walkie-talkie, rather than proactively welcoming me and explaining how to proceed in terms of the one-way system inside etc., and the safety measures were not obvious (I had to ask). In the lobby outside the store, there was a display of garden plants, with lots of garden gnomes, as well as BBQ items. There were no controls or barriers in place to make sure people going in and out didn't get too close. Inside, there were randomly placed arrows to indicate a one-way system, but no signs on the floor to maintain social distances. The notices inside were hand written and not helpful. In fact the notice, and the system, resulted in a further lessening of social distancing, and added to the queues. Finally, a woman came on the tannoy to warn customers about social distancing but she struck entirely the wrong tone, coming across as just bossy rather than reassuring.
Once I had entered the store all social distancing seemed to have disappeared - the were sanitisers and tissues on entering but no staff in the vicinity and no semblance of order as to how to proceed around the store. No directional markings or one way system.
As I entered the store the first thing that struck me was how quiet it was. There seemed to be very few people around and there was no noise of any kind. I asked the man who let me in if the trolleys had been sanitized and he said 'yes.' I had a lot of space and headed straight towards the fruit section which was just in front of me, completely missing the hand sanitizer section which was half way between the entry and exit doors to the right of me as I was looking straight ahead when I entered. I noticed it on the way out instead.
I didn't notice any wipes or hand sanitiser on entry. There were lots of staff members within the store that were again grouped together and simply directing customers where to go, following the one way system. There were regular announcements around social distancing although not all staff members seemed to be adhering to the measures.
The store seemed calm and tidy, however, apart from the trolleys being disinfected, i did not witness any further sanitising safety measures. The whole of the store floor had been taped off to indicate 2m distances, and there were big reminder stickers on the floor
Displays (up to 3)
1
3
1
1
1
Display feedback
Apart from the BBQ/gardening stuff/garden gnomes… no!
There were veg boxes for £5.00 which has a selection of cooking veg and salad veg - I did think it was a bit pricey for the contents that were on offer and would have been cheaper to select the same veg individually. On entering the store there were various goods in larger sizes such as t-bags and stacks of bottled water. The further into the store I went there just appeared to be stacks of various items randomly placed in the store usually on an offer. There was no usual size packs of flour - but there were some super sized bags of bread flour for £9.00
I did not see any in-store displays, there were no noticeable efforts to provide bigger pack sizes, grab and go food parcels or provide particular products to help in these challenging times. There was a sign up by the Yorkshire puddings asking people to only buy them if they really needed them as they were running out of them quickly.
I didn't notice any end aisles that were particularly relevant to the current situation although there was a bulk buys section. This was located within the homewares / toys / entertainment area (see pic) and seemed hidden away rather than being marketed directly to customers.
The majority of the aisles just contained the usual in-store displays, however in the household and cleaning aisle, the end display did contain a lot of "anti-bacterial" style products, presumably for this challenging time. I thought it was particularly helpful of Waitrose to have signs on their shelves promoting the fact that the "rationing" of certain items was no longer in force. (And the fact that flour products were limited to 2 items per customer - see attached photo - to prevent embarrassment at the till). Unfortunately one end of display aisle had a whole shelf of boxes of Hop House beers with a promotional sign underneath stating £10. I checked my receipt before I left the store and found I had been charged £12.50. On return to the aisle it appeared that the promotional sign was for a different brand of beer (of which there were none and no space on the shelf for), so a little misleading.
Availability and replenishment (up to 5)
1
2
4
2
4
Feedback
Some parts of the store were well-stocked, particularly fresh produce, bakery and meat, but there were a number of gaps in the ambient shelves, including crisps, wine, soft drinks, a gondola end, tomatoes, baked beans, cheese, jams and flour. And even though there were quite a lot of staff, no-one outside fresh seemed to be making any effort to replenish shelves. In fact, i saw an awful lot of staff talking to each other - while making no efforts to maintain social distancing from one another or customers.
None of the aisles were really stripped bare apart from the baking aisle. There was low stock in the fresh veg and alcohol (beer) aisle. Very few staff around filling shelves - but the store was messy - a trolley jack still sat under a pallet of prosecco - stacks of empty boxes at the end of an aisle. When approaching the staff for assistance they seemed unaware to social distance - I noticed one staff member on the self checkout assisting a customer but physically leaning in front of him to access the till - the whole scenario looked uncomfortable for the customer.
There were no particularly messy sections but a number of shelves had large gaps on them, particularly on the aisles containing handwash, soup, beans and sauces. I wouldn't say the shelves were stripped bare anywhere but there was definitely a reduced choice of those items. I was disappointed that I couldn't get the ketchup I wanted as it has been hard to find elsewhere too and I thought that doing my shopping in the morning would have given me a better chance of finding it. Likewise, there were no large boxes of strawberries available either. The staff appeared to be working very hard however. There was a lot of replenishing going on down a lot of the aisles and I noticed this frequently throughout my shop.
There were several areas that seemed stripped of items but I imagined the stock simply wasn't available. given the number of staff in store, there didn't seem to be a great deal of restocking, rather staff on hand in case customers needed assistance. I noticed that the canned foods, flour and melons in the fruit and veg section were bare (see pics) with empty boxes and messy packaging discarded but the remaining areas of the store were very well stocked and generally tidy.
Almost every aisle had staff replenishing shelves! Staff seemed to be adhering well to the safe social distancing, and many of the staff members wore face masks. Unfortunately I have docked a point because the "cages" were always right in the middle of the aisle which made it very difficult to manoeuvre round them safely. The dried pasta and flour shelves were particularly bare with nobody restocking them at the time I was in the store, but veg and meat all very well stocked.
Obstructions (up to 3)
2
2
2
2
2
Spillages (up to 2)
2
2
2
2
2
Condition of the store in terms of cleanliness (up to 2)
0
1
2
1
2
Store layout (10)
4
3
10
9
6
Did the store layout seem logical and intuitive? (up to 2)
0
1
2
2
1
Was it easy to navigate the store while also feeling safe? (up to 6)
2
2
6
6
4
Were there any click & collect services available at the store and were they operating effectively? (up to 2)
2
0
2
1
1
Shop Floor Service (20)
5
13
16
10
15
Product location (up to 5)
3
3
3
0
5
Staff politness/responsiveness (up to 5)
2
4
5
3
4
Feedback
When I did engage with staff they were pleasant enough, but even though there were plenty around, they were hard to find when you needed them.
There was a shortage of staff to approach - the ones I did speak to would point me in the right direction - however one told me to go to the checkouts and ask someone there because he didn't know where to look. There seemed to be a consistent message of what you can see is what we have. none of the staff were rude just seemed uninterested and again they didn't respect the social distancing when talking to me
I spoke to three staff members during my shop and was really impressed by them. Despite the fact that they ere obviously very busy, working flat out to get products on the shelves each one of them was very friendly and polite and made me feel like that were genuinely interested in helping me. I was given a clear idea of where to find the products I was looking for and was happy to go and find them myself, as under the circumstances I wouldn't have expected them to take me there.
I asked the chap in the fruit and veg section with the restocking trolley about the empty melon sections and he simply stated that if it's not there, they don't have any (we were one aisle over from the melons at the time). I also asked for the mini savoury eggs and tinned sweetcorn location and was kindly advised by both members of staff where to find them with the aisle numbers which were correct.
I could not find the frozen garlic bread despite walking up and down the frozen aisles twice. There was a young male staff member (no badge, or not that I could see anyway) replenishing the frozen stock so I asked him if he could tell me where it was. He also walked up and down the aisle looking for me, but to no avail. He said that the store definitely stock and asked me to wait while he checked with his colleague (replenishing stock a little further down the same aisle). Unfortunately his colleague was unable to find it either (or even a space in the freezer where it should have been). Both staff members were very polite and helpful, and apologetic that they hadn't been able to find it for me. The original staff member kindly advised that there would be some fresh garlic bread in the chiller aisle, although he did not offer to escort me there.
Was it easy to find a member of staff (up to 3)
0
1
3
2
0
Were staff easy to identify through their uniform or name badges (up to 2)
0
2
2
2
2
Staff presentation (up to 5)
0
2
1
2
2
Feedback
Staff did not maintain a safe social distance. I had to stand back on at least one occasion, and I also noticed staff standing next to one another conversing, and in the case of the self-checkout, obstructing the way
As above - the social distancing did not seem well respected in the store. I was surprised that so few members of staff were wearing gloves and masks
I did not see any staff wearing masks or gloves. All staff maintained a safe social distance when conversing with me, and were able to help me without coming too close.
No staff members were wearing gloves or face masks. I also noticed that some staff were not maintaining a safe social distance when talking to each other. There were lots of staff simply standing around in the centre aisles in the main areas (around fresh meat) but very few if any in other areas such a frozen, drinks, snacks, household and confectionary.
The staff all looked smart in their full uniform, however I did notice that several were either not wearing a name badge, or it was hidden from view.
Tills and checkouts (20)
9
17
19
17
18
How well managed were the queues leading up to the till-operated checkouts in terms of maintaining order and social distancing? (up to 2)
0
0
2
1
2
How well managed were the queues leading up to the self-service checkouts in terms of maintaining order and social distancing? (Please observe after you've completed your shop, and include observations around attentiveness to customers requiring help due to flashing lights/unattended items in bagging area) (up to 2)
0
2
2
1
2
How long did it take to queue (prior to scanning) (up to 4)
0
4
4
4
4
Please rate checkout staff on their customer service and safety (up to 7)
5
6
6
6
5
Time for G33 items to be scanned (including payment) (up to 3)
2
3
3
3
3
Was the till receipt free of mistakes? (up to 2)
2
2
2
2
2
Feedback - please provide any further details/feedback on the tills and checkout:
The checkout queue experience was a nightmare. The checkout operator was perfectly present, but the system was entirely flawed, with all customers with trolleys required to queue down the final aisle. If you tried to approach a checkout via another aisle you were sent to the back of this queue. The result was not only a 30 minute queue, and if you only wanted to shop for items in that aisle but were self-scanning, you had to squeeze past the queue. Also, people grew impatient and social distancing was not maintained and there was no-one to manage it.
The queue process to pay was atrocious - no signage or explanation - I was shouted at by a staff member with a radio in her hand to see if I was ready to pay - I said yes and she told me to walk to the end of the store and see her colleague - I started to walk but had no idea who I needed to see - turned out to be a man not in uniform with a radio ( no uniform or name badge) who then told ne to turn round and go back to the till… I found them both to be abrupt and it was unpleasant to be shouted instructions - I noticed that the customers behind me endured the same treatment - there must be a better way to manage queuing for the tills. Once at the till the cashier was fabulous - wearing gloves and a mask - very chatty and helpful. I did question with her why there wasn't a one way system around the store or prevent people getting into close contact and she said that other customers had mentioned that to her previously
It was very clear where to stand from the floor markings. I was only waiting seconds before the staff member on the till called me over and I started to load my shopping onto the conveyor belt. There was a screen between us so it felt safe. My shopping was scanned and I bagged it and put it back in the trolley. I paid in part using a gift card on my phone and the checkout operator was helpful in telling me how and where to scan it so that no contact was needed. She was very friendly during the process, and she thanked me and said goodbye. I observed the self service checkouts on the way out and they were very quiet. There was a staff member there in attendance if required.
It wasn't initially clear that queuing for the tills was starting at the end of the check outs at aisle 40 until I was directed by a staff member and the tannoy advised customers. Prior to the announcement being made, some customers were lining up at the end of checkouts as usual.
I was served at the checkout by Su. Su was super smiley and friendly and welcomed me warmly. There were no queues at any of the tills so I strolled straight up. I felt that my produce was handled carefully and Su made polite conversation with me throughout our exchange. My receipt was free from mistakes. There were no customers using the self service checkouts, but I do believe they were open. I noted that every other checkout said "Card Only" on the screen, so am not sure whether they were encouraging customers to keep social distance by only using alternate self service tills.
Availability score (20)
11
12
6
8
14
Of the 33 items on your shopping list how many were:
Available (up to 20)
27
28
25
27
30
Out of stock (-2 per item)
3
3
6
6
3
Not stocked (-1 per item)
3
2
2
0
0
Availability %
90.0
90.3
80.6
81.8
90.9
Please note down the items on your shopping list that were out of stock (please highlight the products that have managed to get a satisfactory substitutions)
Coco Rocks, paracetamol, Jusrol sourdough pizza based
Pepperami bunch of 5 - sub- with Pepperami minis 10 Twinings Tea Cran / Rasp - sub -Cranberry / Orange Robinsons Concentrate orange squash sub - Morrissons own
Lindt excellence extra creamy milk chocolate Blackberries 225g Strawberries 800g. ( substituted with red grapes) Own label potatoes with herbs and butter Loose baking potato Heinz no added sugar or salt tomato ketchup
All varieties of melons were out of stock so no substitution was available. There were no small cans of green giant sweetcorn (single or packs of 4) so I purchased only 2 own brand small cans since I'm not sure if they're a good alternative. There were no packs of 4 Heinz spaghetti hoops snap pots so I purchased 3 small individual cans since they were on offer. There were also no packs of 4 Heinz tomato soups so I purchased 3 individual cans since they were again on offer. The vanilla extract was out of stock with an expected arrival date end label of May 12. I couldn't locate a shelf label, the Rubicon mango juice or anyone to ask if there was any in stock but I know that the store does generally stock the juice. It was definitely not located in the juice carton area. OL ketchup - sub with Heinz
Spaghetti, Frozen butternut squash, Frozen garlic bread (which I was assured the store DO stock, even though three of us could not locate a space in the freezer aisle for it)
Please note down the items on your shopping list that were not stocked (please highlight the products that have managed to get a satisfactory substitutions)
Lactofree yoghurt, chocolate rice cakes, rye flour
Yeo Valley crème fraiche half fat sub Morrisons own full fat Own smoked cheese slices sub own smoked cheese roll
Own label Greek style fat free natural yoghurt, 500g, (replaced with the same product in a 200g size) Per packed brocolli. (replaced with loose brocolli)
N/A
N/A
Please give any other details or info about your shopping trip, good or bad
Click & Collect service was in clear demand and was a rare instance of the store responding appropriately. There was hand sanitiser spray to use before using the keypad, and the orders seemed to be processed efficiently. This was a shocking experience. As well as the poor management of customers and the social distancing issues, I also found it hard to find certain products due to poor lighting and signage
There was an abundance of food in the store and plenty of bulk buy or discounted displays throughout the shop but many were badly positioned. The store did look messy. Personally I would have preferred less displays strewn around the store and a more structured approach for navigating around the store - when people are walking in both directions down an aisle and a queue starts to form behind someone there is no social distancing and it does make you feel uncomfortable - I sometimes had to go back to get something because the aisle I needed was too congested. The layout of household goods away from toiletries etc was slightly confusing I expected them to be closer together. Having shopped in other stores during the CV19 pandemic apart from the steriliser on entry I felt there was a lack of store monitoring on hygiene - other stores have staff wiping handles of refrigerator and freezer cabinets and some have clean trolley bays which have been wiped and dirty trolley bays to return your trolley to after shopping. I think a lot of improvements could be implemented to make the customer feel more comfortable when moving around the store
It was a successful shopping trip overall. I had been concerned that there may be large queues outside with it being a Saturday, but I didn't feel like I had to wait too long and once inside it was nice and quiet. I was able to find everything on my list easily apart from the few items that weren't available and had no trouble navigating around the store. I did worry for the staff who clearly haven't been provided with gloves or masks and are coming into contact with lots of shoppers all the time. They are clearly doing a great job in difficult circumstances, working very hard and still maintaining a high level of customer service. I had a lot of space to move around with my trolley and even managed to take a few photographs.
Given the size of the store, long queue to enter the store at peak times and one-way system in operation, it took a very long time to locate many items. Having not always found the items on the first walk down the aisle, following the one way system added time which is understandable given the current situation. I would not visit any supermarket currently during peak times and would avoid this store due to the one-way system that other supermarkets have not introduced.
I feel like this Waitrose store are maintaining the current safety measures very well. It was disappointing to witness 3 staff members "having a gossip" at the end of the store nearest the alcohol. They were very loudly discussing their shift pattern and one even started shouting to his colleague as he walked away. I don't feel that this promotes the professionalism Waitrose pride themselves so much on.
TOTAL SCORE (100)
45
64
72
62
76