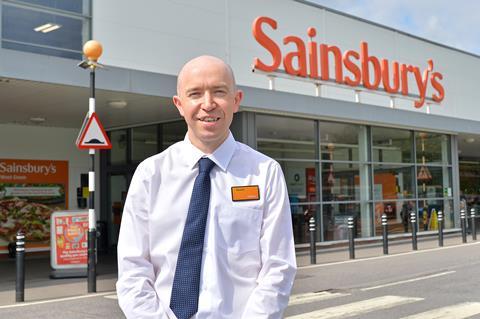 Store: Sainsbury's West Green
Deputy manager: Stuart Lindsay
Opened: 1991
Size: 49,860 sq ft
Market share: 15.7%
Population: 163,365
Grocery spend: N/A
Spend by household: £67
Competitors: 34
Nearest rivals: Aldi 0.8 miles, Asda 0.7 miles, Co-op 0.4 miles, Iceland 0.6 miles, Lidl 1.3 miles, M&S 0.6 miles, Morrisons 7.7 miles. Sainsbury's 4.3 miles, Tesco 0.9 miles, Waitrose 3.6 miles
Source: CACI. For more info visit www.caci.co.uk/contact. Notes: Shopper profiling is measured using Grocery Acorn shopper segmentation. Store catchment data (market share, population, expenditure, spend by household, competition) is within a five-mile radius.
For CACI's shopper segmentation of the other stores we visited this week see our service & availability report
How long have you been a deputy manager at West Green? I've worked at this store for just about a year now, but I've been with Sainsbury's for 18 years. I've been in different roles before, including store manager in our convenience business.
What learnings have you brought from convenience to a larger format? Our convenience stores are very fast paced and very efficient operations. It's obviously a different kind of customer, so I was mindful of how the team would react and adapt, particularly as we moved out of the pandemic and some of those customer behaviours have reverted a little bit.
What's your reaction to our shopper's feedback over the confusing store layout? We've recently undergone some works in relation to the coming HFSS legislation. It's a really important piece of legislation, so we really want to make sure we get it right. We've removed a significant number of promotional ends and replaced them with advertising displays at the middle and at the back of the store, and that's given the store a very different feel and look, so we've had to move certain products into different aisles to accommodate those changes. We are quite mindful of how it is that we minimise the disruption to the customer, and we make sure that our colleagues are ready and able to assist them. We've got some signage up to inform customers of the change.
Are you still seeing impacts from the supply chain crisis in terms of availability? There's been lots of factors that have impacted different product at different times. Sometimes there's a short-term impact – an example at the moment is soy milk. Bottled water seems to be an industry-wide problem, we've seen volumes fluctuate but it has recovered a little to some degree this week.
Has the removal of 'best before' dates affected stock rotation across fresh produce? Not really – we're making sure our colleagues are aware of the change that we've made and why, and that they've got enough knowledge to make sure they're still checking for quality and still rotating the product. From a customer point of view, I've not picked up on any negative feedback from customers. Some have noticed it but when we engage them on why we're doing it in terms of reducing the amount of food waste, they understand and appreciate it.
How is the cost of living crisis affecting the way your customers shop? We're hearing a lot from our customers on the cost of living crisis, so we are engaging with them via our Aldi Price Match and Price Lock campaigns. Sainsbury's has just invested £60m in those value campaigns so we're refreshing that again with lots of bold advertising and displays. We're going to be encouraging our customers towards using our Smart Shop proposition, which helps them manage their budgets and unlocks personalised offers via Nectar Prices. We are also seeing more people switch to own label.
How was bank holiday weekend trade? We had a really busy bank holiday weekend, which was clearly helped by the good weather in the run-up to it. We made sure to look after all those key parts of the store such as spirits, ice, in-store bakery and ice cream. We also had some popular promotions across alcohol and barbecue food.