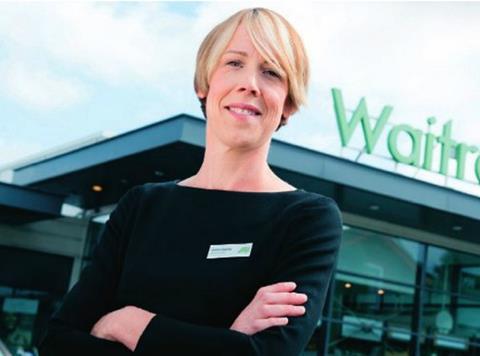 The store has only been open five years. How have you established it? We don't want people to think of Waitrose as just a supermarket for the Home Counties. We've had to battle against the expectation that we are an expensive supermarket.
How have you changed those expectations? The biggest development has been the MyWaitrose card. It's built a relationship with the customers that we didn't have before. Just offering a free coffee helps give customers a warmer feeling.
Have customers appreciated the Pick Your Own Offers scheme? It's gone down really well and I think it has given customers a sense of being in control of the shop. I'm told every one of the 900 items has been picked by a customer somewhere and they are going to get the first chance to change their choices in the autumn, which creates a talking point.
Our shopper liked the Taste of Italy promotion – how has that gone generally? We've had 25% off a massive selection of products and it's gone down very well. There are a lot of lines we have been promoting that have not normally got much in-store marketing behind them – speciality breads and fresh lines.
How has the online activity of the store grown? We've just had our patch extended for online deliveries and we're now delivering up to north Manchester. It's grown by about 300% since I started five years ago and we also have hundreds of customers a week having John Lewis items delivered to the store too.
What is on your wish list for the store? If there one thing I would like it would be an updated café with an outside seated area.
You're on the same estate as an Aldi and you have an Asda opening two miles away in a few weeks. How are you coping with all the competition? We've always traded alongside them and we don't hear our customers talking about Aldi. We were more worried when a new Booths opened four miles away, but we've not seen any drop-off which is great.
Your store is on a large, modern housing estate. What issues has that posed? Sometimes it's difficult to get a sense of community and that's something we've been working hard at. There are new homes coming and a community centre so that means more customers for us and let's make sure we keep them out of Asda.
Winner: Waitrose, Altrincham
Store manager: Sophie Osgerby
Opened: 2009
Size: 20,000 sq ft
Market share: 5.5%
Nearest rivals: Aldi - 1.0 miles, Asda - 1.0 miles, Sainsbury's - 2.0 miles, Tesco Extra - 2.0 miles, The Co-op Group - 3.4 miles
Store data source: Analysis by CACI. Call the market planning group on 020 7602 6000