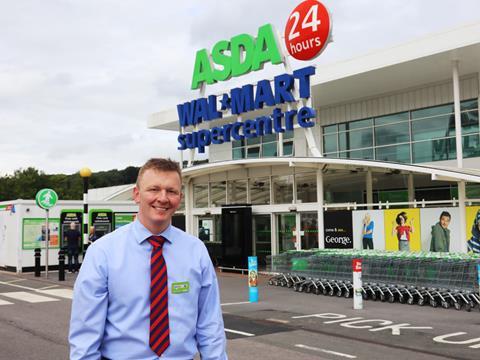 What is your background? I have worked at the store as manager for nearly three years but have worked for Asda for 20. As a young lad I was a market barrow boy. I started out at Asda as a frozen foods supervisor. I worked through the levels and became a manager eight years ago.
Winner: Asda, Coryton Roundabout, Cardiff
Store manager: Warren Cook
Opened: 1984
Size: 84,000 sq ft
Market share: 16.2%
Nearest rivals: Tesco - 1 mile; Co-op - 1.3 miles; Iceland - 1.5 miles; Lidl - 1.6 miles; Sainsbury's - 1.7 miles; Morrisons - 1.8 miles; Aldi - 3.1 miles
Store data source: Analysis by CACI.
Call the market planning group on 020 7602 6000
What is the size of your team? There are 26 section leaders and 10 managers with 384 staff in total in the store. We have just reintroduced fresh production managers in some of the larger stores, which has had a positive impact. They are responsible for all elements of what we produce in store from scratch in terms of quality, availability and compliance. Some colleagues have worked here since it opened 34 years ago and have an emotional attachment , which makes a massive difference.

What challenges are you facing? It is a volatile and fast-paced environment. This is a destination store - we are right at the end of the M4 - and have exceed customer needs on a daily basis, give customers a reason to shop here and do something different.

What does the store offer? We have click & collect. It is very successful because of the convenience. Customers can fill up with petrol and pick up shopping in 10 minutes. We had huge changes a few years ago and expanded our homeware, another point of difference.

Are there any new initiatives? We have a huge event at the front of our store for Back to School, which is a one-stop shop for size and availability. We have also recently extended our craft beer range from a bay or two to five bays of craft ale and three bays of fruit ciders. We have just introduced fresh petfood in the petfood aisle, which is in a fridge. We only kicked it off last week but there is lots of interest in that because it is unique.