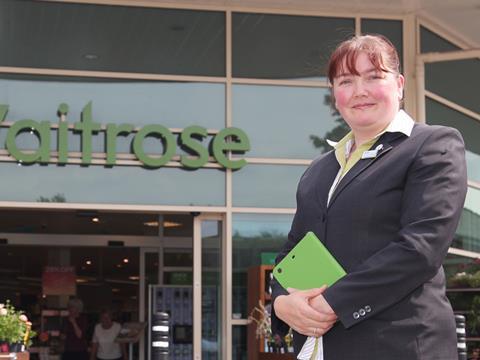 Our shopper was wowed by your customer service. How do you keep the team motivated? All new partners are teamed up with a sponsor. The sponsors have been trained to make sure the new joiner is confident about their job. We also provide ongoing encouragement by using customer feedback.

Our mystery shopper particularly liked the feel and layout of the store. What creates the ambience? We were one of the first branches to be fitted with the new welcome desk format two years ago. It gave the store a really welcoming feel and gave the whole branch a boost.

Are there any standout displays at your branch at the moment? Rather than selling our barbecues in boxes, we've built them and set them out on fake grass in our foyer. It's far more visual and they're selling much faster - BBQ equipment sales are up 52% year on year. We've also got everything you would associate with a barbecue on the display.

And what are you doing for Father's Day? We've actually incorporated Father's Day with the BBQ/summer dining display. I think it's the first time we've ever combined two seasonal events. It's really working for the store.

What is the most significant company-wide initiative you've had to handle? Probably the launch of the myWaitrose card. It's not just a loyalty card, it also increases the number of offers in the branch.

Did the rule changes around free hot drinks have an impact? Not really for us, as we don't have a café. But we did put the cups for our coffee machine behind the welcome desk and patisserie counter. This has given us the chance to engage more with customers.

What is currently selling well? This came as quite a surprise, but marshmallow sales are up 41% across Waitrose. One of our recipe cards at the moment is for raspberry and rose marshmallows. Our customers seem to be buying our standard marshmallows rather than making them.
Winner: Waitrose Poynton
Duty manager: Tanja Chisnall
Size: 16,000 sq ft
Opened: 2010
Market share: 11%
Nearest rivals: Asda - 200 yards
Morrisons - 0.3 miles
Tesco - 1.3 miles
Aldi - 2.3 miles
Store data source: Analysis by CACI. Call the market planning group on 020 7602 6000