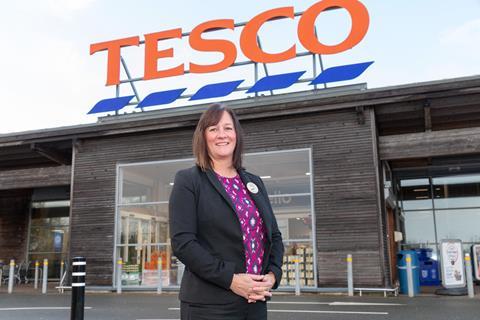 Store: Tesco Callington
Manager: Sarah Guy
Opened: 2010
Size: 25,000 sq ft
Market share: 52.3%
Population: 20,781
Grocery spend: £605,458.99
Spend by household: £67.30
Competitors: 2
Nearest rivals: Aldi 7.1 miles, Asda 11.4 miles, Co-op 3.9 miles, Iceland 6.9 miles, Lidl 7.0 miles, M&S 8.7 miles, Morrisons 7.4 miles, Sainsbury's 10.2 miles, Tesco 7.5 miles, Waitrose 6.7 miles
Source: CACI. For more info visit www.caci.co.uk/contact. Notes: Shopper profiling is measured using Grocery Acorn shopper segmentation. Store catchment data (market share, population, expenditure, spend by household, competition) is within a five-mile radius.
For CACI's shopper segmentation of the other stores we visited this week see the online report at www.thegrocer.co.uk/stores/the-grocer-33
How has the past year been for you? The store has had a great 12 months. We've made a couple of changes, with a big refit in the food department. It's more tailored now to keep us up to date with current trends and it's a really nice look and feel. We also have a new display table to showcase the theme of the time of year. It was Halloween until yesterday, and we changed it this morning to launch Christmas. We have some lovely Christmas candles, cushions and crockery. Apart from that the store has just got busier, we've had a lot more customers coming in.
What are customers buying more of? Veggie sales are great; people are going for quality and value, which is fantastic for the store. We've also seen people going for more frozen food. We have a great offer on with four for the price of three on our frozen items. That's heavily shopped every day.
How do you cope with increased customer numbers? We review the sales for the past week and any pinch points we have come across. For example, if there were queues at the checkouts. Then we ensure we have colleagues trained across the shop to support where they're needed at that time of day. We're also expanding our staff numbers.
What's the key challenge you've faced this year? Keeping our colleagues safe has been a key challenge. We do have shrink [shoplifting] issues across the shops. We encourage everyone to be vigilant, keep themselves safe, wear body cameras, and we have a good network with the local police and the community. It's about ensuring our colleagues go home safe every day. We spend a lot of time coaching our colleagues about these issues and ensuring they don't get involved and they stay safe.
What's coming up in store? The biggest thing this morning is we've launched our entire Christmas range into the power aisle, so customers can come in and buy their trees, lights, decorations, cards, gift wrap, and that will be our main focus for the next few weeks.
Any trends you are noticing from the Christmas range? We launched confectionery early, which is to help everyone get ahead for Christmas, and we've already been trading well across those lines. People are shopping early to stock up their cupboards to spread the cost of Christmas. We're also trying to trade the Finest lines a bit harder than before, because they are good quality products and offer the opportunity to have items that are a little bit more special for Christmas dinner or parties.
Do you have a favourite interaction from a customer recently? We have photo processing equipment in our store where you link your phone to print off a picture. There was a lady at the unit one day who was struggling to get her phone to link up. I stopped to ask her if she was OK and she said she was trying to print a picture of her sister holding her grandchild. It was her first grandchild, and her sister had dementia and was struggling to remember who the baby was. So, I spent the time with her and stayed until the process was complete and she got the picture printed. We put the photo in a wallet for her to take away. The following week she came into the shop and brought me a cactus and a thank you card, which was really lovely.