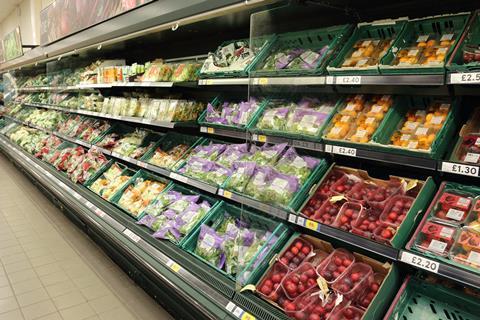 In a high-scoring week, Tesco claimed its second win on service and availability in a row.
Scoring 85 points, the Exmouth store got off to an excellent start with a clean car park that had plenty of spaces.
Our shopper noticed a host of displays at the entrance to the store, which was tidy with plenty of space.
The store layout was brilliant and the products were "so easy to find". Our shopper branded it "the easiest mystery shop I've done in a while".
What's more, shop floor staff were friendly, smartly presented and very helpful.
Finally at checkout, there were five tills open and the self-service area looked spacious. Our shopper barely had to queue, waiting less than a minute. The checkout assistant was friendly and "good to chat to".
On the availability front, there was one item out of stock – the organic spring onions – and one not stocked, the organic blueberries.
Second place went to Waitrose Chesham with 77 points. First impressions were marred by the car park, which scored very poorly – there were no spaces and our shopper had to wait for someone to return to their car.
Our shopper also noted the road between the car park and shop was raised so customers had to push their trolleys up a steep hill.
However, things picked up significantly inside the store. Our shopper noted the staff were "very helpful" and all in neat uniform.
At checkout, our shopper was able to walk straight up to the till. The till assistant was friendly – however our shopper was charged double for the cookies.
Only one item was out of stock and one was not stocked.
Asda and Sainsbury's were in joint third place with 72 points.
Asda's Newton Abbot store had an intuitive layout with wide aisles, which made it easy to move around the store. All the counters and concessions looked enticing, attractive and welcoming.
Staff were also friendly and helpful, taking our shopper straight to items.
The only downside was a long wait at the checkout of six to seven minutes, as only three checkouts were open and there was no queue management.
On the availability front, two items were out of stock.
Sainsbury's in Southend-on-Sea was cramped and busy in the small entrance from the car park. Once our shopper got past this, the store was more spacious and easy to navigate.
There was a large bakery counter with attractive items and the food-to-go section had an "amazing" range.
However, store standards were a little lacking. There were several aisles with large dirty marks on the floor and obstructions, and our shopper noted rubbish on the floor in one aisle.
Staff were a little hard to find, and service was mixed, but one assistant was very helpful in identifying the correct price of a product and removing the incorrect label.
At checkout, the assistant serving our shopper was very friendly and cheerful.
One item was out of stock and one was not stocked.
In last place was Morrisons with 70 points. The store was well managed overall and a pleasant experience.
Service was good – but only one assistant took our shopper straight to the product. The store layout also made it difficult to find some items.
Availability was the real kicker for the store, with three items out of stock.
/div>