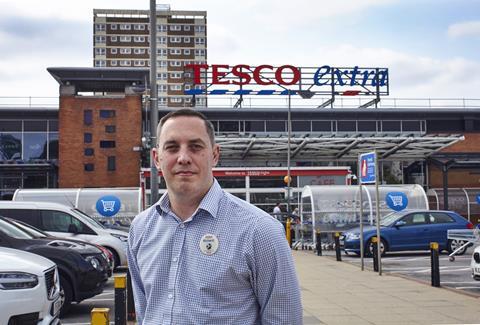 Winner: Tesco Extra, Seacroft, Leeds
Store manager: Richard Day
Size: 83,800 sq ft
Opened: 2000
Market share: 21.0%
Nearest stores: Aldi – 0.5 miles, Asda – 1.4 miles, Lidl – 1.5 miles, Morrisons – 2.2 miles
Store data source: Analysis by CACI.
Call the market planning group on 020 7602 6000
Tesco won by a solid margin this week. What's your initial reaction to our mystery shopper's findings? I'm really pleased. I think it's a positive for what the store has been through, and it's really positive in terms of the team and their efforts. Everything we've done over the past year has been around customers and colleagues and it's really great we've got some recognition that the customer is still seeing that.
You've been at this branch for three months. How was it to transition amid such hectic times for the industry? I've been a store manager for two-and-a-half years and I've worked for Tesco for 12 years. I build collaboration leadership with the managers really easily. I have four lead managers here. Yes, I'm a store manager, but we are one team. I do what they do, we do what colleagues do and we've just got through this together as a team. I'm so proud of the team and the colleagues to get through what we've got through. And it's recognised by this award.
What's a day like in the life of a Tesco Extra manager? Very different every day! I put customer and colleagues first at the heart of everything I do during the day. Then making sure all my colleagues have a really good work-life balance. I personally walk my shop every day and then we prioritise what comes first and how we do it and the [lead] managers do exactly the same every day.
How do you stay competitive against other rivals in the area? For me and the management team, the customer shopping trip has got to be the focus. It's "full, clean, priced". If we're not full, we're clean and priced. And then: can a customer get everything they want to come in for? Yes, nine times out of 10. And if we haven't got that one item, what's the alternative? And do we know the alternatives? The team do.
How have you managed supply shortages in recent weeks? All of it has been managed through a collaboration with our night team and planning. If distribution has been late, we've always planned and prioritised the customer shopping trip and we're agile enough as a team to move. All I can do is: what comes in my building, put out and prioritise that.
How are you gearing up for more of these challenges over the next few months? We've hired some temps. They have been a great addition to the team and they've settled in really well with them. Planning is in place for anything that can go wrong. We don't know what autumn looks like. We don't know what winter looks like, but we've started to plan for Christmas, so it's keeping the team flexible and agile enough to move.
What's new in store? We launched the in-store soft plastic recycling scheme yesterday, which is a really great initiative in terms of climate change. It's great that we're looking after the world and the future for our kids. I hope it will be a great addition to the shop. We also got the electric car charging points in the car park four weeks ago.