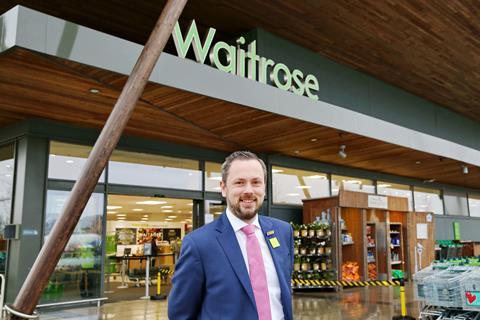 Winner: Waitrose Swindon
Store manager: Simon Adkins
Size: 28,500 sq ft
Opened: 2014
Market share: 8%
Nearest rivals:
Sainsbury's – 2 miles
Tesco – 4 miles
Morrisons – 5 miles
Asda – 6.5 miles
Store data source: Analysis by CACI.
Call the market planning group on 020 7602 6000
Waitrose joined other supermarkets in enforcing mask wearing more strictly this week. How have you found this issue? I have to say that the vast majority of our customers have complied fully with wearing masks. We have already had a marshal at the front of the store to help manage customer numbers and politely challenge shoppers if they don't have a mask. There have been a very small number of exceptions but for the most part everyone is doing the right thing. We have also not really seen the return to long queues like we had in March. We had some smaller queues over Christmas but we are lucky enough to have space outside the store where we can keep people sheltered from the elements. We are also encouraging customers to whenever possible visit the shop alone as it is easier to manage the numbers in the store and there won't be as many people in the queue, which is better for everyone.
So how did you find Christmas this time around? Christmas went really well for us and it is a testament to the staff here as well as the support we received from the centre. You could see the significant planning that went on ahead of time. When you factor everything in with the Covid challenges it was actually a very smooth Christmas and I was really pleased with how it went. Some of our big sellers were the Heston from Waitrose Tipsy Stollen, which was also a big favourite of mine. Prosecco did really well and obviously turkeys always sell.
What trends have you spotted in January so far? There has been a real switch to healthy eating as well as comfort eating. We are seeing lots of soups flying off the shelves. We also have lots of new vegan lines in for Veganuary, which are doing well. Just this week we have Waitrose's new gut health range. It looks really good and I am sure it will work very well.
Are you seeing a big increase in demand for online groceries? Absolutely, online delivery and click and collect played a big role over Christmas. We've definitely been increasing our capacity to meet the demand. We don't have a car park click and collect service but our foyer is big enough to run it from there. Shoppers using this service don't have to queue, they can just approach the marshal and they can be brought inside to pick up their order. It is working very well for us.
With the rising Covid rates across the country, are you having issues with staff absences? So far we haven't had any major issues. The team here has been living by the hands, face, space messaging.
With all this having been going on since March, how are your staff holding up? These are challenging times but the team are holding up well. Ultimately, I am really proud of the whole team. Despite all that has been going on in the world, they have remained so focused on offering brilliant service to customers. It is great that has been recognised in this mystery shop. It will be such welcome news for them and help them keep pushing on.