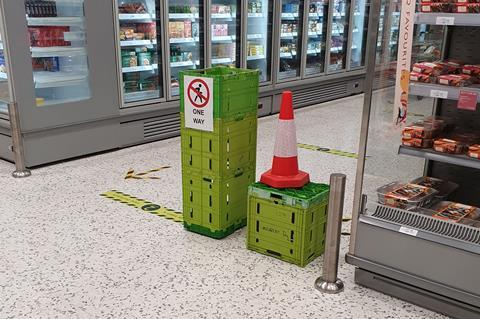 The easing of lockdown measures had no effect on lengthy queues outside stores and at checkouts on Friday lunchtime, with some retailers more successful than others with social distancing.

Waitrose in Lincoln registered a comfortable win as it scored highly across the board, including for near-perfect availability. The queue outside was brief despite a busy car park, with a "cheery and friendly" staff member managing the wait and wiping down baskets and trolleys for each customer.

The "calm and well-ordered" store had a one-way system in place, with arrows stuck on crates to guide customers, yellow stickers reminding shoppers to maintain a two-metre distance and regular announcements, as well as a marshal who patrolled the store.

Taken together, our mystery shopper felt stressed at times to find items quickly and not hold up other customers, but she was left with a good impression in terms of managing social distancing and keeping the store well stocked. "It appeared to be well-run and I felt there was enough space and measures in place to be kept safe. I would be happy to shop here again in the future."

After a poor first impression at Asda in Cheltenham, with plants on sale outside looking "sad and in need of watering" and a long queue, our shopper found "a calm and safe environment" once inside.

Friendly staff worked hard to replenish shelves, maintain social distancing guidelines and help shoppers. Availability was good, with only three lines out of stock and reasonable substitutes stocked.

"It felt like a safe shopping experience, unlike some other stores I have recently been in," our shopper added.

It was a mixed experience in Harrogate at Morrisons, with long waits for our shopper outside and at the tills.

Inside, the shop was "quite calm and ordered" but our mystery shopper was "annoyed" she had to jump out of the way of staff actively replenishing shelves and those picking items for online grocery shoppers.

"The vast numbers of online and click & collect staff at one point blocked the chilled aisle, making it hard to get through while also trying to avoid other shoppers," she said.

However, availability was very high, with only a nine-pack of crumpets out of stock.

People smoking in the queue, despite signs advising against it, made a long wait unpleasant outside Tesco in Daventry. Our shopper said there were no staff managing the queues, and inside staff were hard to find outside the fruit and veg aisles. Our shopper was "shocked" none wore masks or gloves, but they did maintain a two-metre distance.

It was another 15-minute wait at the checkouts, with limited manned tills open.

"I didn't particularly enjoy the in-store experience as some people had no idea of personal space and some wouldn't pass you until you had finished looking and moved on, which created bottlenecks," she added.

Sainsbury's in North Cheam in the London Borough of Sutton was let down by the poorest availability of the week, with seven items missing.

The store was efficiently managed and had clear markings on the floor to maintain social distancing, although restocking trolleys caused some obstructions.

Our shopper said she found staff to be "mixed, with some very helpful and others not so", and she was "surprised" not all were required to wear gloves or masks.
This week's results:
| WEEK 47: Friday 15/05/2020 11am-2.00pm | | | | | WINNER |
| --- | --- | --- | --- | --- | --- |
| | Asda | Morrisons | Sainsbury's | Tesco | Waitrose |
| Location | Cheltenham | Harrogate | North Cheam | Daventry | Lincoln |
| Date | 15/05/2020 | 15/05/2020 | 15/05/2020 | 15/05/2020 | 15/05/2020 |
| Time slot | 11am-2.00pm | 11am-2.00pm | 11am-2.00pm | 11am-2.00pm | 11am-2.00pm |
| Shop starts | 11:39pm | 11:42am | 11:35am | 1:22pm | 11:07 |
| Visit Duration | 01:08 | 01:26 | 01:10 | 01:15 | 00:55 |
| Shop Duration | 01:04 | 01:06 | 01:00 | 00:58 | 00:48 |
| Car Park (10) | 7 | 7 | 9 | 5 | 10 |
| Signposting (up to 1) | 1 | 1 | 1 | 1 | 1 |
| Queueing time to park (up to 2) | 2 | 2 | 2 | 2 | 2 |
| Trolleys (up to 2) | 2 | 2 | 2 | 1 | 2 |
| Queueing time from parking the car to enter the store (up to 3) | 0 | 0 | 2 | 0 | 3 |
| Feedback (up to 2) | 2 | 2 | 2 | 1 | 2 |
| | From entering the car park there was regular signage to promote social distancing and safe shopping. The queue was being managed by a security guard on the entrance, who was letting several people in at a time after enough had left. The queue was managed by tensator barriers and tape on the ground to show you where to stand, which was well done but from where I joined the queue you couldn't see that it actually went all the way round the side of the building before coming back, so it was much longer than it first appeared. | The carpark is large and usually caters for 4 retailers, with only 2 stores open (including Morrisons), it felt relatively busy but not congested. There were a couple of stray trollies on the far reaches of the car park, but overall they were in bays and easy to collect. They were unlocked (usually locked at this store) but were not actively being sanitised by staff members, this was an optional thing customers could do themselves upon entering the store. There was an area of the carpark dedicated to 'click and collect' (not usually a service available at this store as far as I'm aware). The queue, although long, was fairly organized in a zig-zag of metal barriers across some of the disabled bays to the left of the front of the store. (There were still disabled spaces available). A 'fast track' option was available to those customers who only wanting to do a small basket shop, however shoppers joining the end of the existing line weren't aware of this due to lack of signage (the only signs were near the entrance). After 10-15 mins of queuing without moving at all a female member of the security team came out to advise that people could enter straight away if they only wanted to use a basket. Once the queue started to move I entered only a few mins laters, but my overall queueing time was nearly 20 mins. | There were clear barriers and markings to ensure social distancing and a couple of staff were managing the flow. | It was clearly marked where to queue but it was not monitored so people were smoking in the queue when it clearly asked you not to | The car park was fairly busy so I was pleasantly surprised that I didn't have to wait long in the queue before entering the store. A member of staff was managing the entrance to the store, letting people in one at a time and asking them if they wanted a basket or trolley. He was cheery and friendly, and would pass a trolley to another member of staff just inside the entrance to be wiped down before giving it to the customer. There were orange cones on the ground to guide people in the queue where to stand to ensure there was a 2 metre distance between them. Along the queue aisle were plants and flowers that customers could pick up on their way in. The woman in front of me wanted to buy some compost, and the staff member was very helpful in offering to carry it to her car for her when she had finished her shop. He explained that she could pay for it at the till with the rest of her shopping without having to push the compost around in her trolley. |
| Store standards (20) | 14 | 14 | 11 | 11 | 18 |
| First impression (up to 5) | 5 | 4 | 2 | 1 | 4 |
| Feedback | Hand sanitizer and anti bac spray for trollers was available at the store entrance. I heard several announcements whilst I was in store, asking customers to please respect social distancing with both colleagues and customers. The store had a one-way system (shown by stickers on the floor), which I can understand is helpful, but made it difficult to go back if you forgot/couldn't find an item. | Inside the store was quite calm and ordered, though staff could get a little close from time to time whilst going about their work, I think it's easy to forget once focussed on a task, but I found myself jumping out the way of an oncoming staff member on at least a couple of occasions (notably in the fruit and veg section where they were actively restocking). The most annoying thing was the vast numbers of online/click and collect staff who at one point blocked the chilled aisle with 3 staff members and their respective 'loads' making it hard to get through whilst also trying to avoid other shoppers. | Overall the store seemed to be running very efficiently and markings on the floor provided additional guidance | It was ok but a very rushed message from a lady at the door telling you its one way and stick to either the left or right of aisle. I was not offered any hand sanitiser or for the trolley handle to be cleaned. I only saw this station on the way out but it wasn't being used. | The store appeared calm and well ordered as I entered. A one way system was in place with arrows stuck on crates to show customers which direction they should go. On the floor there were yellow circular stickers asking customers to keep a 2 metre safe distance. Periodically there were announcements reminding customers to keep a 2 metre distance from staff and other customers, and asking customers to follow the one way system where in place. |
| Displays (up to 3) | 2 | 3 | 1 | 0 | 3 |
| Availability and replenishment (up to 5) | 3 | 3 | 3 | 4 | 5 |
| Feedback | There were several fixtures of plants out of the front of the store, but many of them looked very sad and in need of watering, which wasn't a great first impression. Inside the store there were a reasonable amount of gaps in the shelves, but also staff members replenishing then. | I'm overlooking the couple of near misses I had with staff on the floor because everyone I encountered was actively trying to replenish the shelves. Some areas like crisps and eggs were depleted and hand wash was still almost impossible to buy, with only a couple of more expensive brands left in stock. | The aisles and shelves were well stocked and orderly | There were lots of staff replenishing the fruit and vegetables and then I only saw one other staff member stocking shelves on my way round the store. There were staff about but they were often looking/getting groceries for people that couldn't find what they wanted or had forgotten to get it and couldn't go back. I did notice that products had been moved around and some shelves doubled up with the same products but on different isles. | Just inside the entrance there was an attractive display of flowers, and at the end of aisles there were seasonal displays of food for the barbecue. Other end of aisle displays included washing products and items on offer such as curry sauces. My impression was that the store was clean, tidy and well stocked overall, and there were plenty of staff on the shop floor working hard to replenish the shelves. |
| Obstructions (up to 3) | 3 | 0 | 2 | 3 | 2 |
| Spillages (up to 2) | 0 | 2 | 2 | 2 | 2 |
| Condition of the store in terms of cleanliness (up to 2) | 1 | 2 | 1 | 1 | 2 |
| Feedback | I was stood near the end of one aisle, when a sign dropped off it's hangings from the ceiling, narrowly missing me and another customer! | Overall store standards were good. Many areas like the deli and hot food (chicken) counters were only offering pre-packed goods, which makes sense in the circumstances. The fishmonger counter was fresh, well displayed and with a great offer of half price on British caught fish (these counters are usually something I take advantage of when shopping at Morrisons). | A pleasant store with bright lighting, it was clean to a good standard but I noticed a couple of empty crates where the fruit is normally stacked were a bit dirty. | The store is ok, doesn't feel dirty or sparkling clean. | Inevitably with so many staff restocking on the shop floor there were some restocking trolleys causing obstruction, and I had to ask a member of staff to move one that was blocking the freezer cabinet I was trying to access. However, I felt that staff were careful to move out of customers' way and were trying hard to keep a safe distance. |
| Store layout (10) | 9 | 6 | 6 | 8 | 10 |
| Did the store layout seem logical and intuitive? (up to 2) | 1 | 2 | 2 | 2 | 2 |
| Was it easy to navigate the store while also feeling safe? (up to 6) | 6 | 2 | 2 | 4 | 6 |
| Did the store offered any Click & Collect services? (up to 2) | 2 | 2 | 2 | 2 | 2 |
| Shop Floor Service (20) | 15 | 14 | 14 | 11 | 15 |
| Product location (up to 5) | 3 | 3 | 5 | 5 | 5 |
| Staff politness/responsiveness (up to 5) | 5 | 4 | 3 | 4 | 5 |
| Feedback | I couldn't see the Kopparberg down the cider aisle, so I asked a staff member who was restocking the alcohol. He was friendly and polite, and took me to to top of the aisle he was working on, where we found the right flavour. The hash browns appeared to be out of stock. I asked a staff member who was replenishing the area, who checked and was able to locate a box of own brand hash browns in the stock room, which I deemed a suitable substitution. I was unable to find the dettol spray on the shelf. I asked a staff member who was in the same aisle. She had a look for it, but couldn't see it in the aisle, and there were no similar products to substitute. All staff members were friendly, polite and helpful. | A helpful and friendly lady called Nicky advised me where to find the specific Kitkats I needed were as confusingly they were stored on either side of the biscuit aisle based on type and number of products in a pack. She was pleasant and engaging and we ended up having a brief chat about how things are at the moment. Just the kind of interaction needed in these tricky times, I should imagine especially for older customers. | asked for help 4 times and 2 of the staff showed me to where the product was but the other 2 just pointed me in the right direction. Where items were not on shelves no one offered to look in the back, they simply said if it is not there then we do not have it. | I couldn't find the batteries and when queuing to pay they offered to go and get them for me. Also, they had sold out of jam doughnuts and said they would be back in stock the next morning. | I asked a member of staff for help in locating the grated cheese. She was polite and helpful, and accompanied me to the fixture to show me where it was located. |
| Was it easy to find a member of staff (up to 3) | 3 | 3 | 1 | 1 | 3 |
| Were staff easy to identify through their uniform or name badges (up to 2) | 2 | 2 | 2 | 0 | 2 |
| Staff presentation (up to 5) | 2 | 2 | 3 | 1 | 0 |
| Feedback | All staff in the store seemed very aware of social distancing, and moved carefully around customers. It felt like a safe shopping experience, unlike some other stores I have recently been in. | N/A | I have mixed feedback on the staff, some were very helpful and some were ok, I was surprised that they were not all required to wear masks and gloves. | All staff stayed a good distance away but I was shocked at how none of the staff were wearing gloves or facemasks. | There were plenty of staff on the shop floor to ask for help, particularly around the chilled goods aisles. I also noticed a staff member holding a sign reminding customers to keep 2 metres apart from other customers and members of staff. She patrolled the shop a bit like a lollipop lady and I did feel this role was unnecessary, particularly as she seemed to be constantly trying not to get in the way of customers. I almost backed into her myself when trying to take a photo, and I felt sorry for her doing what must be a very boring role. |
| Tills and checkouts (20) | 19 | 15 | 10 | 16 | 18 |
| How well managed were the queues leading up to the till-operated checkouts in terms of maintaining order and social distancing? (up to 2) | 2 | 2 | 1 | 2 | 2 |
| How well managed were the queues leading up to the self-service checkouts in terms of maintaining order and social distancing? (Please observe after you've completed your shop, and include observations around attentiveness to customers requiring help due to flashing lights/unattended items in bagging area) (up to 2) | 2 | 2 | 1 | 2 | 2 |
| How long did it take to queue (prior to scanning) (up to 4) | 4 | 2 | 2 | 0 | 4 |
| Please rate checkout staff on their customer service and safety (up to 7) | 6 | 5 | 1 | 7 | 5 |
| Time for G33 items to be scanned (including payment) (up to 3) | 3 | 2 | 3 | 3 | 3 |
| Was the till receipt free of mistakes? (up to 2) | 2 | 2 | 2 | 2 | 2 |
| Feedback - please provide any further details/feedback on the tills and checkout: | The till operator was pleasant and friendly, making conversation as he scanned. | The wait want slightly longer because the customer in front kelp forgetting her pin number. I was pleased to find all tills had a screen for both the benefit of the staff and the customers. Whilst I packed, one staff member was working her way down the tills actively disinfecting the screens and the keypads, this was very reassuring to see. There were additional panels up at the point of packing to ensure you kept your distance from other shoppers whilst they packed. 8 out of 18 manned tills were open. There was a further 6 self service tills open (they were purposely leaving space between ss tills by keeping them non operational). Customer Services was open and actively manned, as was the tobacco/lottery counter. | I was told to use the smart shop facility as I entered the store so could not use the checkout | The only staff members I saw wearing gloves was the lady on the checkout that served me. The queuing to pay took a long time but they only had 5 tills open and you had to queue down the last isle to wait to be called to unload the shopping. | The tills area was calm with no queues. I went straight to a waiting member of staff who was sitting behind a clear perspex screen (no name badge). She had a cloth to wipe the conveyor belt, and I was served promptly and efficiently. My only complaint was that she had cheery conversations with other members of staff and customers walking past that she recognised while serving me, but made no attempt at conversation with me. I found this quite rude and it felt almost like a deliberate exclusion. The self service area was also calm with a member of staff on hand to help customers with any difficulties. There was enough space to maintain social distancing from other customers, and I felt safe. |
| Availability score (20) | 14 | 18 | 9 | 13 | 19 |
| Of the 33 items on your shopping list how many were: | | | | | |
| Available (up to 20) | 30 | 32 | 26 | 28 | 32 |
| Out of stock (-2 per item) | 3 | 1 | 4 | 2 | 0 |
| Not stocked (-1 per item) | 0 | 0 | 3 | 3 | 1 |
| Availability % | 90.9 | 97.0 | 86.7 | 93.3 | 100.0 |
| Please note down the items on your shopping list that were out of stock (please highlight the products that have managed to get a satisfactory substitutions) | The basmati rice was out of stock (there was a shelf label stating OOS). They had a larger pack of easy cook white rice, which I was happy to substitute. The McCain hash browns were out of stock, but I was happy to take own brand as a substitute. The dettol anti-bac spray was out of stock. There were no similar products to substitute it for. | The 9 pack of crumpets were OOS so I purchased a 6 pack of the same brand instead. | Sainsbury's Oranges, Family Size x 10Hartley's Strawberry Jelly Ready to Eat 6x175g ,Askeys Treat Chocolate Dessert Sauce 325g, Sainsbury's Extra Lean Diced Lamb 300g | No jam doughnuts, all sold out for the day. No 2 litre Coke, only 1.5 Litre, even though they had diet, zero, and cherry in the 2 litre. | N/A |
| Please note down the items on your shopping list that were not stocked (please highlight the products that have managed to get a satisfactory substitutions) | N/A | N/A | Deli Express Roast Turkey 150g , Deli Express Roast chicken150g, Deli Express Roast ham 150g | 4x pack own brand chopped tomatoes (substituted) 16x pack of own brand crisps (got 30 pack) 500g mature cheddar block (had to get cathedral city) | Frozen Quorn mince. I bought fresh Quorn mince from the chilled aisle instead. |
| Please give any other details or info about your shopping trip, good or bad | My first impression of the store wasn't great, between the queue being much longer than it first appeared, and the sad looking plants and flowers out the front. However, once inside it was a calm and safe-feeling shopping environment, with friendly staff who seemed to be trying their hardest to restock quickly and maintain social distancing guidelines within the store. | I think the queueing system could be improved by introducing a one way shopping route and then change the location of the final queue to checkout so it doesn't end up blocking the main artery of the store (the 'horizontal' central aisle). Once customers spill out on to the central aisle it has knock on effects with people trying to go about their shop whilst maintaining the necessary distance. Also some additional manned tills would speed things up. Overall a good shop in terms of availability, hardworking staff in difficult circumstances, some good measures in store (cleaning screens and keypads) that could be built upon by an improved queue and additional active sanitation of trollies and baskets outside the store ready for customers to use. | The deli, fish and hot food counter were closed. Overall a pleasant trip and I felt safe at all times. | I saw the click and collect van in the carpark but I can never see online any available slots. The queue to enter the store was long but did move quite quickly, I wish they would stop people smoking in the queue, makes it not very enjoyable. I didn't particularly enjoy the in-store experience as some people had no idea of person space and then some wouldn't pass you until you had finished looking and moved on which created bottlenecks. I had to queue for over 15 mins to get to a checkout. | The layout of the store was easy to navigate and clearly signed. The one way system was clear at the start of the shop, but seemed to disappear about half way round, then appear again in the wine section. I wasn't sure if I was supposed to still be following a one way system for the whole shop or not, and felt the store could have made this clearer. I also found it difficult to stop for long in any one aisle to look for items because there were often customers behind me waiting for me to move on. This together with the one way system made it a bit stressful in terms of finding all the items on my list without holding other customers up or having to go back against the one way system. The store has partnered up with John Lewis to provide a separate area of the store which sells John Lewis products. This was an attractive, well laid out area and there was also a sign for click and collect here. Overall I was left with a good impression of the store in terms of managing social distancing and keeping the store well stocked. It appeared to be well run and I felt there was enough space and measures in place to be kept safe. I would be happy to shop here again in the future. |
| TOTAL SCORE (100) | 78 | 74 | 59 | 64 | 90 |