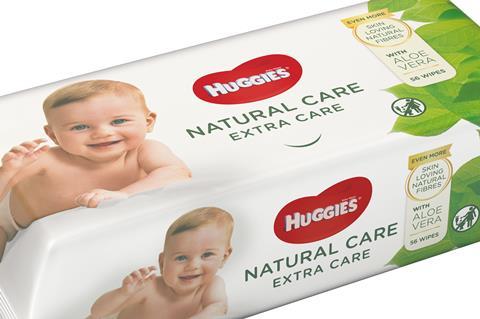 Huggies, the Kimberly-Clark babycare brand, has announced plans to eliminate plastic from its wipes range in the UK within the next five years.
Claiming a first for a major maker of baby wipes, Huggies said it would recognise demand for a sustainable alternative to the "significant amount of plastic" contained in the "14.8 billion baby wipes used in the UK every year".
Huggies already used "up to 50% less plastic in its wipes than other leading brands" it claimed, adding it would remove 50 tonnes of plastic from its products by the end of 2019. This would be done in part by cutting excess packaging from its larger multipacks – equivalent to 43 tonnes of plastic annually.
Also this year, the brand would reduce plastic in its Extra Care lineup by 17 tonnes per year via a "product upgrade initiative" that employed confidential "cutting-edge technologies".
In addition, Huggies – a member of the UK Plastics Pact – aimed to be "the first leading baby wipe brand to clearly label the plastic content of its wipes on-pack" it said.
The changes form part of a longer-term strategy to eliminate plastic in Huggies wipes. The brand will next year launch 100% recyclable packaging across its portfolio, allowing packs to be recycled along with film and carrier bags at large supermarkets.
Over the next five years, Huggies would then "transition to a fully sustainable wipe and packaging portfolio" it said.
The brand had "already made headway and are proud to offer an alternative which has a lower environmental impact than other leading brands" said Ori Ben Shai, Kimberly-Clark UK vice president & MD. "But we won't stop until we have found a fully sustainable solution, as we believe no parent should have to compromise between caring for their baby and caring for the environment."