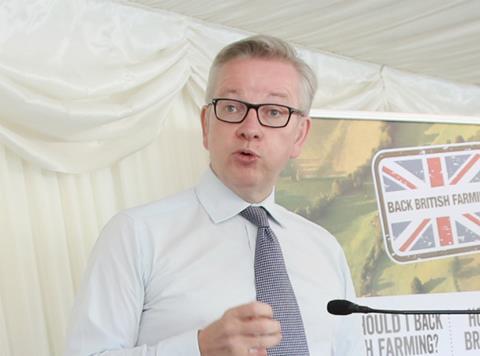 Happy Goveiversary folks! Can you believe it's been a year since the bête noire of the teaching and legal professions bowled into Defra as its new environment secretary?
It's actually been a year and one week, but just in case anyone had forgotten, Defra conveniently reminded us of its dear leader's annus mirabilis on Friday in an email reflecting on his "key highlights" at the department.
The return of Gove to frontline politics, less than a year after his ill-fated tilt at Number 10, came as a shock to many when he succeeded Andrea Leadsom in the Defra hotseat.
While he had begun cheerleading for Theresa May's government almost immediately after his Brutus-like move to derail Boris Johnson's bid to be PM, Gove's appointment raised a fair few eyebrows, particularly from those in the farming sector.
He would have his "work cut out" in unpicking the UK from the Common Agricultural Policy, warned British Growers Association CEO Jack Ward, while Fresh Produce Consortium CEO Nigel Jenney added it was "vital" Gove listened to the fresh produce industry and took account of its needs for "sufficient labour, efficient regulation and effective trading relationships".
Others, such as Friends of the Earth, claimed Gove's previous messaging on the environment had been "confused at best".
But as that gushing Defra email proved last week, Gove's time as 'environment secretary' has been punctuated by a series of policy slam dunks that have changed the perception of the MP for Surrey Heath from a "shy green" to a "full-throated environmentalist".
Gove has helped drive the anti-plastic agenda by supporting legislation banning microbeads and launched a consultation on banning plastic straws, stirrers and cotton buds, while also planning for the implementation of a deposit return scheme for drinks containers.
He has also published a new clean air strategy and was behind the 25-year environment plan unveiled by the prime minister in January, as well as committing to reforming farm subsidies, post-Brexit, by linking them to environmental do-gooding.
All of these are laudable, though the sceptic might note that none of the government's good work on plastic would have received such a warm reception before David Attenborough's era-defining Blue Planet documentary. As an eco convert he's also been accused of hypocrisy, as he continued to use disposable coffee cups until 9 January (and as recently as last week turned up at a briefing to MPs with a disposable coffee cup).
Amid widespread concerns around the potential lowering of standards in any post-Brexit trade deals, Gove has also sought to defend UK food safety standards by insisting the UK would not accept hormone and chlorine-pumped meat from the US, and launched the Food & Drink Sector Council in the spring.
But it's not all been plain sailing. As The Grocer revealed in February, Defra faced criticism for kicking a 25-year food plan into the long grass, while more than a year after their concerns first hit the headlines growers are still no closer to a seasonal agriculture workers scheme – with migrant workers leaving the country in droves.
This perceived lack of interest in the 'f' part of Defra led Professor Tim Lang of City University to slam Gove for his "dereliction of duty" at a British Summer Fruits event today, as he bemoaned the UK's dwindling self-sufficiency.
And it's not the first time this accusation has been levelled at him. Gove faced criticism in April for his appointment of anti-agriculture environmentalist Ben Goldsmith to the Defra board, and has been accused of favouring a post-Brexit landscape where the UK only produces premium, high welfare food, and depends on cheap imports to fill the gap.
These concerns go right to the very top of the industry, with NFU president Minette Batters last week calling for Gove to be called the secretary of state for food and the environment, rather than just environment secretary.
"If you do not get the food aspect right, if you do not get the production element right, if you do not get the profitability right, then you will never deliver on a green Brexit," she insisted.
Whether he can achieve that will not be clear for some time, as Brexit negotiations continue indeterminately. Equally unclear is his future role in the cabinet. After years of churn in this position, the fact that Gove remained in position in the January reshuffle was welcomed, but with PM Theresa May's position remaining uncertain, who's to say if Gove doesn't move again at some point, or even has another tilt at the top job. You wouldn't put it past him.