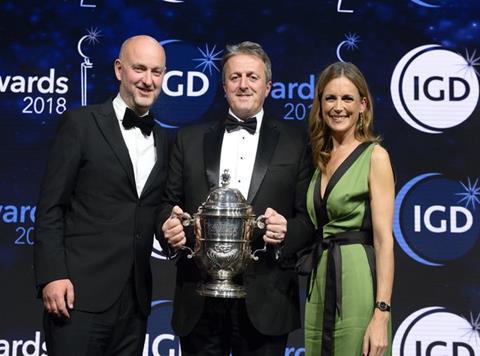 Bidfood CEO Andrew Selley has been crowned winner of The Grocer Cup 2018.

Selley picked up the prestigious trophy in front of hundreds of attendees at the IGD Awards Dinner at Westminster's Park Plaza Hotel yesterday evening (Tuesday), in a competition voted for by readers of The Grocer.

The cup is awarded to the individual who has contributed most to the industry over the past year by showing exceptional leadership in inspiring his or her company to achieve results. Selley saw off stiff competition from a prestigious shortlist of 10 industry giants, including the likes of Tesco's Dave Lewis, Ocado's Tim Steiner and AB InBev's Jason Warner.
"I am delighted to have been recognised at the Grocer Cup this year," said Selley. "It is testament to the fantastic work achieved by our Best Team here at Bidfood, and I feel fortunate to be in the position of leading the business at this exciting time.
"It is also great to see a foodservice wholesaler recognised in this prestigious shortlist. The wholesale industry is a B2B channel and so most of the companies are not household names, but the quality of individuals and companies is comparable to retail in my opinion, and I hope this helps to continue to raise our profile."
Appointed CEO in 2014, Selley has used his decade-plus experience at the wholesale and foodservice business to execute an impressive strategic turnaround in the past few years. Bidfood walked away with Wholesaler of the Year at this year's Grocer Gold Awards only a few months ago.

Among Selley's achievements have been the dismantling of a cumbersome management structure, the acquisition of small, nimble competitors and the in-sourcing of IT contracts, resulting in the launch, inter alia, of a new and improved e-commerce site. It's a plan that appears to be working, with profits up a further 20% this year, in line with his five-year plan to double them.
He hasn't neglected the nuts and bolts of the business either. Telesales opening times have been extended, Sunday deliveries introduced, and Bidfood's price list simplified. IT contracts have been successfully in-sourced, with 60 projects delivered on time and on budget, reducing costs by 50% and resulting in a whopping 952% increase in sales on Bidfood Direct. It has also provided full supply chain traceability on 3,000 British products for the first time, hosted a second Plate2planet conference, and launched depot-wide smart vehicle tracking technology to help customer service teams keep track of deliveries.

On top of all that, in November 2016 Selley was appointed chairman of the FWD - the first holder of this position to come from a foodservice distributor. It's a role he has embraced with relish. As one citation said, "Andrew has been a proper chairman at the FWD. He makes the time to attend every meeting, and never seems to either want or need to rush away. He has a calm and unassuming manner which brings out the best in people both in Council meetings, and also in Bidfood employees. He is one of all too few examples of a highly effective leader whilst at the same time being nice and a pleasure to work with."

Nor has he been daunted by the task of steering the industry through its biggest change to date: Brexit. As one FWD board member says: "He is a strategic and pragmatic leader and we have worked together on some of the Brexit discussions. He brings common sense and experience to these conversations, with a refreshing sprinkling of humour.

Selley has also not been afraid to speak out publicly on the topic of Brexit specifically, disclosing recently that he had held talks with customers about offering more vegetarian and vegan options in response to potential meat shortages.

Customers were also quick to praise Selley's focus on customer service. One major customer said: "Serving a wide and fragmented customer base which covers many familiar high street brands requires flexibility as well as laser focus on the customer. Andrew has the ability to see beyond the day to day challenges of supply chain to keep his team and the business focussed on delivering the right service and improving that service going forward."

Another customer, who "deals with Bidfood along with many other major foodservice distributors" added: "From where we stand we can see the difference between these companies and believe Bidfood is a well run and efficient business with a clear strategy which comes from the top down. An easy choice."

As well as many votes from employees, testimony also came from several ex-employees. One said: "I have always found Andrew inspiring and watch his activity via LinkedIn and at occasional business events.

His passion for basics and customer excellence echo my preference in approach to work."