Aldi has been crowned Grocer of the Year at the Grocer Gold Awards for the third time in four years.
In front of a sell-out 528 guests at London's historic Guildhall, Aldi CEO Matthew Barnes collected the trophy from host Simon Callow and editor of The Grocer Adam Leyland.
The discounter fought off Lidl and Ocado to scoop the big one after judges said it offered up a "compelling" case for victory, adding that it's "growing market share and overall shopper spend faster than any other supermarket."
Barnes said: "We are absolutely delighted. We weren't expecting it. But these awards matter and it's a great testament to all the hard work of all our employees. We couldn't be more thrilled. We are honoured and delighted."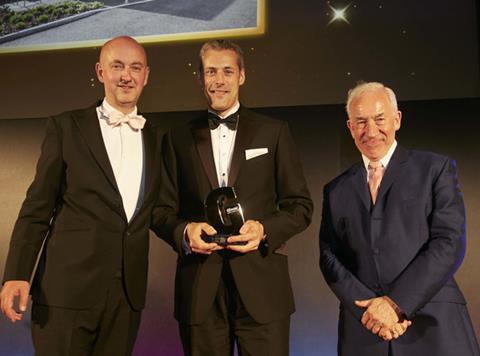 There were 26 other awards handed out on the night. Mars and Greencore picked up Gold awards for Branded and Own-label Supplier of the Year, Tesco was voted Britain's Favourite Supermarket by the UK public and Andy Savage from Morrisons won Store Manager of the Year.
Alpro won Brand of the Year. "It's a real recognition for all the team effort that's been going on the last few years so we are really proud today," said Alpro marketing controller Vicky Upton.
Diageo picked up Drinks Brand of the Year for Smirnoff Red. Fentimans scooped Exporter of the Year and Daylesford Organic won the Fine Food Retailer of the Year Award.
Ocado won Online Supermarket of the Year. "It's fantastic," said marketing and commercial director Lawrence Hene. "It's always good to be here, it's wonderful to be recognised to be leading the industry and for all the hard work the team do for shoppers every day."
Entrepreneur of the Year went to Henrietta Morrison, founder and CEO of Lily's Kitchen. "We are absolutely thrilled. It's a huge honour. We work really hard to make sure that our products are really relevant and it's great to be recognised in this way."
A full list of winners can be viewed below. For full details of how and why they won, click here.
Store Manager of the Year - Andy Savage - Morrisons - Riversway Preston
Branded Supplier of the Year - Mars Confectionery
Own-Label Suppler of the Year - Greencore
Business Initiative of the Year - Distressed Load Service - Oakland International
Consumer Initiative of the Year - Pick Your Own Offers - Waitrose
Green Initiative of the Year - Wyke Farms - 100% Green
Employer of the Year - Suma Wholefoods
Exporter of the Year - Fentimans
Entrepreneur of the Year - Henrietta Morrison - Lily's Kitchen
Logistics Supplier of the Year - iForce
Technology Supplier of the Year - JJ Food Service
Online Supermarket of the Year - Ocado
Own - Label Range of the Year - MAMIA - Aldi
Brand of the Year WhiteWave Foods - Alpro
SME Brand of the Year - Fever-Tree
Drinks Brand of the Year - Smirnoff Red Label - Diageo
Drinks Retailer of the Year - Conviviality Retail
Fine Food Retailer of the Year - Daylesford Organic
Specialist Online Retailer of the Year - HelloFresh
Independent Retail Chain - Blakemore Retail
Symbol Retailer of the Year - Simply Fresh & Simply Local
Wholesaler of the Year - Booker Group
Grocer 33 Availability - Sainsbury's
Grocer 33 Customer Service - Sainsbury's
Grocer 33 Price - Asda
Britain's Favourite Supermarket - Tesco
The Grocer of the Year - Aldi UK