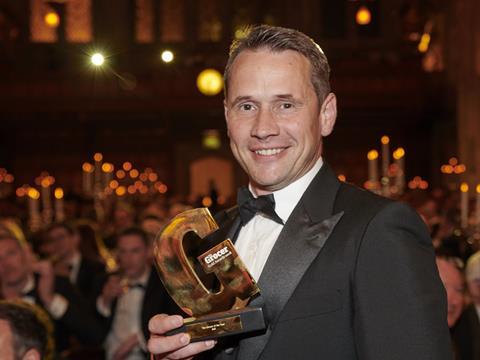 Aldi has reclaimed its crown as the Grocer of the Year at the prestigious Grocer Gold Awards ceremony tonight.

The discounter knocked last year's winner Tesco off the top spot to walk away with the most coveted award of the evening for the fourth time in six years.

The award continues Aldi's relentless march on the traditional multiples, which has seen it achieve double-digit year-on-year growth every year since 2011. The grocer now accounts for 7% of the market, having overtaken the Co-op in 2017 to become the UK's fifth largest supermarket.

Aldi has also stepped up investment in the quality and enjoyment of its shopping experience. Its £300m Project Fresh has upgraded stores with brand new hi-spec fixtures and fittings, slick new signage and added services such as in-store bakeries. It has also extended ranges across fresh, BWS and non-food.

Nearly 350 stores are set to undergo a makeover by the end of 2018.

With this substantial investment in its estate Aldi had demonstrated once and for all its "willingness and ability to adapt to the needs of UK shoppers", said our expert judges, formulating an "impressive clarity of offer" as well as a "commitment to do it the right way".

This has included making shop floor staff the best paid in the industry and tackling diversity among senior ranks. Its graduate scheme is consistently named as one of the top schemes in the country.

It's also taken major steps to address food waste. From a standing start in 2012 it has now redistributed 1,157 tonnes of surplus food. In 2016 it became one of the first signatories to Courtauld 2025 and in 2018 it committed to halving waste by 2030. It has also supported The Grocer's own Waste Not Want Not campaign.

The latest victory comes after Aldi scooped 35 gongs at the Grocer Own Label Awards, including 14 innovation awards - more than any other retailer.
The Winners
Brand of the Year - Anchor, Arla Foods
Business Initiative of the Year - Women in Wholesale
Consumer Initiative of the Year - 'WhiskySanta, Master of Malt
Drinks Brand of the Year - Budweiser, AB InBev
Employer of the Year - Henderson Foodservice
UK Entrepreneur of the Year - Martin Thatcher, Thatcher's Cider Company
Exporter of the Year - Ramsden International
Green Initiative of the Year - Project Closed Loop, The Co-Op
Independent Retail Chain of the Year - Eros Retail / Greens
Logistics Supplier of the Year - Fowler Welch
Online Supermarket of the Year - Ocado
Own Label Range of the Year - Luxury, Iceland Foods
SME Brand of the Year - Lily's Kitchen
Specialist Online Retailer of the Year - Muscle Food
Symbol/Franchise Convenience Retailer of the Year - Londis
Technology Supplier of the Year - Spoon Guru
The Grocer of the Year - Aldi
Waste Not Want Not Award - East of England Co-Op
Wholesaler of the Year - Bidfood
Britain's Favourite Supermarket - Tesco
Branded Supplier of the Year - AB InBev
Own Label Supplier of the Year - LDH
The Grocer 33 Price Award - Asda
The Grocer 33 Customer Service Award - Sainsbury's
The Grocer 33 Availability Award - Sainsbury's
Store Manager of the Year - Nick Carolan, Tesco Hull
Thank you to our sponsors