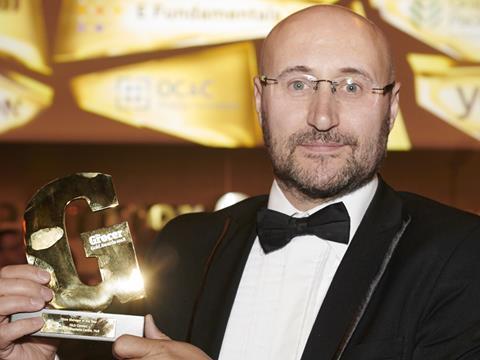 It's been a bit crazy. I feel like a celebrity." Nick Carolan is laughing at the unexpected fame that followed his win at the Grocer Gold Awards last week, where he was named Store Manager of the Year 2018 after blowing our judges away with his energy, passion and creativity.

"I've been a bit shocked by the reaction. I woke up on Wednesday to a 6.30am text from Radio Humberside asking me on the Breakfast show - though I've not been invited to Love Island just yet."

Carolan would be wasted there anyway. In only four years at the 110,000 sq ft Tesco Extra in central Hull, the manager, who first joined the retailer via its graduate scheme in 1997 before working across 11 stores, managing six, has turned its fortunes around. Under his leadership a six-year run of declining sales has been halted, with 3.6% sales growth last year, including a record-breaking Christmas (107,000 transactions in just one week).
The transformation hasn't been easy. And it's not just down to Tesco's wider recovery. Not only are there 27 other Sainsbury's stores breathing down his neck in the city. Based in a city centre shopping complex "it can be quite a challenging environment," he admits. In fact, halfway through our call Carolan nips away to help deal with schoolkids chucking trolleys down stairs.

"That's a Tuesday morning at 10am, which gives you an idea, doesn't it?" But "our biggest challenge was shrinkage and theft from the store. What the company asked us to do in terms of product protection wasn't going to cut it. We had to do more than that."
A radical approach
Carolan's "radical approach" included tagging all stock - "there was no nonsense on only tagging goods over £10" - as well as what he calls "reducing shrink by design", blocking off cut-through gaps in aisles and moving fixtures to give staff a clearer view down aisles. 'Super sleuth' awards are handed out to staff that do their bit to catch shoplifters, security staff do outreach work with offenders and Carolan himself even produced a victim impact video.

Perhaps most creative of all, Carolan has invited local law enforcement to use his store as a place to shop, meet, eat and catch up, ensuring officers were around at "breakfast, lunch and dinner" to put off likely thieves. Losses have halved.

The outgoing Carolan has extended his natural aptitude for forging relationships with the local community far beyond crime prevention, too. "Life is about relationships. If you talk to people and treat them with respect it generally comes back the other way."
The store now fundraises and supports four local charities directly, including Hull for Heroes and the Hull Homeless Community Project, with staff "testing out their sandwich-making skills" at a fortnightly lunch. All in addition to donating about 1,000 meals via the national Community Food Connection scheme and further fundraising via its 'Bags of Help' initiative. And when Hull was crowned the UK City of Culture in 2017, Carolan and his team got stuck in, sponsoring events showcasing local produce. It attracted 20,000 people.

This work has seen a tripling of shoppers that believe the store is engaged with its community, from 20% to 60%.

Carolan also persuaded Tesco to invest in a new parking system that charged non-customers for the first time. This reduced the number of cars in the car park by 18,000 per week, but improved the shopper experience. He also reshuffled the store layout to create a bigger and brighter space. These measures have increased footfall.

Carolan is very clear too on the contribution of his 400 staff to this transformation. He knows all of them by name, and makes a point of greeting them each day. After all "why would you work for a boss that doesn't know your name?" And he does so in their mother tongue. Significantly, 88% of colleagues now recommend it as a great place to work, one of four metrics on which the store outperforms Tesco's 'balanced scorecard' benchmarking.

"It's a phenomenal place to work. The colleagues are great and take pride in the shop. I've worked in a lot of different shops and one thing you can get wrong in your head as a store manager is thinking it's your shop. It's not. It's the customers' shop and the colleagues' shop.

"They wanted it to be better, they know what the challenges are and, if you explain why you're doing things, they're always up for the change."