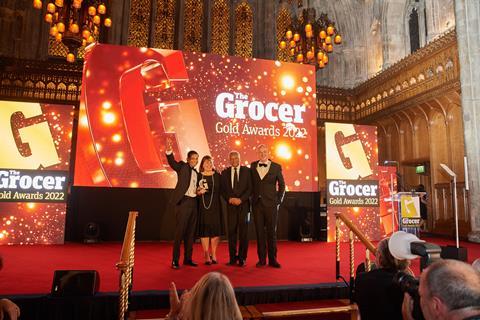 Tesco capped a momentous year at the Grocer Gold Awards last night, walking away with eight awards including Grocer of the Year and Online Supermarket of the Year.
The retailer was also crowned Britain's Favourite Supermarket for the eighth consecutive year following a poll of over 6,500 shoppers.
Its well-stocked shelves are perhaps one reason why, as in yet another year of supply disruption, Tesco won the Grocer 33 availability award for the fourth year in a row.
Its work with Arla certainly helped in this area and the intiative's success in ensuring regular milk deliveries in the face of last year's HGV driver shortage won Supply Chain Initiative of the Year.
"Tesco's success at tonight's awards shows Britain's biggest supermarket is firing on all cylinders," said Adam Leyland, The Grocer's editor-in-chief, and chair of the 48-strong judging panel. "Whether it was the Clubcard reset, Aldi Price Match programme, or expansion into rapid delivery, it has distinguished itself against strong competition in an immensely difficult year."
Rebecca Taylor, store manager at Tesco Extra in Toxteth, Liverpool, won Store Manager of the Year for boosting colleague and customer safety in a violent area troubled by knife and gun crime. She introduced body cameras for shopworkers, partnered with local police to share CCTV footage, and persuaded the police to take up a permanent presence within the store.
Also in the Tesco family, Booker won National Wholesaler of the Year and Premier picked up Franchise Retailer of the Year.
Ice cream sensation Little Moons was the other big winner of the night. Founders Vivien and Howard Wong were crowned Entrepreneur of the Year after sales of their mochi balls skyrocketed by 900% in 2021 following the brand's viral TikTok video. They also scooped Food Brand of the Year.
The Grocer Cup for outstanding contribution to the food industry went to Jonathan Warburton, Warburtons chairman, in recognition of his 40 years at the business during which it has transformed from a small regional baker to the UK's biggest grocery brand.
As the financial burden of rising inflation continues to mount on households, price is more valuable than ever. Asda may be under new leadership but it continues to prove its value credentials by winning the price award for Grocer 33 for the 25th consecutive year.
Asda backed up its win as Online Supermarket of the Year in 2021 by taking E-Commerce Initiative of the Year last night for the launch of its 'Delivery as a Service' trial in March. The new model allows online shoppers to communicate with Asda's pickers to discuss preferences such as which substitutes they would accept.
Aldi's innovation was also rewarded as it picked up Technology Initiative of the Year for the launch of its just walk out store, which allows customers do an entire shop – including booze – without having to interact with anyone.
Not that Aldi has forgotten its people. The discounter won plaudits from the judges for its work cutting barriers to hiring and promoting under-represented groups, earning it the title of Employer of the Year.
Among the other supermarkets, Waitrose emerged victorious in three categories, largely thanks to closer collaboration with sister brand John Lewis. Its Levantine Table range of Middle Eastern dishes and 16 non-food items sold in John Lewis won Own-Label Range of the Year, while the launch of a new John Lewis mattress range made exclusively from wool from Waitrose sheep farmers took home Sustainability Initiative of the Year (retailer). Waitrose also won the Grocer 33 award for service for the second year in a row.
Co-op, meanwhile, picked up Consumer Initiative of the Year for its Co-op26 rebrand during the COP26 climate conference. The retailer's wordplay was backed up with a 10-point climate action plan that set out a blueprint for achieving net zero by 2040 – 10 years ahead of the government target.
Sainsbury's, Ocado, Iceland, M&S and Lidl all walked away empty-handed.
In perhaps the most poignant moment of the night, Finnebrogue Artisan won Sustainability Initiative of the Year (supplier). The on-pack traffic light system to give shoppers better environmental information about the products was developed by the late Finnebrogue chairman Denis Lynn, who tragically died in a quad bike accident in May 2021, before he could see his initiative on shelves, with Nestlé gearing up for a Europe-wide rollout on its packs later in 2022.
Businesses with eco-credentials at their core proved their success last night. Neat, a sustainable cleaning brand, won Household Goods Brand of the Year for its reusable aluminium spray bottles that can be refilled with Neat's own concentrated, plant-based cleaning fluid. Similarly, Homethings picked up Startup of the Year after saving 23 tonnes of single-use plastic from landfill last year thanks to its refillable cleaning spray tabs.
Tackling one crisis is hard enough, but tackling two, like Worldwide Fruit and The Bread & Butter Thing are doing, makes them worthy winners of the Waste Not Want Not Award. The partnership sees Worldwide Fruit's surplus produce distributed to The Bread & Butter Thing's 56 UK hubs to give low-income households access to discounted food, thereby battling food waste and the surging cost of living in one clever initiative.
This week's events have reminded us that the issues surrounding the Northern Ireland Protocol have gone nowhere. One company in the midst of it all is Henderson Retail, which picked up Independent Retail Chain of the Year for its work maintaining supply to customers in the face of the Irish Sea border issues.
Zaggy Zachariou has faced supply issues of his own as site manager of Dalehead Foods Linton, yet came through them with aplomb to pick up Factory Manager of the Year. Last year, Zachariou doubled weekly output to 400 tonnes at the 350-staff factory year, won three new customers (Tesco, Aldi, Lidl), and launched 32 new lines.
Among the drinks, Jubel Beer won Drinks Brand of the Year for its innovative fruit-infused craft beer that grew sales by 140% to almost £4m last year, while Belvoir Farm picked up Soft Drinks Brand of the Year for its successful rebrand that saw it bring in a raft of new shoppers with new products such as low-calorie sodas and non-alcoholic cocktails.
Exporter of the Year went to Dash Water for its impressive expansion into Australia. Within a year, the brand won listings in Woolworths, Australia's largest supermarket chain, as well as 800 independent Australian stockists.
Shoppers' desire for healthy but convenient food is a trend two winners are successfully tapping into. Bol Foods picked up SME Brand of the Year after launching 24 new healthy ready meals in 2021, helping it to win listings in Asda and Morrisons and complete its coverage across the big four.
Meanwhile, Mindful Chef won Specialist Online Retailer of the Year in recognition of its expanding ready meals range and a successful new recipe-box partnership with Waitrose.
Business Initiative of the Year went to Jacksons Bakery for its transformation from a baker for local sandwiches into a major convenience supplier, distributing 14 own-brand bakery lines to over 4,000 stores across the country every day.
JW Filshill won Regional Wholesaler of the Year in recognition of its online advancements that have seen average online order values grow 88% year on year. Wholesaler and distributor Pricecheck is also innovating online with the launch of a new service on Amazon. It won Specialist Wholesaler of the Year.