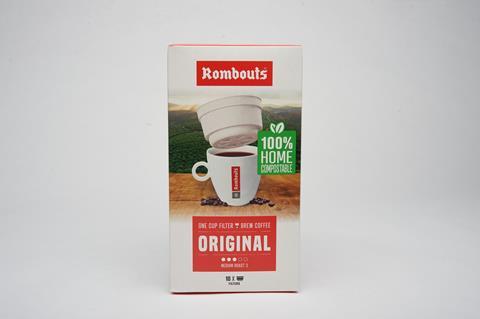 Winner: Rombouts Original Home Compostable One Cup Filter Brew Coffee
Capsule coffee machines and coffee filters are now huge business in the UK, fuelled to even greater penetration thanks to the closure of much of the hospitality industry during the pandemic. But for eco-conscious consumers that's often created a dilemma around their environmental footprint. With its Home Compostable One Cup Filters Rombouts creates the ideal solution for coffee drinkers looking for a higher quality brew, but without any waste. With filters made from bagasse – a natural by-product of sugar cane production – once used they can be simply added to a home compost or disposed of with food waste. They taste great too, with judges praising their enticing flavour. Plus, they're ideal for travelling.
This product has a completely compostable filter and is also wrapped in a recyclable inner film making this a very 'ethical' product, the judges thought. As well as this the product was easy to prepare and produced a lovely aromatic coffee which wasn't too strong. Judges felt it would be an excellent product for travelling.
Finalists:
Greenypeeps Calming Bedtime Tea
PG Tips Biodegradable Plant Based Pyramid Teabags with Wrapless Boxes
With thanks to our sponsors