As food producers work to become more sustainable, full supply chain visibility has proved an obstacle for many. Building on its experience monitoring direct suppliers to stop cattle reared on deforested land from entering its supply chain, Brazilian meat producer JBS believes its new blockchain technology can tackle the problem.
Being the world's largest meat producer, the company's ambition is far reaching. It has pledged to eliminate all deforestation in the Amazon and other Brazilian biomes it operates in by 2025.
To do this the company will deploy a new blockchain platform to encourage direct suppliers to register their own suppliers, providing greater value chain visibility and complying with the company's strict socio-economic criteria. JBS has also committed to sharing the technology with the wider meat industry – including competitors – to increase transparency and eradicate deforestation and farm-level malpractice.
The system has been designed to overcome the historic difficulty in monitoring indirect suppliers that have no formal relationship with large meat producers.
Cattle rearing in Brazil is highly distributed, with animals often being born on one farm and moved to others for fattening or slaughter. Cattle markets further complicate companies' ability to track animals and ensure that no illicit meat becomes part of its supply.
"There is no mandatory traceability or tagging of cattle from birth in Brazil," says Marcio Nappo, director of sustainability at JBS. "One of the main challenges for monitoring the entire cattle supply chain of direct and indirect suppliers is the unavailability of information that allows tracking of all supply chain movements."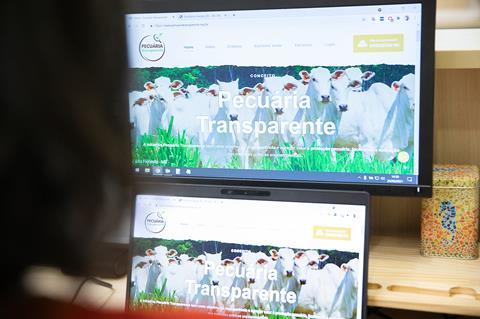 Blockchain platform
The meat producer believes it has hit on a sustainable solution to this unsustainable problem: the Livestock Transparency Platform. Based on blockchain technology – a kind of shared ledger that cannot be edited and enables supply chains to be audited – the new platform enables JBS's existing supply base to be cross-referenced with livestock transport data to identify indirect suppliers.
The process relies on animal transit permits, the official ministry of agriculture animal traceability document for sanitary control in Brazil. For each cattle movement, from farm to farm or processing plant, a compulsory permit is issued to identify the animals, their sanitary conditions and the farm of origin.
Nappo points out that details on such cattle movements are not public and can be commercially sensitive. "This was the main obstacle to overcome," he says. "We needed the farm of origin information, but also to respect supplier confidentiality."
On the platform information will only be available to transacting parties. This means suppliers can confidentially provide information on third party suppliers, while JBS can verify the legitimacy of providers without seeing the commercial information.
Aiding this process is JBS's geo-monitoring system, which will link to the blockchain platform. Assessing more than 77,000 farms across the Amazon, Cerrado, Pantanal, Mata Atlântica and Caatinga biomes, the system combines advanced satellite imaging and geo-referencing with official government data on direct supplier ranches to cover more than 850,000 km², an area more than 3.5 times larger than the UK.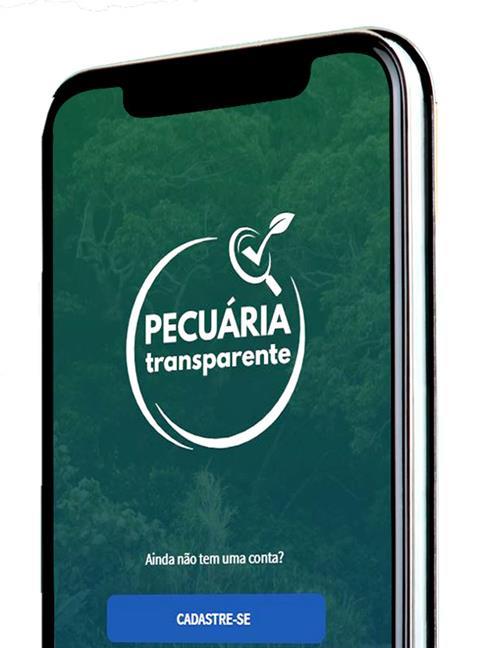 "The platform will provide JBS visibility across its entire supply chain in Brazil, including all indirect suppliers, and enable enforcement of its strict socio-environmental criteria at all links in the value chain by 2025," Nappo explains. "Indirect supplier registration will also be made mandatory at point of purchase after that date, with non-compliant suppliers automatically excluded."
The expectation is that by the end of the year, around 1 million head of beef cattle will be evaluated by the platform. Incremental targets, verified annually by a third party, will also guide progress to reach full traceability across all biomes by the end of 2025, transforming cattle supply chain due diligence capability in Brazil.
Other measures
To support adoption of the platform, JBS has opened 13 'green offices' to assist ranchers with bespoke advice on things like paperwork complications, the need for conservation plans, and the requirement to reforest parts of their properties according to Brazil's forest code. This legislation is among the strictest in the world, requiring Amazon landowners to permanently maintain 80% of their land as forest.
Beyond the platform, JBS in the first major company in the sector to set a net zero target and will invest more than $1bn over the next decade to help reach its targets. "We believe the food and livestock industry have a vital role to play in the transition to a zero carbon economy," Nappo says.
The company is also working with the Science Based Targets initiative (SBTi) to set a path to reduce emissions in line with the Paris Agreement goals. It recognises the opportunity to leverage its scale and influence to help lead a sustainable transformation of agricultural markets that empowers producers, suppliers, customers, and consumers in Brazil and beyond, Nappo says.
"We recognise that agriculture can and must be part of the global climate solution," he says. "That requires changing mindsets and driving meaningful change, which is why we are also leading efforts to promote the sustainable development of the Amazon biome, foster conservation, and improve the quality of life of the population living there. Sustainability goes hand in hand with economic development and we are committed to play our part."
To support this aim, the company has created the JBS Fund for the Amazon, a R$250m commitment to invest in sustainable projects in the Amazon over the next five years.
When combined with the Livestock Transparency Platform, JBS hopes this will allay critics and contribute to greener meat production. "There's no other option: we need to have this system," Nappo says. "It's what customers are demanding and it's what's good for the planet."