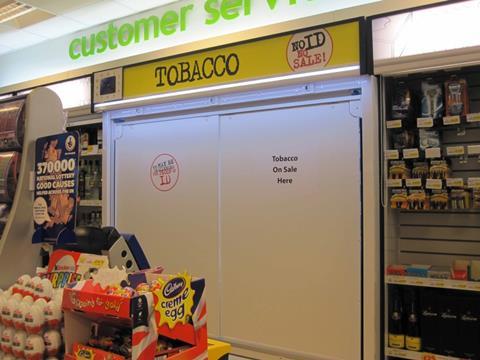 Time is running out for c-stores. Although they were given a three-year exemption from the tobacco display ban, that was two years ago. They now have less than a year to have to comply with the restrictions, which come into force for smaller stores on 6 April 2015 - and that means they need to start preparing now.
The good news is that in our latest business barometer (p40), 61% of indie retailers claim they already have, music to the ears of bodies like the National Federation of Retail Newsagents, which has been encouraging retailers to explore how they can make the most of the ban by installing display units that free up space for extra sales of higher-ticket items front of store.
But what are the alternatives to shutters and sliding doors? How much do they cost and who is going to foot the bill?
Ominously, the barometer reveals that more than half (55%) of independent retailers believe tobacco sales will fall when the ban comes into force. Another factor weighing heavily on indies is that the gantries they have to introduce can be costly. However, it's not all doom and gloom. There are a number of gantry options ranging from the high-tech through to the highly functional, many of which won't break the bank.
Take Cherwell Group's automated dispenser, which it says is future-proofed for plain packs (see box right). "The automatic dispensers operate just as effectively in a packaging-restrictive environment," says new business development director Hugh Walker. "When the packaging ban comes into place in the UK, the selection of brands will be much harder if you have a flap or sliding door system."
Cherwell already operates "hundreds" of units throughout the UK, which cost £25 per week for a 52 SKU dispenser - "no more than a small chiller cabinet, or a decent security camera system," adds Walker.
The other advantage to Cherwell's gantry is that digital messages can be displayed on the front, which Walker says presents a great opportunity to boost revenues by selling on-screen advertising to suppliers.
Cherwell isn't the only company that offers this advertising add-on. Expottuto is an Italian company that manufactures a gantry solution called Servertab - an overhead unit that replaces the retailer's existing gantry. Servertab is available with a digital screen for in-store advertising of non-tobacco brands and in-store deals. Another benefit of the model is that it allows retailers to grow sales as it frees up space for higher-margin items, says director Luigi Spina.
"The salesperson has access to a large stock stored in a minimal amount of overhead space, at least three times more than an ordinary tobacco gantry, and the system's design discourages shoplifting and enhances store security," he adds.
Servertab costs £1,500 to £1,600 for the basic gantry and a further £200 to £300 if retailers retailers want the 38in digital screen, but Spina says retailers can opt to pay a monthly fee of around £50 over a three-year period. He adds that they will see a tangible ROI in around eight weeks.
Sales uplift
Premier retailer Steve Archer is certainly a convert. He volunteered to go dark early, installing the Servertab gantry at his 400 sq ft Biddulph store in Staffordshire in January as part of a trial for Booker.
When the new unit was installed, Archer shifted alcohol and medicine towards the front of the store, a tactic that paid off in spades - or more accurately, alcohol and snack sales, he says. "Regaining the extra space was fantastic because it's small and we've seen no decrease in tobacco at all. We've seen a significant uplift in alcohol straight away - a 23% uplift on the previous year. Snack sales have also gone up, by 50%, because they were previously at floor level. Booker 2-for-£1 crisps are also flying," says Archer.
However, the outlay can be significant, he admits, ading that the "million dollar question" is who should foot the bill: the retailers, symbols, tobacco manufacturers or a combination thereof. There also the question of which solution is implemented. Gantry suppliers claim the tobacco companies favour a sliding door or shutter solution because they "want to keep the product exposed" as long as possible, whereas the symbol groups favour some of the more innovative designs outlined above.
However, the symbol groups don't want to splash out on these solutions, according to a source from a gantry manufacturer. Another source claims that tobacco suppliers plan to charge retailers around £900 to add sliding doors to their existing gantries - a completely different scenario to two years ago when the display ban came into force for larger retailers and tobacco manufacturers were more than happy to pick up the bill for supermarket refits, he says.
This is disputed, however, by some tobacco companies, who say they are offering refits free of charge to customers who sell high volumes of tobacco products. Imperial Tobacco says it has made an investment of "tens of millions of pounds" in new sliding door gantry solutions, which will be made available free of charge for "several thousand" retailers. JTI, meanwhile, says it also assessing its support of retailers on a "call by call basis".
Retailer support
Symbol groups are also weighing up the options. Booker is currently conducting a trial with retailers in London, and says it will communicate its plans to members once the trial is complete. Bestway says it is also exploring solutions for its members, although it has no plans to lend them financial support. "Most of our Best-one stores will retain their existing gantries and simply fit shutters or doors rather than invest in brand new solutions for selling tobacco," says Bestway director of symbol James Hall.
"We have been urging retailers to contact their gantry supplier and understand that the tobacco companies have now closed applications on gantry development. This means any retailer who has not been approached by his current gantry supplier needs to look elsewhere and make their own arrangements, with the distinct possibility of self-funding any refit."
Bestway is in discussions with a number of different equipment suppliers, including Servertab. "Whichever we choose, we will work hard to ensure that Best-one retailers, and cash & carry customers, get preferential deals. But let's not forget the onus is on the retailer to comply and he or she has to decide what is best."
With less than 12 months before the display ban comes into force, retailers need to ensure they're ready sooner rather than later - or risk not just falling foul of the ban but missing out on a new revenue driver.
Compliant gantry solutions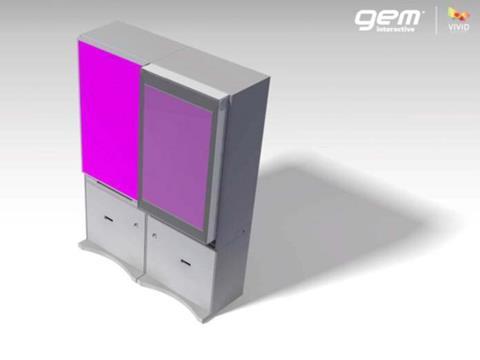 Cherwell
Cost: £4,200
Cherwell has been operating since the display ban came into force in Ireland in 2009. Its automatic dispenser unit for existing gantry space, linked to EPoS, works like a dark-compliant vending machine. The cashier selects the brand from the till and it is dispensed automatically. Cherwell says it's had a lot of interest from e-cig and alcohol manufacturers wanting to advertise on digital advertising screens, which can be installed within the unit.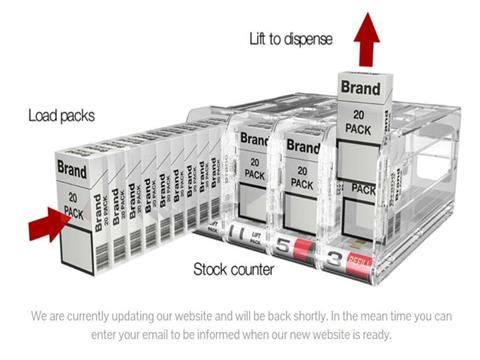 Ejector displays
Costs: TBC
This simple solution is a small springloaded cassette unit that holds tobacco underneath the counter and ejects packets when required. It's smaller than other solutions and frees up the gantry space, but doesn't have any of the innovative add-ons - like the digital screen - that other suppliers offer. The company's site it still under construction, but Ejector promises more information will be available soon.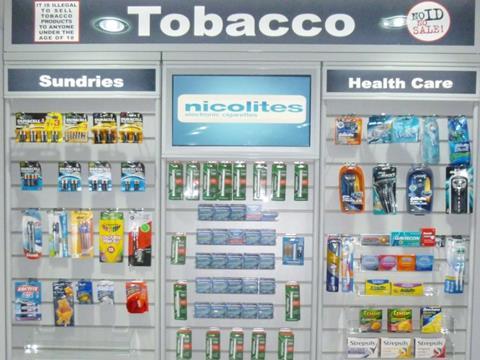 Navarra
Cost: £3,000-£5,000
Already fitted in Co-op and Applegreen service stations, this automated unit for existing gantry space is, like Cherwell's, hooked up the retailer's EPoS, providing stock control. Brands are selected electronically via the till and dispensed automatically. The Navarra unit also enables non-tobacco suppliers to advertise through a digital screen, and has room for products such as batteries or e-cigarettes to be hooked on to the front of the unit.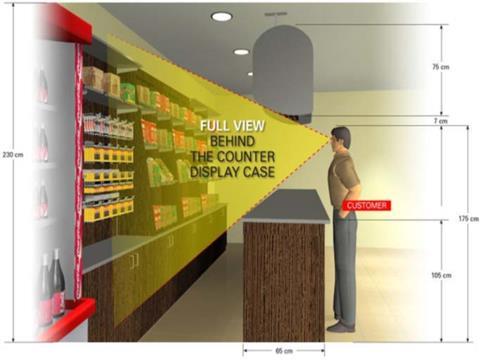 Servertab
Cost: £1,500-£1,600+
Italian manufacturer Expottuto says it is in talks with all the major symbol groups about this unit, which is suspended above and behind the till. It stocks almost 2,000 cigarette packets and tobacco pouches and Expottuto has already installed more than 20,000 units in Italy, despite the fact there's no display ban there. It says its popularity is down to the way it frees up space in-store.