For players operating in a category that goes against key food trends such as health, weight loss and carb reduction, savoury pies and pastries brands have done a great job of earning a crust in 2014.

Six of the 10 biggest brands in the market are in growth thanks to a mix of strong brand messaging, inspired NPD and some savvy licensing agreements. And, though overall category volumes have fallen 1.4%, this is a big improvement on the 6.6% slump recorded a year ago, and the value of the market has shrunk just 0.2%. Meanwhile, the meat snacks category has risen 6.3% by value despite a 2% fall in volumes.

In both markets, branded performance has left own label in the shade. Sales of own-label savoury pastry have fallen more than £20m in the past year, which market leader Ginsters says points to the remaining stigma from Horsegate, despite pies and pastries being for the most part not caught up in the scandal.

"This year has seen brands at the forefront of the savoury pastry category," says Ginsters sales and marketing director Linda Evans. "Brands have been responsible for driving innovation, and customers have been seeking those household names they trust, particularly after the horsemeat scandal last year."

Own label has also been hit by a drop in promotional activity by the retailers, suggests Evans - though she adds the category continues to be heavily promoted, with more than half the value spent on deal.

Ginsters remains the brand leader with almost twice the sales of nearest rival Wall's. Ginsters value sales have risen 2.6% year on year to £101.9m on similar gains in volume.

Evans attributes much of this ­performance to the supplier's Feed the Man TV push, which broke at the beginning of the year and was brought back into service during the World Cup. The brand also achieved a strong social media presence, attracting 75,000 Facebook followers from a standing start this year.

And there has been innovation including the launch of a hot pies and pork pie range in the mults, and the rollout of H+Eat bread-based microwaveable products in March. Ginsters halted supply of H+Eat last month, but will be re-launching the range in 2015.

With sales of Kerry Group's Wall's brand up 16.9% year on year, it's easy to understand why Pork Farms got a taste for Kerry's chilled savouries pastry business, acquiring it for an undisclosed amount this summer.

Pork Farms, meanwhile, has had a pig of a year, with sales down 40.5% following "temporary distribution losses." "These listings have now been recovered and brand sales are growing," says a Pork Farms spokesman.

Peter's Food Service, meanwhile, has grown its value by a third this year partly as a result of licensed lines such as Heinz Beanz Slices and pork rolls with Heinz Tomato Ketchup and HP Brown Sauce. In October it moved into new territory through a licensing tie-up with Sharwood's (see Top Launch).

Also growing through innovation is premium pie and quiche maker Higgidy. The business extended into sausage rolls in May with a three-strong range that was expanded with a new variant in September.

Higgidy MD Mark Campbell admits to a degree of trepidation before the launch, given the premium £2.49 price tag. But sales are significantly ahead of expectations, he claims, arguing the market for sausage rolls was in the same place as quiches and pies were three to five years ago. "They were waiting for a successful premium end to emerge. People had deserted the ­category because it had been value engineered," he says.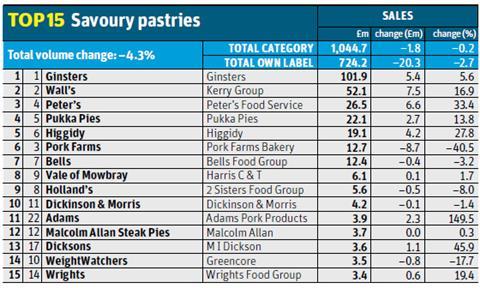 And brands can generally do more to tailor products to meet the changing tastes of consumers, suggests Claire Nuttall, co-founder of branding and innovation agency Thrive Unlimited. But she warns against moving too far from the classic ­comfort food credentials. "People are carb reducing and looking for healthier yet really tasty choices," explains Nuttall. "Pastry-based snacks will always do well as comforting everyday foods, but you only have to look at the impact Warburtons Thins have had on the bread market to demonstrate the growth that can come from better-for-you choices that taste great."

And Nuttall describes meat snacks "as a core growth area" as interest in protein-rich snacks continue to rises. "I think we will see better quality, more natural and more authentic varieties over the coming year," she adds.

It's a view echoed by James Newitt, founding partner of meat snacks supplier The Jerky Group, which has seen sales of its Wild West brand rise almost £1m this year. "Consumers want real protein from real food," says Newitt. "Consumption frequency is up - consumers believe regular snacking can help manage their hunger, weight and energy levels."
The business is also tapping demand for more natural products with British provenance by last year going additive-free and moving production to the UK using primarily British meat. This March, it partnered with Men's Health to launch a brand that has already racked up sales of £400,000.

Beyond the jerky and biltong brands that make up many of the smaller players in the market, the category is dominated by the big two of Jack Link's Peperami (see right)and Kerry Foods' Mattessons - both in value growth. Also uniting the two brands is their core customers' love of footy, prompting both to launch World Cup activity this year - with a Brazilian Chargrilled Mattessons Fridge Raiders rolling out as Peperami brought back its Fanimal promotion and gave consumers the chance to win a shouting football mascot.

Should demand for meat snacks continue in the manner predicted, the category should have plenty to cheer about next year too.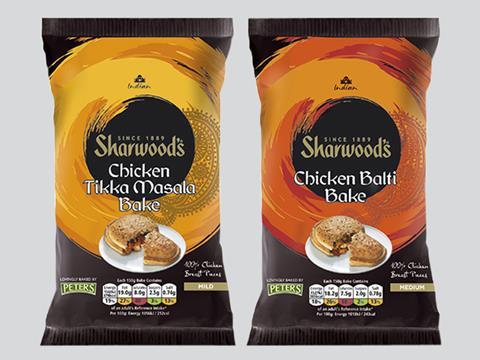 Top launch: Sharwood's bakes by Peter's Food Service
Not necessarily a name many would associate with savoury pastries, this tie-up between Premier Foods' ethnic food brand Sharwood's and Peter's Pies maker Peter's Food Service was a genuine piece of exciting NPD that brought some much-needed spice to the category.
The 150g naan-shaped bakes are made from puff pastry and sprinkled with cumin seeds.
The four curry flavours are likely to appeal to existing savoury pastry fans and attract new shoppers into the category.