It's time for Sprexit. So said City analysts SocGen in July as they urged Unilever to sell off its struggling spreads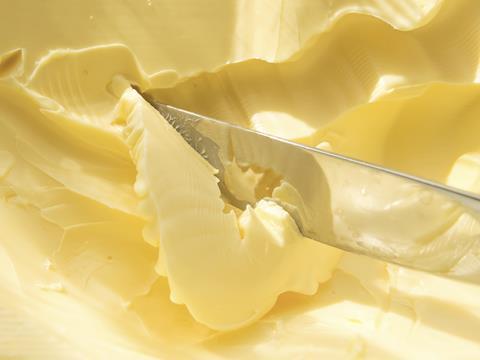 Forget Brexit. It's time for Sprexit. So said City analysts SocGen in July as they urged Unilever to sell off its struggling spreads division. It's easy to see why: BSM's decline has gathered pace from £74.8m a year ago to £82.7m this year. Ouch.

Unilever's four big brands have contributed most to that, with Flora and I Can't Believe It's Not Butter! the sector's greatest fallers. Their total loss, combined with Bertolli and Stork, is £37.4m, a fall of 13.8%. The only consolation is that a year ago the loss was almost £1m more. A sharp fall in own label's value, driven chiefly by an increase in deals, goes a long way to explaining the sector's growing loss.

Although Unilever's 2015 decision to hive off its spreads operation into a separate business was seen as a precursor to a sale, for now Unilever continues to show commitment to its BSM brands. It forked out £12.5m on the relaunch of Flora in January, as well as teaming up with TV chef Gennaro Contaldo for a new campaign for Bertolli and continuing to invest in 2015 launch Stork with Butter.
Data Box
For 20% off the complete category ranking click here and enter discount code NIELSENGROCER
Data supplied by nielsen.com
With bread's decline also gathering pace, Unilever brand building director for BSM Caroline Jary says the focus is now on communicating butter & spreads' versatility and health benefits. "We are continuing to unlock new usage occasions in cooking and baking, and taking advantage of emerging trends in plant-based diets," she says.

Given the explosive growth in plant-based alternatives, Flora's new Powered by Plants campaign trumpeting the brand's health credentials and new dairy-free variant Flora Freedom (our Top BSM Launch for 2016; see below) seem canny moves.

"Powered by Plants drove strong penetration gains (up 10.4%) in the first three months after launch," says Jary. "We know health continues to be a key trend, which has seen an increasing number of shoppers seeking foods with greater health benefits. This provides yet another opportunity to tackle the bread decline head on and reassure consumers that healthier brands such as Flora, Flora Pro-activ and Bertolli can be enjoyed as part of a balanced diet and lifestyle."

Price deflation has been a key theme this year, as retailers sought to halt declining volumes with price cuts and an increase in promotional activity. "More trade investment has secured more gondola end space - up 8.7% - and more promotional merchandising to support the increase in promotions," says Nielsen analyst Rupert Austin. "With the wider volumetric declines there has been a shift to own label - own-label distribution is up 3% versus a branded decline of 5.3%."

It's not just Unilever that's been burnt by all this, of course. Of Dairy Crest's five big spreads brands, only Country Life is in growth. And only just: value has inched up 0.8% on volumes up 10.5% as the brand's price has tumbled following a year of fierce deals.

Despite Dairy Crest's five brands' combined loss of £11.9m, marketing manager for spreads Neil Stewart is upbeat. "We're particularly proud our Country Life block is tracking 10.8% growth for volume and has grown value 1.2% in a deflationary market, In the context of a contracting spreads sector, Clover is performing well, winning 75,000 new shoppers in the latest year."
Top Launch 2016
Still, Dairy Crest dropped its Clover Cooking Spray oils in March after it failed to mirror the success of its stablemate Frylight, which is up 6.5% on volumes up 2.9%. Arla encountered similar difficulties with the Lurpak Cook's Range, including a rapeseed and butter cooking liquid, which it axed in 2015 following disappointing sales.

The rationalisation of the Lurpak portfolio seems to have done some good. Value may have fallen 1.9% to £292.6m on the back of a 6.4% reduction in unit price, but the brand has delivered the greatest absolute volume gain in the category, shifting an extra 2.7 million kilos of butter over the past year.

Arla's BSM category director, Ruby Ali-Bret, says Lurpak outperformed the category for the 12 weeks to the end of November, following the April launch of Lurpak Infusions and fresh marketing investment. "There was a halo effect of recent launches such as Lurpak Infusions and the Game On, Cooks ad (voiced by Rutger Hauer) with the brand achieving its highest rate of penetration of 35%," says Ali-Bret.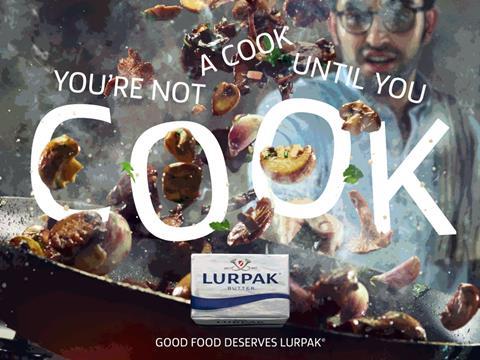 Britain's biggest butter brand has had a busy year, forking out the big bucks on ads calling on home cooks to spoon on the Lurpak when they're getting creative in the kitchen, and having another stab at butter innovation (following last year's axing of the Cook's Range) with Lurpak Infusions. Nielsen was impressed. "It brought genuine innovation to the category, offering a new proposition to consumers built around taste," says analyst Rupert Austin.
With Anchor losing 7.5% of its value (Ali-Brett says sales picked up in the 12 weeks to the end of November), the only other top 10 brands in growth were Raisio's Benecol and Ornua's Kerrygold. Benecol's 6% increase in value sales to £16.9m marked a return to form for the brand and comes on the back of a reorganisation of Raisio that saw it integrate Benecol with its snacks business.

Kerrygold saw value sales rise 4.7% to £22.3m. "It's the only brand in block butter delivering volume and value growth," says Ornua marketing director Mike Harper. "Block butter has a lot of value to add to the category. We've always had pressure to promote but have always tried to stay away from deep deals. That's how we've been able to stay premium and retain the distinction between own label and the Kerrygold brand."

Ornua has set its sights on building sales of spreadable Kerrygold butter next year after relaunching its range in October. "There's a lot of headroom in spreadable, it only has 40% penetration in the UK, so by being aggressive we can close the gap between spreads and butter and help add value to the category."

Being more aggressive on pricing may become more of a challenge in the coming year. Manufacturers have enjoyed almost two years of low farmgate milk prices as a result of surplus milk supplies, but things took a sharp turn in the other direction during the summer. As supplies began to tighten, wholesale prices skyrocketed, leading to warnings by Dairy Crest that profits could come under pressure, and of potential shortages by Christmas.

Such cost pressures highlight the need for production efficiency. Stewart at Dairy Crest says: "We recently completed a project to bring all of our butter and spreads packing into our plant in Kirkby, where we've invested £38m, including a £5m grant, to ensure we have a well invested, fully optimised facility that can provide best-in-class quality to consumers, and supply to our customers."

It also highlights the need for new, higher- value products. "Innovation is a much needed focus for BSM," says Austin at Nielsen. "It's notable, too, that all the core sectors lost shelf space in the last year, something that will encourage more losses next year."

With an outlook like that, maybe more BSM brand owners will be contemplating Sprexit in 2017.