As canned food's losses accelerated this year, the sector's biggest brands piled high and sold cheap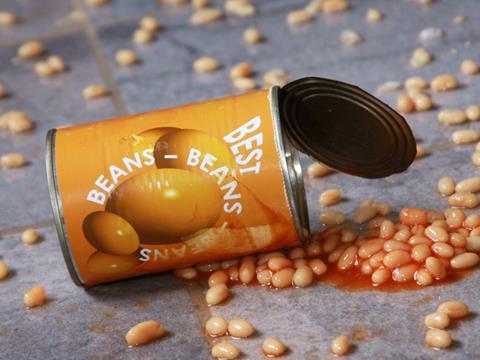 Desperate times, desperate measures. As canned food's losses accelerated this year, the sector's biggest brands piled high and sold cheap with alarming frequency to compete with cut-price own-label lines.

Take fish, the sector's sharpest faller, contributing £31.6m to a total loss of £85.3m. Market leader John West's average price is down 6.8% and number two Princes is down 4.7%. For John West, lower prices powered a 6.8% hike in volumes, but Prince's was less fortunate, losing nearly a quarter of its value - £29m - and almost a fifth of volumes.

Frequent price matching with own label shows how desperate things are. In an October deal at Tesco, 160g of Princes Tuna Chunks in Spring Water were selling for 80p - almost half price. That's the same shelf price as the equivalent own-label product, although the small print revealed the Princes can contained less tuna and more water; drained weight was 112g. Tesco's was 120g.

With lower shelf prices for the most part failing to generate volume uplifts, retailers have questioned the wisdom of devoting shelf space to the brand. Princes marketing director Nick Brownbill says the loss of listings in Asda, Sainsbury's and Morrisons has taken a toll on the brand's performance. But he suggest there is cause for some optimism.
Data Box
For 20% off the complete category ranking click here and enter discount code NIELSENGROCER
Data supplied by nielsen.com
"The last 12 months have seen retailers rationalise their ranges across the category," says Brownbill. "Losing some key listings earlier in the year led to a value loss of just over 20%, however this figure doesn't fully reflect the impact of recent listings gained in Tesco, which have recovered our value to a loss of only 7.5% during the last reporting period."

There are indeed breaks in the clouds. Princes mackerel is outperforming the category, registering a 0.2% volume increase, and hopes are high that a raft of NPD such as Princes no-drain tuna can help raise value.

It can be done, of course. John West has shrugged off bad publicity over its sourcing practices and a high-profile delisting of its products by Tesco to buck the general trend of decline in the category and post a near-flat sales performance, with a fall of just 0.5% to £163.1m.
Top Launch 2016
John West's growth has accelerated since the start of July, with value sales up by more than 5%, says marketing director Jon Burton. The brand's No Drain was up 14% in value, while launches such as its resealable Fridge Pack and an expansion into salmon by Infusions all contributed to its surge in sales over the second half, Burton adds.

Elsewhere, value sales of canned meat fell by 6.3%, with market leader Princes losing £7.4m in value due to a loss of distribution for its hot dogs and a shift by retailers away from its market-leading corned beef to own label. Canned veg saw sales fall 4.1%, with the continuing decline in the category leading to a raft of delistings for Princes-owned Crosse & Blackwell earlier this year.

Canned beans have also struggled, with Heinz and Branston contributing to half of the category's £15.2m losses (£8.6m). "The beans category is reflective of an overall food trend we are currently seeing across the nation, as post-recession shoppers are more conscious of the amount they are spending," says Heinz Beanz assistant brand manager Umi Ali.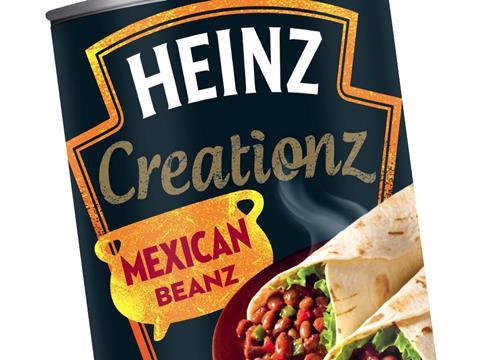 That Heinz axed its Beanz & Pulses lineup in July came as a bit of a surprise, given that 2016 was the 'year of the pulse' and the range was worth £2.5m a year. But Heinz has even higher hopes for what came in its place. Creationz comes in four world food flavours such as Tagine Chickpeas and Curry Lentils. "They'll accelerate growth," said Heinz.
However, the brand is bullish over its long-term prospects, with Heinz remaining the strongest in the market with 68.8% share of beans sales. "We are also seeing an increase in differentiating meals, with consumers adding to their weekly menu with a variety of our new dishes, all of which are experiencing growth, such as curry and rice, curry and stew," Ali adds. "New products such as Heinz Creationz are key to tapping into these new occasions."

Supermarket delistings also took their toll in canned fruit. While market leader Del Monte saw sales rise 5.3%, number two brand Princes saw the gap widen with a 7.7% fall in value sales. Losing distribution with one major retailer hit its performance, says Brownbill. However the range is still "in growth in the majority of retailers".

During an ATL campaign between March and June, the brand saw its "highest level of growth since December 2014", he adds. "The majority of growth came from new shoppers attracted into what is a mature category, alongside improvements in our brand penetration, trip volume and frequency of purchase," Brownbill says.

Further investment in marketing and innovation will be critical in 2017, given that many are warning that retail price rises are likely in light of the weakened pound following June's Brexit vote. If prices do rise, brands will need to work harder than ever to drive growth.