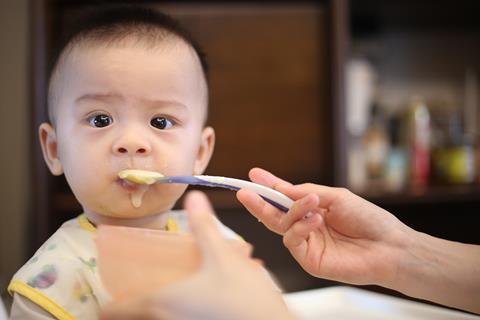 The birth rate in England and Wales is at an all-time low, down 3.2% compared with 2017 and almost 10% compared with 2012, ONS figures show. And in another challenge for suppliers, the latest UK-wide Infant Feeding Survey suggests breastfeeding is on the up.
It's no surprise, then, that baby & infant care continues to fall in three of its four key sectors. The overall category is down £39.9m in value. Babyfood volumes have tumbled 7%, formula is down 5%, and juice has crashed by 25.4%. For the second year running, only snacks have delivered meaningful growth, with volumes up 1.7%.
This year marked "both opportunities and challenges for the baby feeding category" says Gary Elliott, head of category & shopper marketing at Danone Early Life Nutrition. "There are simply fewer babies to feed than this time last year."
A shrinking market isn't the only problem. The ongoing backlash against plastic packaging is also a major concern – because wet babyfood invariably comes in non-recyclable pouches.
Piccolo, which is claiming a UK market first with bio-based pouches made from 80% plant-derived materials (see the Top Launch below), is one of just four of the top 10 suppliers in value growth. It has achieved double digit gains to climb from seven to six in our ranking, overtaking Organix. (Nestlé and Kiddylicious have achieved slight rises. Babease is up 41.2% but from a very small base of £655k.)
"Brands such as Piccolo, which offer innovative products in line with global food trends and a premium proposition, have seen growth within the category, winning share from other popular brands," says Piccolo founder Catherine Gazzoli.
Those other brands include Ella's Kitchen – which remains the UK's biggest name in babyfood despite falling sales. In April it launched a six-month trial in partnership with recycling company TerraCycle and Asda, in an effort to increase the recyclability of babyfood pouches.
The EllaCycle pilot saw freepost envelopes available at Asda stores, enabling parents to send pouches from any brand to TerraCycle to be recycled into items including benches and fence posts. Ella's says the scheme has so far saved almost 2.5 million pouches from landfill.
Similarly, last month saw Little Freddie team up with Sainsbury's and recycling specialist Enval for an all-brand babyfood pouch recycling scheme. It will see Little Freddie-branded recycling bags sold in stores for 99p.
But the story of babyfood's performance doesn't hinge just on its packaging. The sensational success of snacks also deserves a chapter. Much of its 5.5% value sales rise has been driven by brands choosing to "enter the snacking arena to extend the life of the category and attract parents to healthier, portion-controlled products for toddlers and kids" says Gazzoli.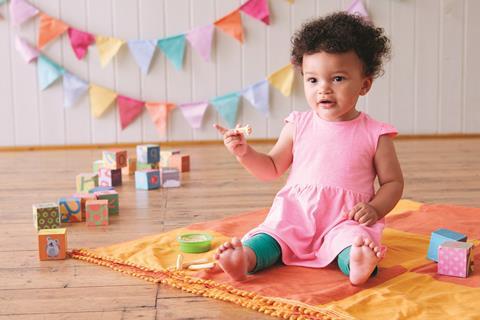 Both Ella's and Kiddylicious have enjoyed double-digit snack success – Ella's by calling out the fruit that's inside its products, and Kiddylicious by focusing on the lack of preservatives, added sugar or "artificial anything". They're the second and third top snack brands respectively.
It's a different tale for snack leader Organix. Value has dived by 6.8% on volumes down 3.4%. "With retailers introducing own-label ranges, there's been greater competition for shelf space across the entire baby and toddler food category, with all major brands affected," says Organix MD Philipp von Jagow.
In response, the company has implemented a "growth plan". It features NPD including Melty Veggie Sticks and biscuits of children's character The Gruffalo, as well as a major pack redesign bringing all products, including its Goodies range of snacks, under one Organix masterbrand. It also plans to make all packaging 100% sustainable by 2023.
Organix is right to take such action. Own-label is growing significantly in both babyfood and baby snacks, with volumes up 61.4% and 25% respectively. Own-label wet food is currently an average of 16.2% cheaper per kilo than branded equivalents.
"Brands should prepare for intense pricing pressure as own-label becomes more socially acceptable to buy in this previously conservative market," warns Nielsen baby & infant care analyst Stephen Bough.
Price is also a factor in formula's decline, says John Allaway, MD at organic formula brand Hipp. "The falling birth rate is undeniably a factor in this, but the bigger cause is parents switching to cheaper brands, both within traditional retailers and in the discounters."
Looks like a price war is born.
The Top Products 2019
In association with nielsen
Top 5 Baby juice
£m
change (£m)
change (%)
Total Category:
2.4
-0.7
-22.5%
Total volume change:
-25.4%
Total Own Label:
-
-
-
This year's rank
Last year's rank
Brand
Manufacturer
£m
change (£m)
change (%)
1
1
Heinz
Kraft Heinz Co
2.2
-0.6
-20.8%
2
3
Bobo Fruit
Nestle
0.1
0.0
-24.6%
3
2
Hipp Organic
Hipp
0.0
-0.1
-58.9%
4
4
Bobovita Nektar
Danone
0.0
0.0
-13.3%
5
7
Moi Tout Seul!
Nestle
0.0
0.0
80.5%
Top 10 Babyfood
£m
change (£m)
change (%)
Total Category:
162.1
-11.4
-6.6%
Total volume change:
-7.0%
Total Own Label:
14.1
5.5
64.3%
This year's rank
Last year's rank
Brand
Manufacturer
£m
change (£m)
change (%)
1
1
Ella's Kitchen
Hain Celestial
61.6
-4.5
-6.8%
2
2
Cow & Gate
Danone
38.6
-3.0
-7.2%
3
3
Heinz
Kraft Heinz Co
22.7
-3.4
-13.0%
4
4
Hipp Organic
Hipp
12.0
-2.9
-19.6%
5
5
Aptamil
Danone
3.6
-1.6
-30.3%
6
7
Piccolo
Piccolo
2.4
0.3
14.1%
7
8
Nestle
Nestle
1.5
0.0
2.6%
8
6
Organix
Organix Brands
1.3
-1.0
-44.0%
9
10
Kiddylicious
Lotus Bakeries
1.1
0.0
1.7%
10
12
Babease
Babease
0.9
0.3
41.2%
Top 10 Baby snacks
£m
change (£m)
change (%)
Total Category:
86.8
4.5
5.5%
Total volume change:
1.7%
Total Own Label:
2.7
0.7
31.4%
This year's rank
Last year's rank
Brand
Manufacturer
£m
change (£m)
change (%)
1
1
Organix
Organix Brands
34.6
-2.5
-6.8%
2
2
Kiddylicious
Lotus Bakeries
25.1
5.2
25.8%
3
3
Ella's Kitchen
Hain Celestial
9.9
3.3
50.9%
4
4
Heinz
Kraft Heinz Co
4.4
-0.3
-6.2%
5
6
Farleys
Kraft Heinz Co
4.1
-0.1
-2.6%
6
5
Bear
Urban Fresh Foods
3.99
-0.37
-8.5%
7
11
Bickiepegs
Bickiepegs
0.32
-0.08
-20.2%
8
9
Marmite
Unilever
0.29
-0.16
-34.7%
9
7
Annabel Karmel
Annabel Karmel
0.29
-0.25
-46.6%
10
8
Little Dish Chickpea Pop Pops
Little Dish
0.21
-0.26
-55.2%
Top 5 Baby milk
£m
change (£m)
change (%)
Total Category:
361.4
-32.3
-8.2%
Total volume change:
5%
Total Own Label:
-
-
-
This year's rank
Last year's rank
Brand
Manufacturer
£m
change (£m)
change (%)
1
1
Aptamil
Danone
166.1
-53.7
-24.4%
2
2
Cow & Gate
Danone
117.3
9.7
9.0%
3
3
SMA
SMA Nutrition
55.5
4.0
7.7%
4
4
Hipp Organic
Hipp
19.1
7.2
60.0%
5
5
Nanny Care
Nanny Care
1.9
0.2
8.7%
The Grocer's Top Launch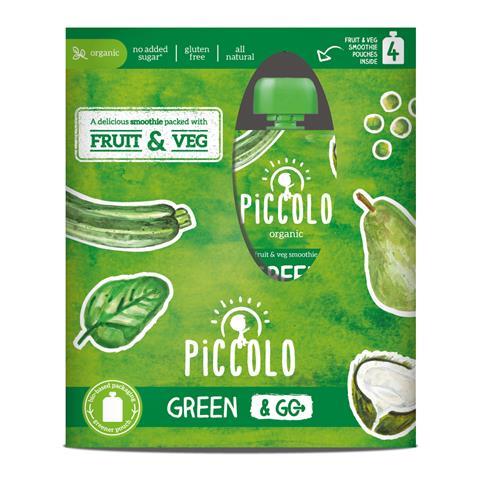 Bio-plastic pouches Piccolo
Convenience is king in babyfood. But the ease of microwaving a pouch or squeezing it cold directly into your tot's mouth has a heavy cost: tonnes of unrecyclable plastic waste. Piccolo has an answer, and it's a UK first. The organic material that forms 80% of these pouches comes from renewable sources, such as sugar beet, and it decomposes quickly, unlike the petroleum-based plastic pouches are typically made of. Next up from Piccolo will be a 100% recyclable pouch, the brand hopes.