There's more than a touch of déjà vu about cereal's performance this year. Once again, the category experienced a 1.1% drop in value. And once again, those losses (£14.5m) can be solely attributed to brands.

It certainly hasn't been easy for them this year. Between taking on the PHE challenge to achieve a 20% sugar reduction by 2020 and battling loss of shelf space to own label, growth has been tricky to come by. In fact, just 13 of the top 50 managed to increase value. By contrast, own label has shrugged off sugar concerns to rack up an extra £14.5m (4.9%) in value on volumes up 4.2%.
Counterintuitively, it's not the most sugary brands that are suffering. Sales growth may have slowed for Kellogg's Crunchy Nut, but it still reported a respectable £2.9m in additional sales. The similarly indulgent Kellogg's Krave secured an extra £2.3m, up 9.6%.

For healthier brands, fortunes have been mixed. Special K's move away from diet cues appears to have done the trick, as it recovered from its hefty value drop in 2017 to gain 1% this year. Others such as Weetabix and Shreddies, whose sales slipped £3.9m and £2.9m respectively, have taken a hit.

Neither brand is taking this lying down. Weetabix is set to introduce its new 'Any-Which-Way-A-Bix' campaign in 2019, and Nestlé launched its 'Shreddie or Not' campaign this year alongside a new recipe for its Shreddies Original in August. "All breakfast cereals, including Shreddies, are operating in a tough environment," says marketing director Toby Baker. "Consumer desires and needs are evolving at a rapid pace, there's strong competition from branded and private label products as well as breakfast alternatives outside of cereal. However, we see this as an opportunity, as it helps to drive continuous innovation."

This drive for innovation resulted in Nestlé's Breakfast to Go range launch in August, featuring single-serve pots of Shreddies and Shredded Wheat Honey & Nut with milk and a spoon. Not one to be left behind, Kellogg's unveiled its Joyböl smoothie bowl range (see Top Launch) this year, similarly targeting the on-the-go crowd.

Portable breakfasts certainly seem to be where the action is. What started with the breakfast drink is now inspiring a range of formats. That the fastest-growing cereal brand by percentage was instant porridge brand Moma (up 49.9% to £2.9m) speaks volumes. Everyone is at it. Danone launched bircher-like protein breakfast pot Ayem in November, while number two brand Quaker introduced a third variant of its Porridge to Go Squares in July to meet rising demand for handheld breakfast options. At a time of mounting pressure across cereals, this innovation certainly could come in handy.
TOP LAUNCH
---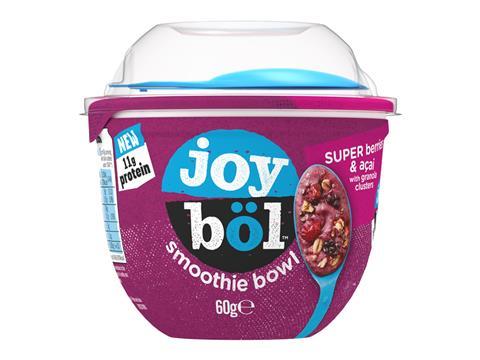 Joyböl, Kellogg's
If this smoothie bowl screams millennial, it's no coincidence. Kellogg's food developers spent 18 months monitoring and testing Joyböl among its target demographic of young urbanites before launching in the UK in October. Available in trendy flavours such as Super Berries & Açai, Strawberry Almond Quinoa and Mango & Coconut, Joyböl's on-the-go credentials are perfect for busy millennial types. Even better, the bowls require no refrigeration or any prep beyond adding water.