Chocolate went unabashedly posh in 2018. Cadbury unveiled its 'rich and creamy' Darkmilk in August, with a higher cocoa content to reflect the demand for 'pure' chocolate bars. Green & Black's entered the singles market that same month with truffle and praline bars. Even the humble Maltesers got a fancy new look, turned into decadent truffles by owner Mars Wrigley in May complete with a glossy gifting box.

The shift towards upmarket has paid off. In fact, it was the only thing keeping the category in growth. As Brits bought near 800,000 fewer units, the 2% rise in value was only possible thanks to a 1.8% increase in price.

Premium brands are the ones winning. Across the top five, only the decidedly high-end Lindt Lindor stayed out of the red (and convincingly so too, with sales up 17.2%). Despite their tenative moves into premium, Dairy Milk, Galaxy, Kinder and Maltesers shed a combined £19.4m in the past year.

"Confectionery is one of the few categories where consumers are looking for more premium treats, especially at key seasonal trading spikes such as Christmas and spring," says Levi Boorer, customer development director at Ferrero UK, citing research that found 70% of people now value the quality of their chocolate over quantity.
"A core principle remains that consumers are really looking to enjoy their treats and are willing to trade up to do so," adds Mondelez trade communications manager Susan Nash. "The fast-growing premium chocolate segment is incremental and bringing in new, higher value shoppers. We have introduced a number of innovations over the past 12 months that deliver to these need states, helping to drive growth in the category."

She gives Green & Black's as an example (value sales are up 7%). The singles were launched expressly "to capture the growing premium singles market and meet the needs of consumers looking for a luxurious new way to unwind" Nash says.

"We see in general a trading up of the category," adds Mars Wrigley UK general manager David Manzini. "When we're observing and analysing the market there is a trend of added value and it's the reason that some of our innovation is in the premium position, like Maltesers Truffles."

It's a trend that goes hand in hand with gifting formats too. Ferrero insists key gifting occasions such as Diwali, Valentine's Day and Mother's Day are "vital" to retailers.

"More than ever, key events throughout the year have become the preferred guilt-free occasion to enjoy chocolate and confectionery," says Flo Broughton, co-founder of Choc on Choc, with "less consuming chocolate and confectionery on the go" and brands tailoring their ranges accordingly.

This overarching premiumisation coupled with more conscious consumption also paved the way for new, smaller players to gain traction in 2018.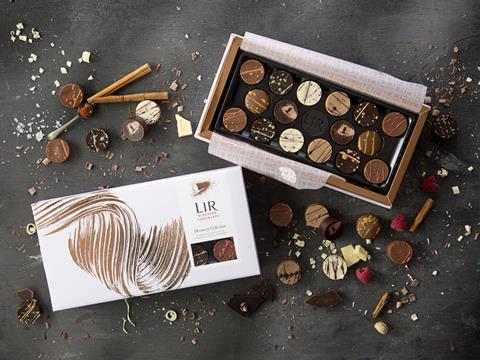 Success stories included the likes of Montezuma's, up by 60% to add nearly a million in sales, and Lir, up 32% to take £247k.

That Montezuma's trades on its ethics is no coincidence, says co-founder Helen Pattinson. "Ethics is of growing importance as provenance and transparency become more significant to consumers," she says. "Until now I think it's fair to say that it's been a contributing factor rather than a main driver but today's consumers are much more aware when they are choosing products. It's the whole package that drives choice: taste, price, availability and ethics."

"Consumers are seeking out brands they can trust," adds Mary O'Rourke, head of product development at Lir Chocolates. "Price is important but not the main consideration in chocolate. Demand for premium chocolate and true indulgence with a sensory experience across taste, flavour and colour are all important factors."

One factor continuing to unite confectionery brands big and small in 2018 is health. Rumours of the government extending its sugar levy beyond soft drinks were no doubt playing on the minds of manufacturers, who scrabbled to make changes.

One response was to tweak size and format. In September, Mars Wrigley announced it would be launching smaller size low-cal versions of the classic Mars and Snickers bars. Ferrero says 95% of its portfolio now comes in at less than 150 calories and argues "the best way to help consumers reduce or limit their consumption of sugar is by offering our products in small portions".

Another tack was to look at cocoa content. The launch of Cadbury Darkmilk was not only a nod to premiumisation but also recognition of the trend toward higher cocoa dark chocolate bars that require less sugar.

"There are degrees of acceptance and some consumers find dark chocolate a little too ­bitter and therefore believe it is not for them," says Nash. "Cadbury Darkmilk has been ­specially created to meet this consumer demand - providing a more grown-up taste, balanced with a delicious creamy and smooth texture."

"If you want to benefit from all of its great health properties, you should really be eating higher cocoa dark chocolate," adds Montezuma's Pattinson, who says "so many of our customers tell us they have two or three squares of dark chocolate every evening as their pudding." Dark chocolate now accounts for more than half of the brand's sales and nine of its 10 bestselling bars.

The trend "is ideal" believes founder of Ombar Richard Turner, "as the product contains more dry cocoa solids and this is where the good stuff is." Following the launch of a 90% solid chocolate bar a year ago the brand has now added a 100% cacao bar, containing zero added sugar "and almost no naturally occurring sugars".

This shift toward little and often is clearly good news for pricier, purer chocolate. But where does that leave the giants of confectionery, who have traditionally traded on cheaper, high-volume lines?

For Mars Wrigley's Manzini, future success for the big brands is about creating a better, more agile innovation pipeline. The UK general manager has unleashed a raft of NPD since he joined the business a year ago, from protein bars to this year's Top Launch, Maltesers Buttons.

"Fifty per cent of our growth should come from innovation," he says. "The expectation of the consumer is changing, the appetite for innovation and new tastes is there. For us it was a wow moment when, by diagnosing the market, we realised what should be the right pace of innovation. It's going to continue - a lot of surprises are coming."
TOP LAUNCH
---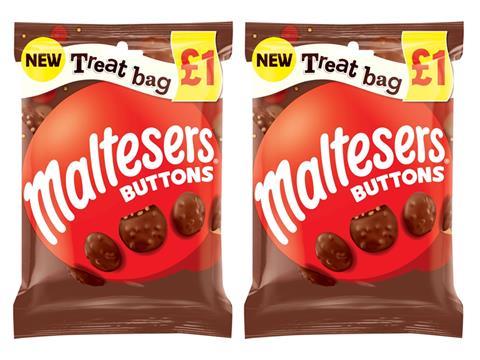 Maltesers Buttons, Mars Wrigley
Following months of rumours that Mars Wrigley was set to remould its 80-year-old Maltesers balls into discs, the brand revealed Maltesers Buttons in May. Marketed as a smaller alternative to the signature snack, rather than a replacement, the buttons offer a greater 'chocolate to malt' ratio, says the brand. Backed by a £1.3m spend, the buttons succeeded in becoming the biggest chocolate confectionery launch of the year, according to Nielsen figures.