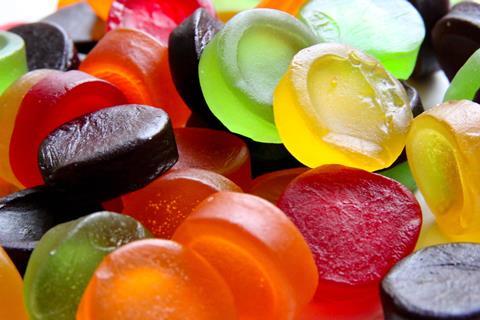 Chew on this: gum sales are down by almost £50m. That's about a fifth of the beleaguered sector's value wiped away, after the pandemic put a dampener on impulse purchases of single packs.
That proved pivotal. "Singles formats make up about half of total gum sales, and they are responsible for 65.6% of the category drop this year," says Nielsen senior confectionery client manager Ana Godoy.
"Gum in general is highly driven by impulse shopping, so it isn't surprising that it has been badly hit by the restrictions in stores and the footfall reduction due to the pandemic."
So, both branded and own-label gum are suffering, with volumes down by 18.2% and 19.3% respectively. "People are trying to get in and get out of shops as quickly as possible," says Blockhead founder Danny Lowe. "We're losing those [impulse] moments we previously had."
Blockhead is far from alone in its misfortune. Thirty-five of gum's top 50 brands are in double-digit value decline. Extra, Airwaves, Hubba Bubba, Starburst and Juicy Fruit have lost a combined £45.5m in sales for their owner Mars Wrigley, the biggest gum maker on the market.
For now, it's staying positive. The supplier has "seen a substantial rebound in recent months and fully expects sales to be robust this year," insists a spokeswoman. "There's room to grow, and we will be aggressively pursuing previously untapped consumption moments in 2021."
Still gum isn't the only game in town. While its £216.6m value is not to be sneezed at, it's just one fifth the size of the £1,084.9m sweet confectionery market. And here, it's a different story. It may have lost £29.7m, but that's not for the want of unit sales. Volumes are up by 4.2%, equating to 2.2 million extra kilos. Crudely put, it's the equivalent of 12.2 million 180g bags of Fruittella Juicy Chews from Perfetti Van Melle.
The supplier's trade marketing manager, Mark Roberts, says sharing formats are growing among committed candy consumers. "Penetration and frequency have fallen, but volume is up as shoppers are now buying more at a time, likely a result of additional in-home consumption moments."
Demand for wrapped sweets has been driven in part by fears around hygiene during the Covid crisis, he adds. "We saw people move away from unwrapped confectionery as hygiene became more important than ever this year. Many retailers removed their pick & mix selections and shoppers moved into buying wrapped bags that can be shared safely."
With this rise in demand came a fall in average price. Branded candy has plunged by 6.1% – which Roberts puts down to "an incredibly competitive retailer environment" and shoppers becoming more price sensitive as the UK's economic outlook worsens. Against such price pressure, it's not surprising that only four of the top 10 brands – Rowntree's, Skittles, Drumstick and Haribo – are in value growth.
Haribo is a prime example of just how sensitive an issue pricing has become. In September, a feud with Tesco over prices saw Haribo pulled from the retailer's shelves, The brand was soon back in Tesco – and, according to in our data period to September, it still managed to add an extra £536.8k across grocery. The brand's head of marketing, Philip Murphy, insists it has "pushed scale initiatives that are loved by fans to drive sales and brand equity" and gained share.
It has indeed done better than its closest rival, Maynards Bassetts. It's lost £5.6m – the greatest absolute decline in the sector. Susan Nash, trade communications manager at owner Mondelez, puts that down to "a shift in shopping habits as consumers spend more nights at home and look for the perfect treat to share with others in their households".
"This has meant single confectionery has faced challenges, with fewer consumers on-the-go, leading to a small decline across the category in certain SKUs," she adds.
Further declines could well be on the cards if the prime minister has his way. His anti-obesity initiative, unveiled in July, includes a ban from late 2022 on certain ads and promotions for high fat, salt and sugar (HFSS) foods, including confectionery.
Healthier options
It's certainly not good news for a category that is sugary by its very nature. The restrictions on display promotions, in particular, are a source of concern as suppliers fear the loss of many of their key sales drivers. According to Shopper Intelligence research, sweets brands rely more heavily on the visibility of till points and gondola ends because only 35% of shoppers go down the confectionery aisle, compared with the 38% grocery average. The same research shows 34% of candy and chocolate purchases are made on impulse, versus a grocery average of 21%.
Yet supporters of the PM's health scheme, such as Action on Sugar, claim it need not be bad news. For them, it's an opportunity for confectioners to avoid the HFSS clampdown by concentrating on making and marketing healthier sweeties – a market estimated to be worth about £36m.
Indeed, some big names already count reduced-sugar and no-sugar candy among their portfolios. PVM, for instance, offers a number of options through its (declining) Fruittella brand, including Fruit Foams, launched in 2017, and hard-boiled Fruit Drops, added in 2018.
That was the same year Haribo unveiled its first reduced sugar line, Fruitilicious, which claims to contain 30% less sugar than 'regular fruit gum sweets'. It was followed in summer 2019 by Maynards Bassetts Wine Gums 30% Less Sugar.
Since then, such innovation has slowed, with brands focusing on other better-for-you areas. PVM has launched gelatin-free Fruittella lines to tap the vegan trend, while Maynards Bassetts has focused on vitamin content via Superfruit Jellies aimed at kids.
When it rolled out in February, Mondelez talked up the treat's 30% fruit juice content, which provides 15% of the recommended daily intake of vitamins C and E.
What the company didn't brag about, however, is that a 24g serving contains 14g of sugar – more than half a child's recommended daily intake.
Once BoJo's initiative kicks in, that's the sort of formulation that could lead to sweets sales going sour.
Top Products 2020
In association with Nielsen
Top 20 Sugar
£m
£ change
%
Total volume change
1.4%
Total Category:
1084.9
-29.7
-2.67
Total Own Label:
213.9
-10.5
-4.67
This year's rank
Last year's rank
Brand
Manufacturer
£m
change (£m)
change (%)
1
1
Haribo
Haribo
186.0
–0.2
–0.1
2
2
Maynards Bassetts
Mondelez
109.4
–5.6
–4.9
3
3
Rowntree's
Nestlé Rowntree
82.1
3.3
4.2
4
5
Skittles
Mars Wrigley
43.3
3.9
9.8
5
6
Drumstick
Swizzels Matlow
40.6
1.5
4.0
6
4
Trebor
Mondelez
38.8
–6.7
–14.7
7
8
Swizzels
Swizzels Matlow
34.9
1.1
3.2
8
7
Polo
Nestlé Rowntree
20.8
–5.1
–19.8
9
9
Starburst
Mars Wrigley
20.5
–0.8
–3.9
10
10
Fruittella
Perfetti Van Melle
19.9
–0.9
–4.4
11
11
Mentos
Perfetti Van Melle
18.8
–1.6
–7.9
12
12
Tic Tac
Ferrero
16.1
–2.6
–14.0
13
13
Werther's
Storck
15.9
–2.2
–11.9
14
15
Barratt
Valeo Foods
14.2
–0.5
3.5
15
14
Candy Land
Valeo Foods
9.2
–2.1
–17.9
16
16
Cadbury Eclairs
Mondelez
9.0
0.0
0.6
17
18
Chupa Chups
Perfetti Van Melle
8.0
–0.3
–4.1
18
19
Chewits
Leaf
7.0
–1.1
–14.0
19
20
Smint
Perfetti Van Melle
6.8
–2.2
–24.6
20
23
Candy Kittens
Candy Kittens
5.9
0.2
3.8
Top 10 Gum
£m
£ change
%
Total volume change:
-18.2
Total Category:
216.6
-48.3
-18.2
Total Own Label:
1.1
-0.2
-19.3
This year's rank
Last year's rank
Brand
Manufacturer
£m
change (£m)
change (%)
1
1
Extra
Mars Wrigley
168.5
–37.0
–18.0
2
2
Airwaves
Mars Wrigley
25.5
–6.2
–19.6
3
3
Hubba Bubba
Mars Wrigley
6.0
–0.1
–1.8
4
5
Mentos
Perfetti Van Melle
4.5
–0.6
–12.3
5
4
Starburst
Mars Wrigley
4.1
–1.9
–31.5
6
6
Jawbreaker
Zed Candy
1.2
–0.6
–34.2
7
8
Chupa Chups Bubble Gum
Perfetti Van Melle
0.9
0.0
4.0
8
7
Juicy Fruit
Mars Wrigley
0.7
–0.2
–24.3
9
10
JTS Sugar Novelties
JTS Int
0.5
0.0
–8.7
10
9
What's Next Candy
What's Next Candy Co
0.4
–0.2
–25.3
The Grocer's Top Launch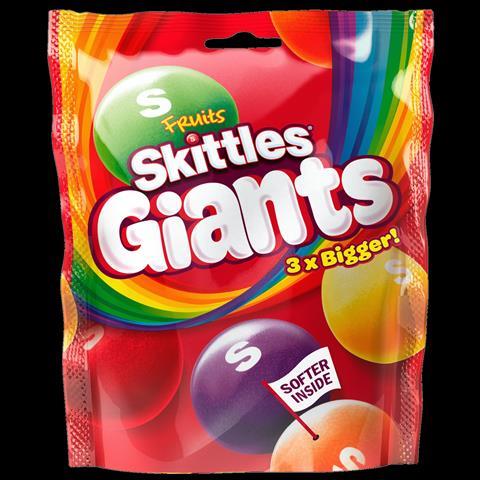 Giant Skittles Mars Wrigley
Skittles Giants are three times the size of a standard Skittle, and softer on the inside. That means they deliver "more mouth-watering fruity flavour in one sweet" claims Mars Wrigley. Launched in March as a follow-up to last summer's yoghurt-covered Skittles Dips, they're also helping to deliver considerable extra value for the brand. In percentage terms, Skittles is the best-performing name in sugar confectionery this year – up by 9.8%. That's a £3.9m gain.