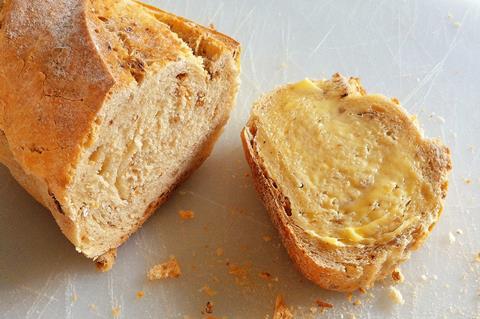 Spreads are being spread thinner. That's the main message from this year, which has seen volumes of butters and spreads fall 3.2%. Only price rises have managed to mitigate that decline and keep value steady.
While inflation has slowed to just 1.6% in own label, branded butters and spreads have pushed through heftier price rises of 3.8%. That's largely been driven by spread brands, which are busy repositioning themselves as more premium options.
Flora is a prime example of this strategy. It pushed through one of the highest average price rises in the sector of 13.4% after reformulating and relaunching its core lineup in March (see Top Launch below) as a plant-based offering. That was followed by a similar relaunch of the health-orientated Flora ProActiv range in November.
Owner Upfield says it is "delighted" with Flora's relaunch. "Over the past few months, we've seen a particularly strong performance," claims CEO David Salkeld. "We've also made huge gains in distribution, with more than 8,000 new distribution points since the Flora relaunch in March."
Still, that isn't showing in Nielsen's numbers for the full year. Flora's value is down 9.3% on volumes down 20%. It's a similar story for Upfield stablemate Bertolli, which has pushed through an 18.7% increase in price and suffered a 19.1% blow to volumes.
Granted, some of that may be down to lack of availabliliy. Upfield hit rocky ground in June when it switched its warehouse provider from DHL to NFT. Several Flora, Bertolli and Stork products went out of stock at retailers including Morrisons and Waitrose. The situation is understood to have even led to a temporary halt in production at the spreads maker's Purfleet factory in Essex, as the business moved to tackle the backlog at the NFT warehouse in Tilbury.
Still, Upfield remains optimistic. "We have an incredible stable of brands," general manager Steven Hermiston said in March. "If we put some love into them and focus, I know we can make them great again."
Upfield's recent difficulties have been matched only by Müller's. Having promised in May 2018 to "disrupt the category" by focusing on taste and "leveraging the brand power of Müller", the dairy giant's five branded butter SKUs entirely disappeared from supermarket shelves by December.
At the time of its delisting, a Müller spokesman said: "We're building our brand proposition with Müller Spreadable and we have exciting plans in place for 2019." These plans have not yet come to fruition, with no NPD in 2019 and no new listings in the major mults.
It's not all doom and gloom in the spreads sector, though. Saputo Dairy UK (which rebranded from Dairy Crest following its acquisition by Canada's Saputo in February) had a much jollier 2019.
Its leading brand Clover chalked up a 10.1% boost in value. And unlike others in the category, that wasn't just down to price rises (in fact, prices dipped slightly). Volumes shot up 11.2% to 32.6 million kilos, meaning it now outsells second brand Flora. The dairy giant puts this success down to an "unswerving focus" on the brand's core values.
"At its heart, Clover has always been about a fantastic quality, affordable dairy spread with the authentic taste of butter, but with less saturated fat," says Saputo butter & spreads marketing controller Neil Stewart.
"While some other brands have elected to de-escalate their promotions, we have continued to invest behind an intelligent promotional programme to ensure we maintain an attractive relative retail price point versus butter." Indeed, Clover retails at an average of £2.42 per kilo, making it one of the cheapest spreads on this list.
"Last but by no means least, we recognise that continued success means engaging with our consumers on an emotional as well as a rational level," adds Stewart. He points to Clover's family-orientated 'Spread the Love' campaign, which launched in October, as a way in which the brand is tapping up its "heartland families".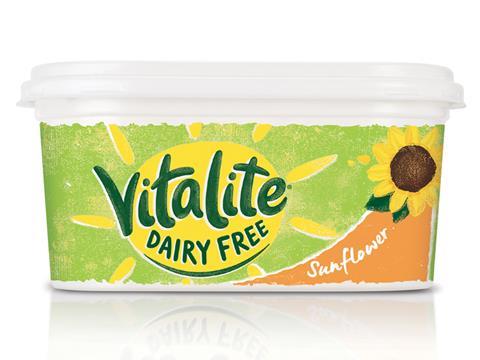 Another star performer in Saputo's portfolio is Vitalite. It's achieved double-digit growth, albeit from a lower base. Sales jumped 26.1% or £1.9m, with volumes increasing by 18% – nearly 580,000 units.
Saputo believes Vitalite's vegan credentials have been key. "Demand for dairy-free is no longer driven by medical necessity, but rather has become a lifestyle habit," says Stewart.
This confidence has been backed by some innovative NPD, including a new baking block back in March. At the time of its launch, Stewart said it had been designed to deliver the "optimal bake", which had been missing from the dairy-free spreads market.
Alas, not all of Saputo's brands have enjoyed such good fortune. Country Life saw its value grow by just 1.6%, for example, on flat volumes. Meanwhile its Utterly Butterly lost 1.1% of its value on volume down 1.5%.
The dairy supplier blames "relatively flat" household penetration of butter. Its own figures show it has grown by just 0.3% over the past 12 months.
Arla, whose Lurpak and Anchor brands both had a relatively flat year, tells a similar story. "Usage occasions for butter and spreads are different from a few years ago, with things like toast at breakfast and sandwiches for lunch becoming less popular choices," says senior director of butter & cheese Stuart Ibberson.
"The challenge for the category is to have products that appeal to these changing consumer needs and behaviours."
As an example, Arla points to the introduction of the resealable Lurpak Butterbox, which launched in September.
The dairy co-op, which describes the NPD as the "first block butter packaging innovation in 60 years", says the development provided a solution to consumer criticism of conventional packaging being overly messy to use.
However, the packaging innovation did not tap the current trend for recyclable waste, an omission Arla says it is "very aware" of and has been "working on a solution" for.
It may have to do that sooner rather than later. For the spreads market has been under fire over its environmental credentials this year. In his 'War on Plastic' programme, Hugh Fearnley-Whittingstall found Utterly Butterly and Flora packs among mounds of exported plastic dumped in Malaysia.
And he called on manufacturers to do more to ensure that what they produce is better for the planet.
Looks like the next big job for the yellow stuff will be to be more green.
The Top Products
In association with nielsen
Top 20 Butters & spreads
£m
change (£m)
change (%)
Total Category:
1205.8
0.5
0.0
Total volume change:
-3.2%
Total Own Label:
278.7
4.9
1.8
This year's rank
Last year's rank
Brand
Manufacturer
£m
change (£m)
change (%)
1
1
Lurpak
Arla Foods
341.4
2.3
0.7
2
3
Anchor
Arla Foods
113.3
0.5
0.5
3
2
Flora
Upfield
107.0
-11.0
-9.3
4
4
Clover
Dairy Crest
78.8
7.3
10.1
5
5
Country Life
Dairy Crest
50.8
0.8
1.6
6
6
Bertolli
Upfield
36.0
-1.5
-3.9
7
8
Stork
Upfield
25.5
-1.1
-4.3
8
9
Kerrygold
Ornua Foods
23.4
-3.3
-12.5
9
11
I Can't Believe It's So Good
Upfield
20.0
0.6
2.7
10
10
Utterly Butterly
Dairy Crest
19.8
-0.2
-1.1
11
13
President
Lactalis
16.4
1.2
7.9
12
12
Benecol
Raisio
16.0
-0.9
-4.8
13
14
Yeo Valley
Yeo Valley Farms
10.2
0.6
6.4
14
16
Vitalite
Dairy Crest
9.2
1.9
26.1
15
15
Willow
Dairy Crest
8.5
-1.0
-11.3
16
17
Grahams
Graham's Family Dairy
6.1
0.2
4.5
17
18
Pure
Kerry Foods
5.6
0.0
1.0
18
20
St Helen'S Farm
St Helen's Farm
2.5
0.1
5.9
19
21
Trewithen Dairy
Cornish Farm Dairy
2.4
0.2
9.8
20
28
Isigny Ste Mere
Isigny Ste Mere
2.3
0.2
10.0
The Grocer's Top Launch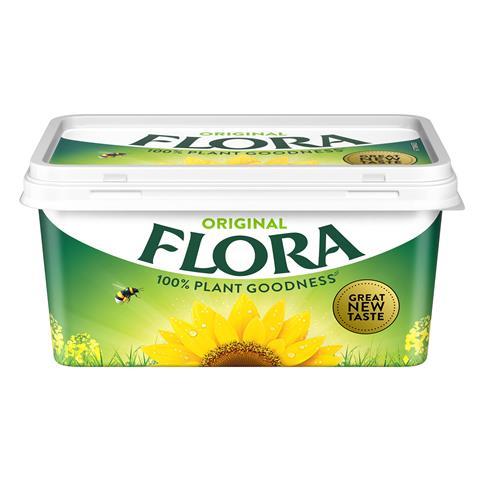 Flora relaunch by Upfield
Flora was an "iconic brand, but one that had lost its way somewhat" Upfield UK&I boss Steve Hermiston told The Grocer in March. Hence the drastic overhaul. The supplier removed all traces of dairy, while promising that the taste profile had been improved. New packaging heralded a return of Flora's sunflower motif – to play up the brand's plant-based credentials. But with value and volumes in double-digit decline, it remains to be seen whether all the change was worthwhile.