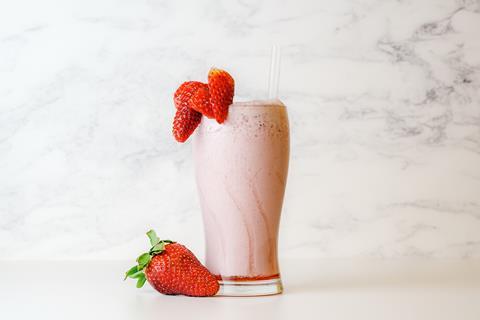 The milk market is being shaken up. In the past year, sales have surged by £113.3m on volumes up 1.6%. But own label, which accounts for nearly two thirds of market value, hasn't cashed in at all. Sales have slipped 0.6% in value and 0.3% in volume. Brands, meanwhile, have passed the £1bn mark for the first time, with growth of £123.7m.
There are a number of factors at play here. These numbers do not include Aldi and Lidl, which rely far more heavily on own label. Even so, this does not explain supermarket own label's three-point decline in market value share to 64.3% in a year. So what is going on?
"Milk is different to the rest of the dairy market, which has been going in the opposite direction towards own label," says AHDB Dairy consumer insight manager Susie Stannard (see cheese p107 and spreads p104). "This year, people were not going to supermarkets as often. Because filtered milk has a much longer shelf life, that became more attractive."
Indeed, Arla's Cravendale filtered brand has delivered the second-highest growth of any cows milk in the top 50. It's up 19.7% on volumes up 11.7%. "The frequency of the 'big shop' has been reduced, meaning shoppers have been looking for products like filtered milk and UHT because they last longer," explains Cravendale senior brand manager Emma Stanbury.
Indeed, Cravendale was second only to fresh and UHT milk brand Freshways, which is up 53.5% on volumes up 53.2%. Note that Freshways is sold chiefly through independent c-stores, a key beneficiary of lockdown.
Demand for 'healthier' milks, such as Arla's Lactofree, up £4.9m, and BOB, which has driven £2.6m growth for Arla branded milk, is also soaring. "Largely branded 'healthy' milks were in growth before lockdown and that has accelerated since," says Crediton Dairy head of marketing & insight Abigail Kelly.
Organic brand Yeo Valley, which Arla took over via a licensing agreement last year, has also helped drive the branded milk boom. Sales are up 25.7% to £24.6m with volumes up 23.9%. Arla says the performance was driven by its core SKUs and a new, one-litre UHT variant. In June it added the term 'free-range' to Yeo Valley's packaging.
Two players stand out amid the rocketing growth of brands. Müller is the only top 10 brand to lose out in both value (down 22.6%) and volume (down 21.2%) as sales fell to £55.0m. The other significant decline came from Medina's Watsons Dairy brand, which suffered a 58.7% fall in value to £15.2m. This was in spite of the brand's strength in convenience and a rise in sales in the channel.
Watsons' slump and Freshway's growth will fuel further speculation that a Freshways/Medina merger is imminent. At the beginning of the year, Freshways adopted the branding of Watsons (making the two brands' labels identical save for the name), a move Freshways MD Bali Nijjar has described as a 'swap'. City sources say the merger would be instrumental in improving margins.
Efficiency and availability
The wider shift to branded milk can also be seen as the result of steps suppliers and retailers have taken to boost efficiency and keep chillers stocked, while protecting margins. Arla, for example, cut its core own-label milk range from 13 SKUs to six in March.
"There's definitely a commercial interest to push brands over own label because the profit is so much higher," says Stannard. "It's always been a struggle for the big processors to get a high level of facings for branded milk because excess capacity (on shelf) has always been given over to plant-based alternatives."
Nielsen's read of this market includes plant-based milk alternatives: such offerings account for 42.7% of the top 50 bestselling milk brands' combined growth this year.
Alpro and Oatly particularly cashed in on the explosion of at-home hot drinks with respective gains of £27m and £36.2m. The latter is now the number four milk brand.
Of course, the shutdown of coffee shops and the wider foodservice sector had a catastrophic impact on the dairy industry, particularly players such as Medina and Freshways, who are heavily reliant on the out-of-home market. And for farmers, lockdown couldn't have come at a worse time.
"Processing capacity is at its fullest in spring because of the spring flush," says Stannard. "Obviously cows are more likely to have calves in spring and this results in an uptick in milk supply. Having a big part or the market shut down at this point really created the perfect storm."
The collapse of Sainsbury's and M&S own label milk supplier Tomlinsons Dairies into administration in October, a crisis Dairy UK CEO Judith Bryans said proved just how "wafer-thin margins in the dairy sector really are", suggests the sector is far from through the storm yet.
Conversely, the shutdown of coffee shops hasn't been a bad thing for flavoured milk, up £6.7m. Coffee shop giant Starbucks particularly benefited with a £12.1m gain. Which just goes to show the power of a brand.
Top Products 2020
In association with Nielsen
Top 10 Milk
£m
£ change
%
Total volume change:
1.6%
Total Category:
2908.5
113.3
4.1
Total Own Label:
1871.3
-10.4
-0.6
This year's rank
Last year's rank
Brand
Manufacturer
£m
change (£m)
change (%)
1
1
Cravendale
Arla Foods
179.4
29.5
19.7
2
2
Alpro
Alpro
173.4
27.0
18.5
3
4
Freshways
Nijjar Dairies
97.8
34.1
53.5
4
8
Oatly
Oatly
70.4
36.2
105.7
5
5
Lactofree
Arla Foods
56.8
4.9
9.5
6
6
Arla
Arla Foods
52.4
2.6
5.3
7
3
Müller
Müller
51.4
-13.8
-21.1
8
9
Grahams
Graham's Family Dairy
34.2
9.0
35.9
9
10
Yeo Valley
Arla Foods
24.6
5.0
25.7
10
16
Pensworth
Pensworth Farms
15.8
5.7
55.8
Top 5 Yoghurt Drinks
£m
£ change
%
Total volume change:
6.1%
Total Category:
241.2
15.4
6.8
Total Own Label:
21.0
-2.3
-9.8
This year's rank
Last year's rank
Brand
Manufacturer
£m
change (£m)
change (%)
1
1
Actimel
Danone
103.8
12.8
14.1
2
2
Benecol
Raisio
42.0
-3.1
-6.9
3
3
Yakult
Yakult
27.7
2.7
10.6
4
4
Biotiful Dairy
Biotiful Dairy
16.0
4.1
33.9
5
5
Yop
Yoplait
6.1
-0.9
-13.6
Top 10 Flavoured Milk
£m
£ change
%
Total volume change:
-1.5%
Total Category:
420.1
6.7
1.6
Total Own Label:
64.2
-1.5
-2.3
This year's rank
Last year's rank
Brand
Manufacturer
£m
change (£m)
change (%)
1
2
Starbucks
Arla Foods
73.0
12.1
19.8
2
1
Yazoo
Friesland Campina
63.6
0.8
1.4
3
3
Frijj
Müller
24.1
-10.1
-29.5
4
4
Emmi
Emmi
22.4
2.0
10.1
5
6
Alpro
Alpro
12.8
-0.9
-6.5
6
9
Dunns River
Enco Products
12.6
0.2
2.1
7
7
Mars
Mars Consumer Drinks
11.9
-1.6
-11.7
8
5
Weetabix
Weetabix
10.8
-4.3
-28.7
9
11
Shaken Udder
Shaken Udder
10.1
0.2
2.8
10
10
U Fit
Lacka Foods
10.0
-2.1
-17.2
The Grocer's Top Launch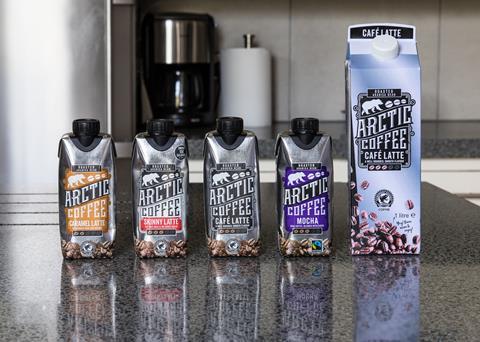 Arctic Café Latte 1l carton, Crediton Dairy
Iced coffee drinks suffered a major sales slump when the first lockdown killed on-the-go occasions. So, Crediton couldn't have timed this launch any better. Planned before the pandemic, the one-litre Arctic Café Latte carton rolled out in June, aimed at in-home use. It landed in Tesco and Co-op, soon achieving a non-promoted average sales rate of more than 30 packs per store per week, according to its maker. It's no surprise Arctic followed it up with a big pack for its Caramel Latte in September.