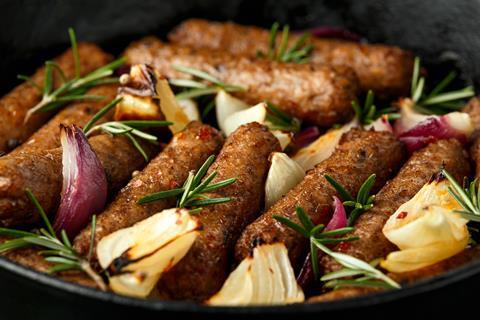 How much meat is really in that sausage? 'None' is increasingly the correct answer, following another strong performance from the meat-free market, up 15.1% to £607.3m.
Strongest grower is pork giant Richmond, whose sales have almost tripled to £27.2m. Having entered the category in 2019 with meat-free bangers, it has since brought out mince, burgers, bacon and meatballs.
Being a meat brand first and foremost is a help, rather than a hindrance, says Dawn Spencer, marketing & category director at Richmond owner Pilgrim's Food Masters. "Shoppers looking to reduce meat consumption are looking for well-known brands and products that deliver on taste and quality," she argues. "Trust is key when shopping in an unfamiliar category."
The brand's plant-based sausages were "created to look and taste exactly like their pork counterpart, even down to the crispy skin that fans love" she adds. Richmond took the same approach to its meat-free bacon, which launched in June.
A similar mindset is evident at all the fastest growing brands. See This, which more than quadrupled sales to £11.3m in a busy 12 months that began with the launch of a three-strong range for Christmas dinners and ended with an £11m fundraise.
The Vegetarian Butcher has had a similarly lucrative year. Fikerte Woldegiorgis, foods marketing director at brand owner Unilever, puts that down to "butcher-quality cuts that rival the flavour and texture of meat, so shoppers no longer have to compromise on taste when selecting their replacement".
This promise helped the brand more than double in size to £6.9m this year. Woldegiorgis notes the meat substitute category remains "very reliant" on evening meals, with the barbecue season over the summer also giving the brand a boost.
Not everyone benefited, though. The leading trio in meat-free had a fallow period. Quorn's value shrunk by 7.2% to £170.3m and Linda McCartney's fell by 4.6% to £63.6m. Third-placed Cauldron also stagnated, its sales up by just 1.1% to £32.1m.
Quorn marketing director Gill Riley explains challengers have had two effects: they are stealing share from the big players, but also driving category growth. "New brands and products are performing well across meat-free and can play a role in bringing new shoppers into the category," she says.
Interestingly, some of these brands represent a move away from fake flesh. Take Strong Roots, whose products are largely veg-based. Although sales are flat this year – it's down 0.6% to £3.5m – the brand has enjoyed a meteoric rise since its inception in 2015 to become a regular fixture in the top 20.
CEO Samuel Dennigan says consumers are increasingly suspicious of processed foods – and are shopping accordingly.
"A decade ago, the amount of choice within the meat-free category was scarce, and people had few options," he says. As choice increases, shoppers are considering their options more carefully, he adds.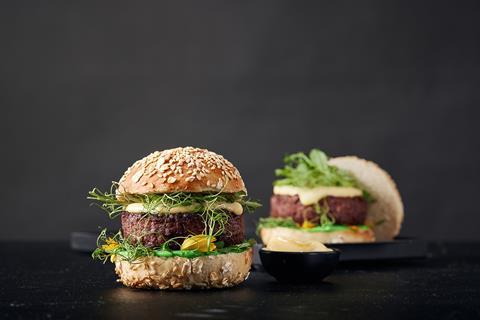 Even brands that operate in the fake meat space agree. Squeaky Bean has grown by 236% to £8.0m by offering a mix of deli slices, chicken-style pieces and fillets. However, its marketing head Simon Day believes the category will move away from meat alternatives.
"We will start to see the shift from mimicry to products that are simply more desirable than anything the meat fixture offers, driven by the fact that much of the food industry's top talent wants to work in this space," he says.
This trend, Day adds, is likely to be driven by challengers, despite the interest from bigger players. "Challenger brands are the ones bringing in new consumers and the ones driving the growth of the category. The retailers who are giving licence to challenger brands are the ones who are winning."
One brand already looking beyond meat alternatives is The Tofoo Company, which specialises in tofu and tempeh. Sales are up by 38.6% to £23.8m – despite its product being less accessible than the likes of meat-free bangers and burgers.
"If you're getting into plant-based for the first time, substituting a meat sausage is a pretty simple thing to do," director David Knibbs argues. By comparison, people look at tofu and ask what to do with it.
The Tofoo Company is therefore trying to debunk what Knibbs calls "tofuphobia", having invested in TV ads featuring a cross-dresser who extols the versatility of tofu. It also launched products into frozen this year, and next year will add Straight to Wok cornflour-coated tofu.
Still, Knibbs welcomes the entrance of big food suppliers like Richmond into the category. "This is all about category growth for me," he says. "Brands like [Birds Eye's] Green Cuisine talking about plant-based and advertising is going to expand the category."
Snacking & sustainability
New occasions are another way to expand the category. The end of lockdown restrictions has left many consumers with less time to cook – providing an opportunity in snacking. Strong Roots, for instance, is moving its frozen burgers and hash browns into toaster-friendly formats. Quorn, meanwhile, has added Sweet Chilli Bites. "Meat-free snacking is worth £59m and 15% of UK shoppers are buying into it, making it the largest and highest penetration sector," says Riley.
This is in line with Squeaky Bean's vision, says Day. He argues that diversification will continue, with a focus on convenience. "This category could be growing even faster than it is. Some sectors are still woefully underrepresented."
While taste, convenience and health are still driving forces, brands are also keen to flag up their environmental credentials. "We're on a mission to create a healthier and more sustainable world, and we believe one of the best ways to do that is by reducing the amount of meat in our diets," says Riley.
The Tofoo Co takes sustainability similarly seriously, especially given that soyabeans have been criticised for their role in deforestation. The company's beans are organic and not from deforestation sites. "You can source sustainable soyabeans. It's really achievable," says Knibbs.
And it's crucial, says Dennigan of Strong Roots. "The future of the category belongs to brands, big or small, who solve society's problems and advocate for change," he concludes. "After a global pandemic, economic crisis and an ongoing environmental emergency, it's not enough to issue a statement or make an emotional ad."
Top Launch 2021
Birds Eye Fishless Fingers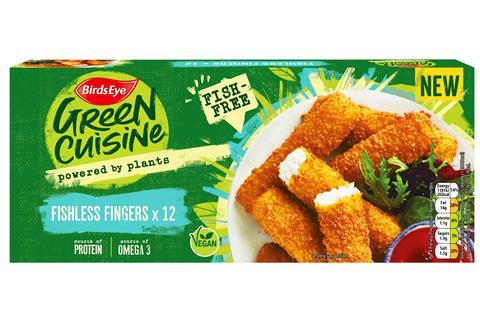 Fish alternatives are on trend, so no wonder Birds Eye extended its Green Cuisine range in June with Fishless Fingers (rsp: £2.50/336g). Having focused on plant-based 'meat', this marked something of a departure for the thriving brand. But it made sense. "With our established brand heritage and dominance in the fish finger category, we're in the perfect position to create a plant-based alternative to our iconic fish finger," said Birds Eye senior marketing manager Jess Ali at time of launch.