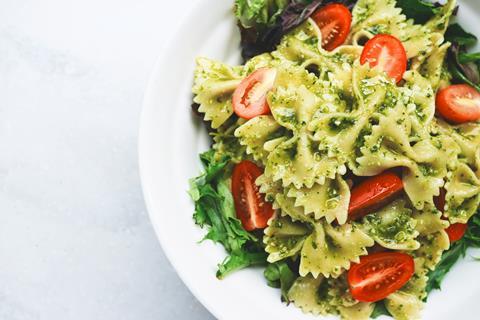 The cooking sauce is back. Brits spent an extra £14.7m on the category this year, putting an end to years of continuous decline. And world flavours are to thank. "We're seeing a migration towards Indian and Far Eastern sauce brands," says Nielsen analyst Juliette de Nettancourt.
Examples abound. Asian brands Sharwood's and Blue Dragon secured the two highest absolute value gains of £4.9m and £3.6m respectively. The Spice Tailor, Lee Kum Kee and Geeta's all boasted double-digit percentage rises.
But as one area of the market rises, another one falls. "Italian cooking sauces are losing share as Asian sauces are growing," says Nielsen's de Nettancourt.
The market leader serves as proof. Dolmio shed £2.9m, the largest drop in the category. Fellow Italian players Napolina and Filippo Berio also lost sales. That shoppers are more confident creating their own Italian dishes from scratch than say, a Goan curry, must be a factor here.
There is an exception to this rule, however. "Italian bolognese, lasagne and pasta sauces as well as oven bakes have struggled, but pestos are still performing strongly," explains Nettancourt. For proof, see the performance of Saclà. Sales of its range, which is predominantly made up of pesto, are up 8.3%.
Still, cuisines aren't the only battleground in the cooking sauces arena. There is also a growing fight between brands and own label. Brands have gained £5.8m, but that's entirely down to average price rises. Volumes have fallen 0.8%. Meanwhile, own label sauces secured an extra £8.9m, driven by a 4.2% increase in volume. That makes retail ranges responsible for just over 60% of growth in cooking sauces, despite being less than half the size of the branded market.
The increase in cheaper own label offerings means brands need to give shoppers a compelling reason to spend more. "It is vitally important for brands to offer a clear point of difference," says Emma Eggleton, brand controller for Blue Dragon. "Shoppers are looking for some excitement and something new, and we've seen products offering unique flavours and formats winning this year."
Indeed, Nielsen reports premium branded lines are growing. They are "swiping shoppers from mid-tier and value brands," says de Nettancourt. The trend is evidenced in the likes of value brand Homepride, whose sales plummeted 11.5% this year. Mid-tier brands Old El Paso and Uncle Ben's both suffered value and volume declines.
So, it seems in the world of cooking sauces, you need to be on one side of the fence: premium and exotic, or cheap and own label. Otherwise, you're likely to wind up left on the shelf.
The Top Products
In association with nielsen
Top 20 Sauces: cooking
£m
change (£m)
change (%)
Total Category:
823.1
14.7
1.8
Total volume change:
0.90%
Total Own Label:
231.6
8.9
4.0
This year's rank
Last year's rank
Brand
Manufacturer
£m
change (£m)
change (%)
1
1
Dolmio
Mars
103.3
-2.9
-2.8
2
2
Old El Paso
General Mills
100.0
-0.8
-0.8
3
3
Pataks
ABF
61.7
-0.3
-0.5
4
4
Sharwoods
Premier Foods
60.4
4.9
8.8
5
6
Blue Dragon
ABF
50.8
3.6
7.6
6
5
Loyd Grossman
Premier Foods
49.7
1.8
3.7
7
8
Sacla
Sacla
23.7
1.8
8.3
8
9
Amoy
Kraft Heinz Co
22.7
1.2
5.5
9
7
Homepride
Premier Foods
20.7
-2.7
-11.5
10
10
Uncle Bens
Mars
18.2
-0.7
-3.6
11
13
Kikkoman
Kikkoman
9.4
0.8
8.7
12
11
Santa Maria
Santa Maria
8.4
-2.2
-20.9
13
12
Napolina
Princes Foods
8.1
-0.6
-7.2
14
14
The Spice Tailor
The Spice Tailor
7.5
0.9
13.5
15
16
Lee Kum Kee
Princes Foods
5.9
0.8
15.3
16
17
Chicken Tonight
Symingtons
4.7
0.1
2.1
17
15
Seeds Of Change
Mars
4.4
-1.0
-19.1
18
18
Thai Taste
Bespoke Foods
3.6
-0.2
-4.0
19
19
Kingfisher
Lovering Foods
3.6
0.2
6.3
20
21
Geetas
Geetas Foods
2.7
0.4
17.6
The Grocer's Top Launch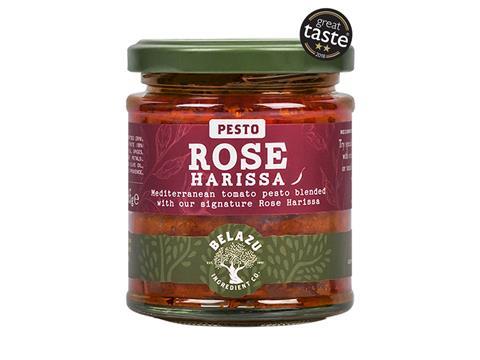 Rose Harissa Pesto by WJFG
Belazu Ingredient Company's Rose Harissa Pesto taps a trio of consumer trends. It's premium. It's spicy. And it has world food credentials. Launched in May, the Mediterranean-style sauce has a "distinct but not overpowering" heat from a blend of Belazu's signature rose harissa paste, spices and sun-dried tomatoes. And it looks set for success, too: earlier this year, it was named champion of champions at The Grocer New Product Awards.