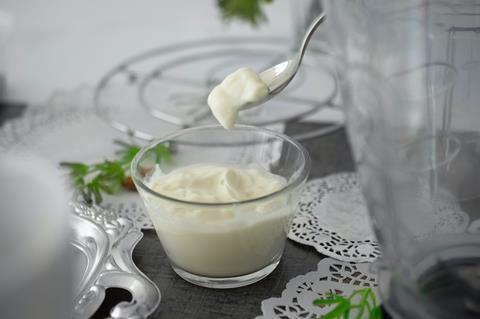 Brits sure had a saucy year. With nowhere to eat out in the summer, they enjoyed a taste of their favourite restaurants at home. That meant some serious growth for sauces, dressings and condiments from big names in casual dining.
Take Nando's. It's the fastest-growing brand in the table sauces top 10 – in both value (26.9%) and volume (26.1%). In condiments, it's up nearly 50% in both metrics. All in all, the peri-peri chain is worth an extra £9.5m in grocery (excluding discounters). On-trend innovation helped drive sales. After the retail launch in January of Nando's Vegan Perinaise to tap the plant-based craze, April saw the addition of Garlic Perinaise.
"It made total sense," says Sophie Lindfield, senior brand account manager at All About Food, which makes Nando's sauces. "Garlic is the second most popular flavour of peri-peri in restaurants and the second-biggest segment within flavoured mayonnaise, behind chilli."
It's not the only restaurant brand making strides. Pizza Express has shown strong growth across dressings. Its standard and Light variants have grown unit sales by 28.3% and 22% respectively. "Pizza Express' growth has been driven by attracting new shoppers to the category," Lindfield adds.
It's not just these casual dining spin-offs that have benefited in the pandemic. Total branded sales of table sauces are up 20.7% in value, with all but one of the top 10 enjoying double-digit sales growth. Leading brand Heinz Tomato Ketchup added £18m, and its 50% Less Sugar & Salt variant £5.1m – while own-label options underwhelmed.
Another factor in the category's performance was the hot summer, says Nielsen analytics team leader Hollie Kernohan, meaning "mayo, hot & spicy, modern condiments and BBQ" have all benefited.
Heinz cashed in on barbecuing Brits' appetite for restaurant-style sauces, adding Seriously Good flavoured mayonnaise (see Top Launch, below). "No matter how consumers chose to enjoy their barbecue meal, it's clear sauces and condiments played a central part," says Maria Pérez de Ayala, junior brand manager for Heinz white sauces.
"Heinz continues to lead innovation and drive value into the sauces and condiments category," she adds.
Hellmann's might disagree. Volume sales of its core mayo soared 21%, faster than both its Heinz equivalent (14.5%) and total table sauces (10.7%). "We're proud to continue to be the leading brand, bringing new mayonnaise buyers into the category," says Fikerte Woldegiorgis, foods marketing director at Hellmann's owner Unilever.
Top Products 2020
In association with Nielsen
Top 10 Table Sauces
£m
£ change
%
Total volume change:
10.7%
Total Category:
662.3
101.2
18
Total Own Label:
92.3
3.3
3.7
This year's rank
Last year's rank
Brand
Manufacturer
£m
change (£m)
change (%)
1
1
Heinz Tomato Ketchup
Kraft Heinz Co
119.2
18.0
17.8
2
2
Hellmann's Real Mayonnaise
Unilever
72.2
12.9
21.7
3
3
HP Sauce
Kraft Heinz Co
33.4
5.1
18.2
4
4
Hellmann's Light Mayonnaise
Unilever
30.1
3.4
12.6
5
5
Heinz Seriously Good Mayo
Kraft Heinz Co
29.5
6.0
25.8
6
6
Heinz Salad Cream
Kraft Heinz Co
28.0
4.8
20.9
7
7
Nando's
All About Food
25.9
5.5
26.9
8
8
Heinz TK 50% Less Sugar
Kraft Heinz Co
24.9
5.1
26.0
9
9
Colman's Mustard
Unilever
15.4
1.5
10.9
10
10
Lea & Perrins
Kraft Heinz Co
12.3
0.1
1.1
Top 5 Condiments
£m
£ change
%
Total volume change:
11.5%
Total Category:
97.5
13.6
16.3
Total Own Label:
41.5
4.2
11.3
This year's rank
Last year's rank
Brand
Manufacturer
£m
change (£m)
change (%)
1
1
Colman's Classic Sauces
Unilever
17.9
–0.2
–1.4
2
2
Nando's
All About Food
12.3
4.0
48.1
3
3
Ocean Spray Sauce
Ocean Spray
6.2
1.9
42.6
4
5
Heinz
Kraft Heinz Co
5.2
2.1
65.1
5
4
Hellmann's Sauces
Unilever
4.6
0.3
5.8
The Grocer's Top Launch
Seriously Good flavoured mayo, Heinz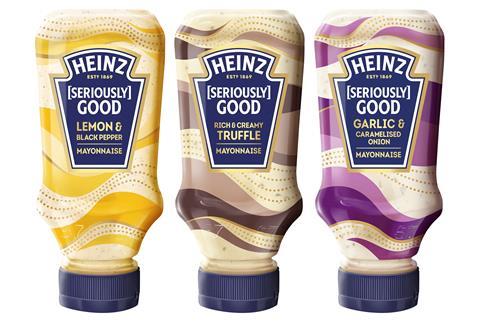 Since its debut in 2016, Heinz Seriously Good mayonnaise's sales have gone from strength to strength. It sought to add further muscle in July with the addition of its first flavoured variants. Garlic & Caramelised Onion, Rich & Creamy Truffle and Lemon & Black Pepper will "turn mealtimes nationwide into something special with a serious infusion of extra flavour" the supplier promised. And with an rsp of £1.89 per 220ml squeezy bottle, they'll also help premiumise the mayo market.