Sticking to new year resolutions to get fit and lose weight could be harder to keep this year as high dairy commodity prices threaten to drive up the cost of powdered slimming drinks.
Although the outlook for global dairy production is much better than a year ago, prices for skimmed milk powder (SMP) - a key ingredient in slimming drinks - remain high due to poor production in 2013 and high global demand.
SMP prices peaked at £2.80/kg in late August - the highest level since 2007 - and at £2.75/kg currently are still up 33% year on year.
Prices have been driven up by a fall in milk production in key producing regions in 2013. In New Zealand - a major global dairy exporter - a drought scorched pasture, leading to a reduction in milk output. Production in Europe was also low, as icy conditions at the start of the year delayed the spring flush - the period of peak milk production.
Although production improved in the second half of the year as drought eased in New Zealand and the prolonged period of fine weather in Europe led to better pasture conditions, prices have remained high.
Much of this has been driven by seemingly insatiable demand for whole milk powder (WMP) from China, with imports of WMP now more than double those seen in 2009. This has led to a shortage of WMP in the rest of the world, pushing up global milk powder prices across the board and thus also driving up SMP prices.With SMP accounting for at least 10% of the ingredients in slimming drinks by volume (and an even higher percentage in many other lines), the effect on the price of diet powders could mean consumers lose more money than excess weight this year.
Mark Kozlowski is market analyst for proteins at Mintec
Cocoa back on upward trend
Cocoa powder prices in the UK have started to pick up again after recent declines, rising by just under 5% over the past month. Prices are moving upward because of increased demand from buyers, but remain down significantly on a year-on-year basis.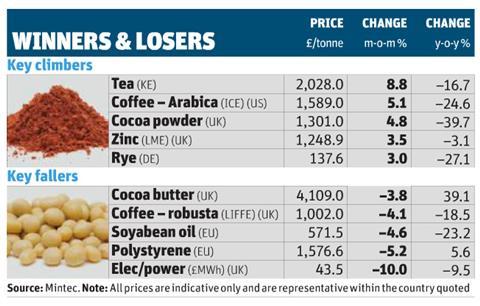 Rye prices are also still down year on year, thanks to good production prospects. Global rye production for the 2013/14 season is expected to rise by 14% year on year to 16.3 million tonnes, thanks to increased production in the EU and Russia.
Global production is also looking good for soyabean oil, with production in 2014 expected to reach 189.8 million tonnes - an increase of 5% on 2013.
(Julia Glotz)
Prices digest

Cocoa: Barry Callebaut, the world's biggest cocoa and chocolate manufacturer, has reported a 19.5% year-on-year increase in sales volumes in the three months to 30 November 2013. Growth was driven by its acquisition of Petra Foods' cocoa business and emerging markets.
Milling: The food division of Carr's Milling Industries traded ahead of last year's performance in the 19 weeks to 11 January 2014, the company said in its interim management statement this week.
Pesticides: A new year-long nationwide campaign to raise awareness of the risks of illegal pesticides has launched. The Crop Protection Association, which has part-funded the campaign, claims the trade in illegal pesticides is increasing.
Honey: MEPs have backed the EC in defining pollen as a natural constituent of honey, rather than as an ingredient. It goes against a 2011 European Court of Justice ruling that defined it as an ingredient.