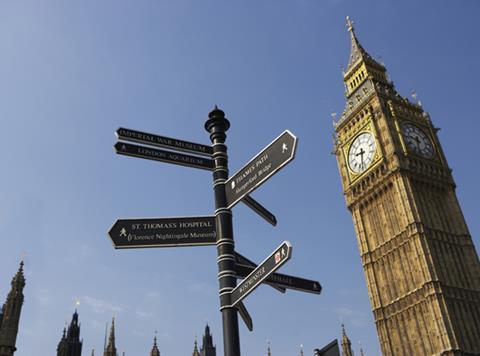 Legislation to introduce plain packaging for tobacco products was conspicuous by its absence in the Queen's Speech today.
The government had said in April it was "minded" to introduce legislation on plain packs, having previously put the issue on the backburner.
However the measure was not included on the list of 11 new bills that will be put before the next session of Parliament – the last before the general election in May 2015.
The Queen's Speech did, however, confirm the introduction of a 5p charge for plastic bags in England by October 2015.
The scheme will broadly copy the 5p charge levied in Wales since 2011, which donates its proceeds to charity and has cut carrier bag use there by 75%. However the English plastic bag charge will exempt retailers with fewer than 250 employees to "avoid imposing burdens on start-up and growing businesses", according to the government – although this exemption has been opposed by the Association of Convenience Stores.
"We are pleased ministers are confirming their commitment to bring this in next year," said ACS public affairs director Shane Brennan. "However we remain convinced that the proposed exemption from the charge for small and medium sized business is unnecessary and unhelpful.
"We will continue to press ministers to make the 5p charge universal in England, as it is the case in the existing and proposed schemes in the rest of the United Kingdom."
Last week, the Scottish Parliament approved plans to introduce a mandatory 5p charge for carrier bags in Scotland from October 2014.
The Campaign for Rural England's Break the Bag Habit warned today the scheme for England would be "inconsistent" and "confusing".
"We would urge both large and small retailers to introduce the scheme voluntarily in England at the same time as the scheme in Scotland," said spokeswoman Samantha Harding. "This could reduce costs and allow them to achieve the benefits the government has been too short-sighted to make compulsory."
'Pro-business'
In a joint statement this morning, prime minister David Cameron and deputy prime minister Nick Clegg described the Queen's Speech as "unashamedly pro-work, pro-business and pro-aspiration", with an emphasis on pensions reform.
"It builds on the foundations we have laid in the past four years, will help us make progress and continue to take Britain forward to a brighter future."
However, the slimmed-down agenda has attracted criticism for creating a "zombie Parliament", with little new legislation to consider.
Bills the coalition government intends to introduce in its last year include: reforms to pension annuities as outlined in the Budget; curbs on redundancy payments in the public sector; and a statutory code for tied pub tenants.
Today's State Opening of Parliament was the 63rd of the Queen's reign.