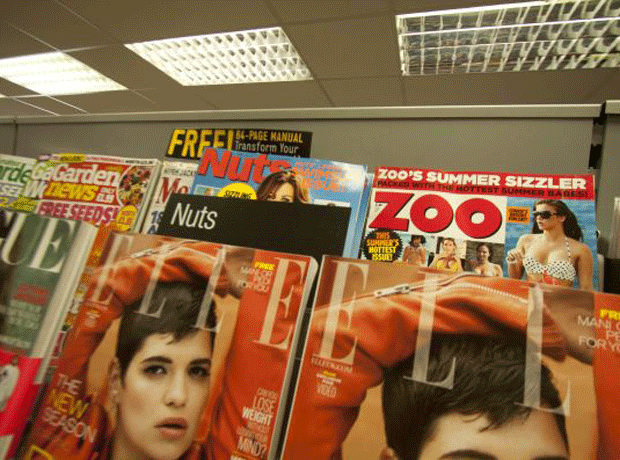 This week The Co-operative Group threatened to delist lads mags if their publishers failed to comply with its demands for the titles to come in modesty bags to hide the raunchy front cover images.

The move has been hailed as a great coup for campaign groups such as UK Feminista and Object, which have been particularly vocal on the issue in the last couple of months.

However, there has been a more circumspect response from the trade, with many rivals suggesting The Co-op is not going much further than the existing code of practice - and others going so far as to brand the threat a ploy to divert attention from its troubled banking division.

So will this, as campaigners hope, create a snowball effect through the rest of the sector - and even signal the end of the category as we know it?

Although it has emerged that Tesco has met with UK Feminista over this issue, retailers have not exactly been queuing up to follow the Co-op's lead in forcing lads mags into what is effectively plain packaging.

If they were, it could deal a killer blow to a category that has been is serious decline since 2005. The two market-leaders, nuts and Zoo, still have a combined circulation of 260,000, but overall sales of lads mags, or as the industry prefers to call them 'men's lifestyle' magazines, have fallen 22% this year, according to the latest ABC figures, while sales of some titles have slumped as much as 77% in the past eight years.

The Co-op, along with most of the retail sector, already adheres to the voluntary industry guidelines on display of pornographic material, which were set up in the mid-90s and updated in 2008 to include lads mags. The guidelines advise retailers where to place the magazines so they are as far away from the view of children as possible and recommend layering magazines to obscure the front cover, placing them above the eye level of children and displaying them away from children's magazines.
Code of practice
Lads mags should not be displayed adjacent to displays of children's titles and comics
They should not be displayed at children's eye level or below, or in the direct sight and reach of children
Front covers should be overlapped with other titles where space restraints prevent ensuring the mags are not in direct sight and reach of kids
Similar cares should be given to the display of any PoS
Retailers should consider the use of modesty boards when none of the above are practical
Modesty boards

Many retailers already go a step further and use modesty boards, which cover images on the front of magazines, revealing only the brand at the top. Sainsbury's claims it was the first to do so, in 2006, in response to customer concerns.

Morrisons introduced the measure in 2010 and says the move has been so effective that it has had no more than "one or two" complaints since.

But the Co-op doesn't think the voluntary measures go far enough, in part because it believes modesty boards are "not foolproof" as people pick up mags, flick through them, and then place them elsewhere.

As always, much will depend on the stance taken by the market leader. The outcome of Tesco's talks with campaigners is likely to have a wider impact than the Co-op move.

Tesco has been the focus of a number of social media campaigns designed to pressure it into action, with UK Feminista encouraging supporters on its Facebook page to write directly to chairman Sir Richard Broadbent calling for the magazines to be withdrawn. A shareholder also challenged Sir Richard on the issue at last month's agm and he admitted he had been "startled" by some of the content.

As it stands, however, more retailers are committed to keeping the status quo, claiming the current code goes far enough. "It's just a PR thing for the Co-op," said the boss of one leading independent convenience chain.

"It's been hit by all the stuff with the bank recently, so needs to do something to take the attention away from that. And it keeps saying it's done it because it's a community retailer, which is something its customers always like to hear. But for an indie, it's not that straightforward.

"Where do you draw the line? What do you cover up? It's all about common sense - putting them above head height and keeping them away from children's magazines. I don't think anyone else will follow."

Another industry source from the independent sector said the company would "wait and see" before taking any action.

The ACS welcomed the Co-op's decision as a "bespoke piece of guidance" that would help fuel the debate, but stopped short of recommending similar moves to its members.

"Retailers don't have any say, and nor should they, about the content of magazines - they are not censors," said public affairs director Shane Brennan. "What the Co-op is doing is asking publishers to help them. It will be interesting to hear from the publishers."

Publishers not consulted

The Rural Shops Alliance chief executive Ken Parsons also believes the ball remains in the publishers' court. "We feel it should be down to the publishers to take a lead on this issue and not leave decisions down to individual retailers," he argues.

IPC Media which publishes Nuts, has refused to give a steer on how it plans to respond to the Co-op's demands, but has expressed anger at being put in such a position.

"It is astonishing that the Co-op has issued this ultimatum through the media without consulting publishers - their key business partners," said a spokesman. "This is not how we prefer to do business."

Nevertheless, the ultimatum has been laid down and publishers have just over a month to comply. The move will also have energised campaigners looking for much more than a cover up - namely the removal of lads mags altogether. In short, retailers are likely to come under increasing pressure to follow the Co-op's lead, whether they think it's a lead or not.