From cheesy pizzas to chocolate desserts, vegan innovation has managed to prosper despite the pandemic. And this year, plant-based comfort food has proven a favourite.
1. Beyond the beef burger substitute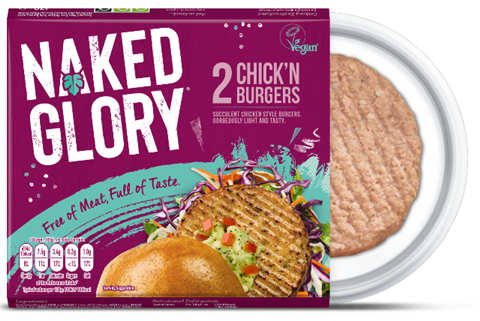 Finding a burger that could mimic the juicy taste of beef was once the holy grail of plant-based cuisine. Now that 'bleeding' burgers have become the norm – as championed by the likes of Beyond Meat, Impossible Foods and Moving Mountains, to name but a few – attentions have turned elsewhere.
The chicken burger is one emerging area of focus. In foodservice, KFC has for a limited time brought back its vegan chicken burger, which first made waves last Veganuary, before production was disrupted by Covid-19. And in retail, Kerry Foods is taking up the mantle with its Naked Glory Chick'n Burger (pictured). Designed to offer a "quick and easy lighter meal", Kerry is hoping the poultry-like patties will mimic the success of its Naked Glory vegan quarter pounders.
Meanwhile, others have avoided direct comparisons to meat, instead making a selling point of their plant-based ingredients. Meat snacking brand The Curators has made its category debut with burgers that boast a "super-high mushroom content" of 86%. And frozen plant-based brand The Vegilantes has unveiled a masala-spiced jackfruit burger, which is topped with a vegan paneer alternative.
2. Plant-based bacon
Bacon is often cited as a downfall for would-be veggies. So much so veggie brand Strong Roots brought out a bacon-scented 'patch' last year that sufferers could sniff to imagine they were eating the good stuff.
Now the retailers have jumped on an arguably more satisfying solution: plant-based bacon. M&S unveiled its Plant Kitchen No Pork Streaky Facon in December with a mouthwatering Instagram post (above) that promised it would "sizzle and crisp up just like real bacon".
And the product, made using pea protein, elicited a largely positive response. The Instagram post racked up over 2,000 likes and attracted plenty of interested shoppers (alongside some less positive comments about a resemblance to dog treats).
Meanwhile, Asda launched its own vegan bacon as part of its Veganuary push, which saw it unveil 22 products under a new own-label range. The Meat-Free Bacon Style Rashers mean "the days of missing fry-ups or bacon butties are long gone", according to Asda.
Of course, vegan bacon is nothing new in itself. Plenty of brands have already made the move, with products such as Vivera Veggie Bacon Pieces, Finnebrogue's Naked Without the Oink unsmoked rashers and This Isn't Bacon sitting on the shelves of Tesco.
But the retailer investment in own-label vegan bacon lines shows they clearly believe there is appetite for these products. And if they can achieve the ultimate aim – delivering a plant-based bacon sarnie that can satisfy even the strongest meaty cravings – it may well pay off.
3. Exotic ready meals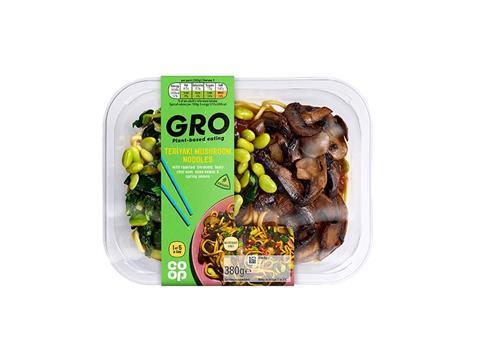 The coronavirus outbreak has resulted in a disappointing year for ready meals overall. As Brits spent more time cooking – and the five-minute dinner lost its appeal – sales of chilled ready meals fell 3.6% [Nielsen 52 w/e 5 September 2020].
However, the retailers still see plenty of opportunity for growth in plant-based ready meals. M&S Plant Kitchen meals, for example, were a standout performer in 2019. So for Veganuary, many own-label ranges include ready meals.
While there were plenty of Italian recipes, more exotic cuisines came to the fore this year, such as Asda's South Indian-style curry with butternut squash and sweet potato, or the Co-op's Gro Teryaki Mushroom Noodles (pictured). Aldi also pulled out all the stops with a Sri Lankan Style Butternut Squash & Chickpea Curry.
4. Spicy vegan chicken pieces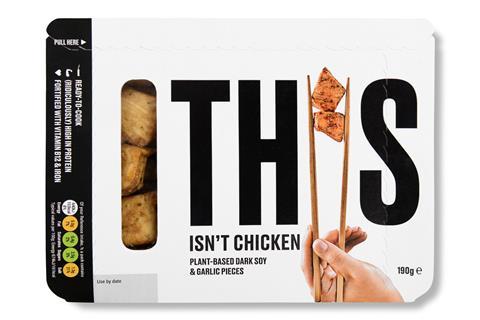 Having nailed the texture of chicken – in its taste tests, few could notice the difference – trendy vegan brand This is experimenting with flavour.
It took inspiration from the Far East with these soy and garlic-flavoured chicken pieces (pictured), launched in time for Veganuary.
This is in good company: spicy vegan chicken has featured prominently in the latest round of innovations.
In November, Squeaky Bean launched ready-to-eat hot & spicy chicken-style pieces into Tesco. This month, Quorn unveiled its Makes Amazing cooking ingredients range, which includes Peri Peri chicken-style strips.
M&S also launched peri peri pieces under its Plant Kitchen brand as part of its range extension. Hot stuff, indeed.
5. Cheesy and meaty pizzas… without the cheese or meat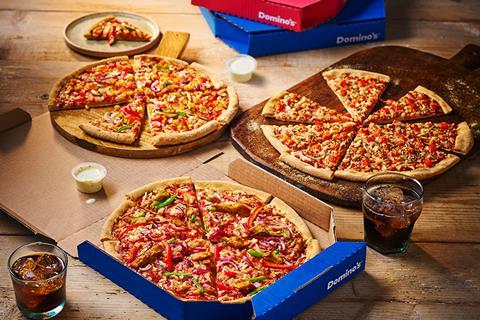 A doughy base, melting cheese and succulent chicken pieces. The latest recipe from Domino's Pizza doesn't exactly sound very vegan-friendly. But the Chick-Ain't (pictured above), made with vegan cheese and "plant-based strips", is the third vegan pizza in the Domino's range, launched alongside Vegan Nuggets in time for Veganuary.
This appetite for plant-based pizza is equally present in the supermarket aisles. And, like Domino's, retail brands seem determined to prove plant-based recipes can still be cheesy, meaty and indulgent.
See number one pizza brand Chicago Town, which launched a Vegan Deep Dish Cheeezeburger pizza – topped with vegan mince and "boatloads of the finest burger sauce" – this month. That sits alongside an equally indulgent-sounding Vegan Tomato Stuffed Crust Takeaway Smokey Bac'n and Mushroom.
Meanwhile, smaller brand White Rabbit ventured into what it described as vegan "meaty" pizzas in December with the launch of its Vegan Arrabbiata. Topped with spicy chicken-style pieces and vegan 'mozzarisella', it was billed as "delicious authentic pizza".
Finally, artisanal pizza brand One Planet unveiled a vegan Hawaiian pizza in Whole Foods Market this month, topped with a plant-based ham alternative. Looks like for once, the pineapple won't be the most hotly debated topping.
6. Battle of the vegan mayos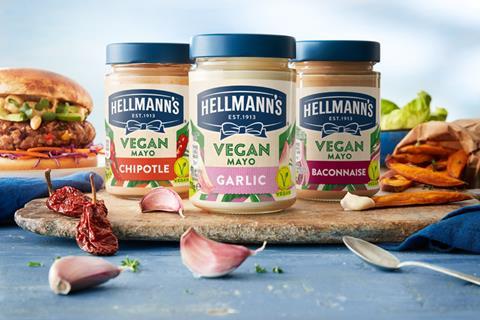 Hellmann's won the first round of the vegan sauce war with the launch of its vegan mayo in 2018. At the time, the plant-based recipe was pretty ground-breaking. Since then, the competition has stepped up a notch.
This Veganuary, Heinz took the war to Hellmann's with the launch of a trio of Seriously Good Vegan Mayos in classic, chilli and aioli variants, all of which promised "the same great taste of Heinz".
Not to be outdone, Hellmann's similarly upped its game with three new vegan mayos in bacon, chipotle and garlic flavours that pledge to "deliver on both taste and texture".
It's not just the big brands at it, either. The Vurger Co also launched a Smoky 'Bacon' Vegan Mayo into Whole Foods Market this month.
Read more:
7. Trendy plant-based breakfast options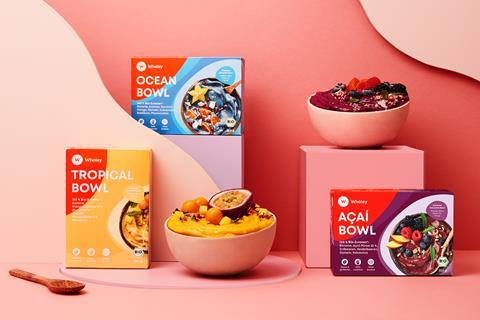 In the wake of another national lockdown, breakfast will be an at-home event for the foreseeable. Which makes it an opportune time to launch some on-trend plant breakfast options.
Getting in on the Instagram appetite for smoothie bowls is German start-up Wholey, which unveiled its own plant-based range (pictured). Available in Ocean, Açaí, Tropical and Dragon Fruit flavours, the frozen products are ready in seconds just by adding a splash of water.
Asda has also got more adventurous in its vegan breakfast options. As the lockdown looks set to revive appetite for baking, it has unveiled a "quick and easy to prepare" Berry and Coconut Breakfast Muffin Mix that promises to "make breakfast time more exciting". And that's something we're all craving right now.
8. Adventurous food to go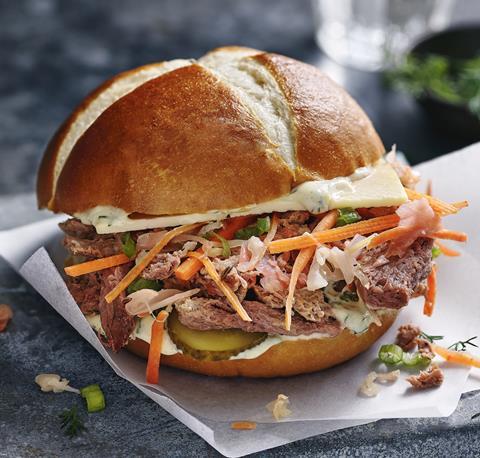 The concept of food to go feels, well, a little 2019 right now. Last year, the market lost a staggering £8.4bn [Kantar 52 w/e 4 October 2020] as Brits hunkered down at home and the on-the-go occasion upped and went.
But the retailers are optimistic about our chances of getting out and about again in 2021, if their Veganuary ranges are anything to go by. This year, many have set out their stall with some indulgent and eye-catching food-to-go options.
M&S, for one, has brought out a New York Pretzel Roll with No Salt Beef under its Plant Kitchen brand (pictured above). The vegan "salt beef" is made with marinated wheat and vegetable protein and is topped with sauerkraut, carrot and spring onion slaw, pickled dill cucumber, mustard dressing and coconut-based cheese – all inside a pretzel roll.
Meanwhile, Asda has upped its food-to-go game with a vegan take on the Shredded Duck Wrap in its existing range. The Hoisin Duckless Wrap uses flame-grilled soy protein to replicate the taste of the Asian classic.
Boots has gone down a similar route with a new No Duck & Hoisin wrap, which has launched alongside three other vegan options: No Tuna & Sweetcorn, No Cheese & Onion and No Chicken Salad.
Finally, Aldi has gone big with a range of vegan Power Bowls that promise to deliver a punchy taste. The veggie-rich bowls come in three flavours: Katsu Cauliflower, Moroccan Tagine and Mediterranean. The latter is made up of vegan meatballs, roasted vegetables, sunblushed tomatoes and a helping of spinach.
9. Indulgent desserts without the dairy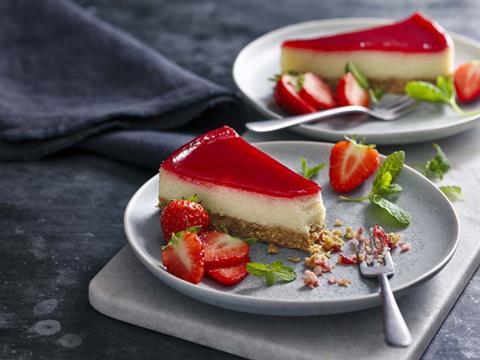 Think you need milk, cream and eggs for any chance of an indulgent dessert? Think again. This Veganuary, a host of new products have launched that promise all the taste with none of the dairy.
A prime example is the M&S Plant Kitchen Vegan Strawberry Cheesecake Wedge (pictured), made with an oat base and lentil protein topping that has the "luxurious texture" of cream cheese.
That level of indulgence is closely rivalled by Aldi's Plant Menu Melt in the Middle Puddings in Belgian chocolate and caramel flavours, both of which have a sticky toffee centre.
Finally, new vegan brand Fancy Plants has brought out a dessert range that includes such rich-sounding recipes as a Chocolate Salted Caramel Silky Pot.
Suddenly, going vegan feels a whole lot less virtuous.
10. Roasting joints, vegan-style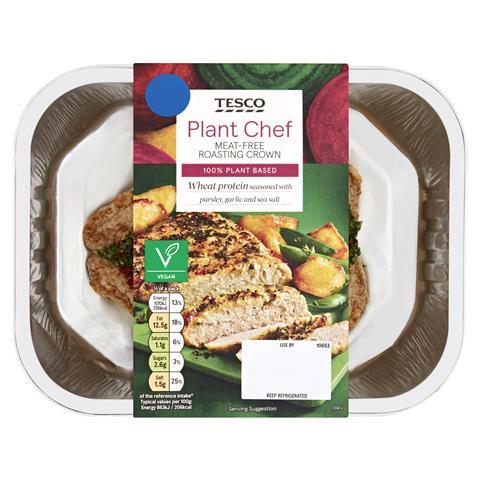 A vegan roasting joint isn't just for Christmas. At least not at Tesco, which is looking to replicate the success of its festive vegan lines – which included a Wicked Kitchen Wellington and No-Turkey Roast Crown – in Veganuary.
This year, it has brought out two "plant-based roast classics" to ensure vegans don't miss out on a traditional Sunday lunch.
Its Plant Chef Meat-Free Roasting Crown (pictured) is designed as an alternative to a roast chicken. The centrepiece is made with wheat protein and topped with garlic and parsley oil, sea salt and peppercorns.
Meanwhile, its Plant Chef Meat-Free Soya Roast, created as a swap for roast beef, is seasoned with black pepper and rosemary.
Roast chicken is also on the menu at Asda, but in a different form: roast vegan chicken pieces. The retailer promises they will "hit the spot" in a stir-fry or a curry.
11. Vegan cheese worthy of a cheese board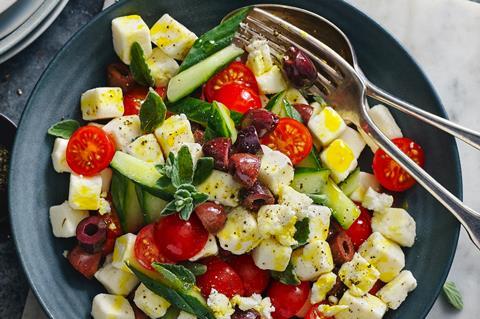 If there's one thing vegan cuisine struggles to replicate, it's cheese. In fact, Brits named cheese as the thing they most would struggle to live without if they went vegan, in a survey for Veganuary commissioned by Elmlea Plant.
M&S is targeting that demographic with new dairy-free cheese products, made using coconut oil. These include a cheddar alternative that promises to taste and melt like real cheddar, and a market first: a vegan alternative to feta cheese (pictured).
Other retailers have got in on the act by listing vegan cheese brands. Sainsbury's has opted for a bit of spice with the addition of Norseland Mexicana Vegan Slices, containing bell and jalapeño peppers, to its shelves.
And Whole Foods Market has listed a vegan cheese sauce from Willicroft – This Is Not Cheese Sauce – to be used in pasta dishes and as a dip.
12. Savoury pastries beyond the plant-based sausage roll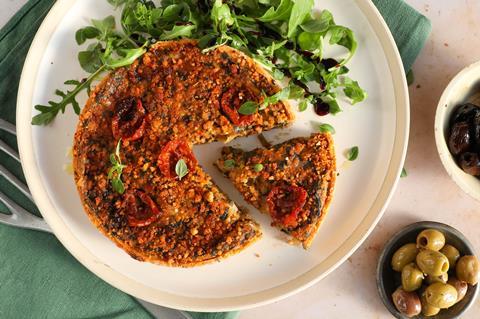 Last year, the vegan sausage roll was king. Following the sell-out Greggs version, plenty of plant-based replicas made their way onto retail shelves, from big names such as Ginsters and Quorn.
This year, there are still plenty of new sausage rolls to be found, such as Asda's Plant Based soya versions, and the Sainsbury's No Pork Sausage Rolls. Greggs has also rolled out its famed Vegan Sausage Rolls into Iceland's freezers for the first time, alongside its Vegan Steak Bakes. (The latter has competition from Asda, which has also launched a Steakless Bake.)
But savoury pastries and pies have also moved beyond Greggs replicas. The Co-op has unveiled Vegan Pies under its Gro brand, filled with onion, potato and soya protein.
On the branded side, Higgidy has launched its first vegan quiches. The two SKUs – including a sharing-sized Spinach & Roasted Tomato Quiche (pictured above) and an individual-sized Porcini Mushroom & Spinach Quiche – are made with "no cream, no milk and no eggs in sight".
The vogue for vegan pastries has also prompted some interesting tie-ups between suppliers and foodservice brands. Yorkshire bakery chain Cooplands has unveiled a Cheeze & Vegetable Bake using Violife's cheddar alternative, for example. And Southern bakery business Coughlans is selling a bacon turnover using This Isn't Bacon.
13. Sweet treats from the bakery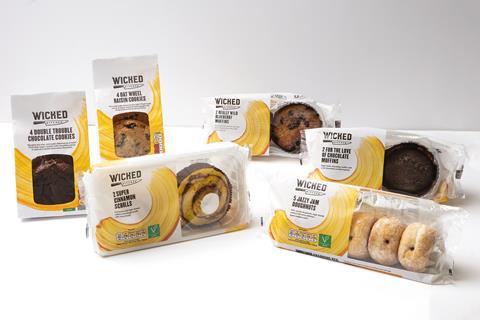 "Decadent plant-based treats" are the focus of Tesco's Wicked Kitchen range this Veganuary. It has launched no less than six vegan bakery products (pictured) that promise to satisfy even the sweetest tooth.
From Jazzy Jam Doughnuts filled with apple and raspberry jam to For the Love of Chocolate Muffins with a "rich chocolatey crumble topping", the range has everything covered. There's even a Danish pastry fix in the form of Super Cinnamon Scrolls.
Tesco isn't the only one going down the saccharine route. Krispy Kreme has launched its first plant-based product into the UK – the Original Glazed Vegan doughnut – with the promise it is "equally as delicious as the original".
The bakery chains are upping their sweet selections too. Bird's Bakery has brought out a vegan doughnut, while Cooplands has come up with what it claims is the first vegan cream cake on UK high streets.

Emma Weinbren is managing editor at The Grocer. As second-in-command to the editor, Emma is responsible for the day-to-day running of The Grocer in print and leads The Grocer's features desk.

Emma won the PPA New Talent Award for New Section Editor of the Year in 2016. Prior to joining The Grocer in 2016, Emma was deputy and features editor at Chemist+Druggist, a weekly magazine and website for UK pharmacists.

Follow Emma on Twitter: @EmmaWeinbren