Brunch is a more complex, time-consuming affair than your standard brekkie. And consumers are branching out beyond bacon and eggs.
These insights form part of our breakfast and brunch category report, which includes expert commentary and the full, downloadable Kantar data.  
1. Brunch represents 14.1% of all at-home breakfast occasions
Brits are brunching at home more often. Brunch, defined by Kantar as an occasion after 10am, accounted for more than 14% of all weekend breakfast occasions in the year ending 24 March 2019. That has steadily increased over the past two years.
2. The average weekend brunch is more complex
Brunch is a more complex affair than your standard brekkie. On average, it will at least one extra item than more than a weekday breakfast. This complexity means consumers will generally spend longer on preparation, according to Kantar.
3. Shoppers fork out more for an experience
The more indulgent nature of brunches means consumers are more willing to splash the cash. Kantar figures show consumers will fork out significantly more than they do for the average weekday breakfast.
And according to a Streetbees poll conducted exclusively for The Grocer, certain consumers will spend as much as much as £10 on their brunch at home.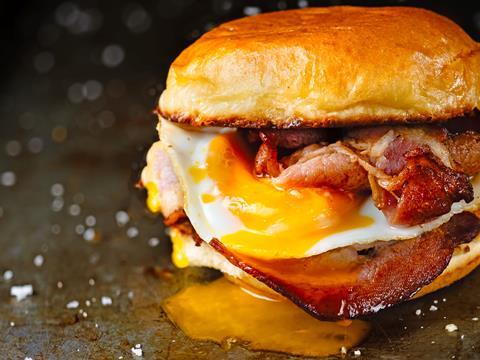 4. Bacon and eggs lost brunch occasions
When you think of brunch, bacon and eggs are among the first things that come to mind. And they remain a staple feature of the occasion, together making their way onto nearly 350 million plates in the past year.
However, they are declining. This coincides with brunchers branching out to consume a more diverse range of dishes, as exotic brunches gain popularity in the out-of-home arena.
5. 'Time together' motivates brunch occasions
'Fuel' is the main motivation behind the home brunch. But the important takeaway is how many brunches are enjoyed as 'together time'. That was a motivation behind far more brunches than weekday breakfasts, showing the at-home brunch is a pretty social affair.