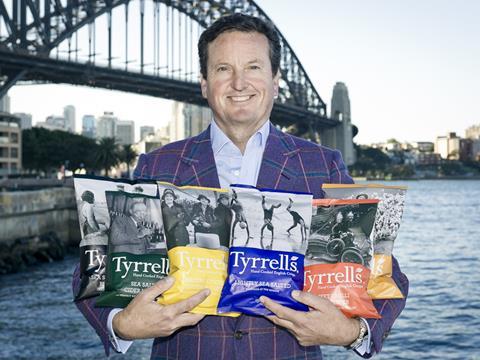 Tyrrells has sealed its biggest ever export deal with Australian supermarket chain Coles.
In its first venture in Australia, Tyrrells will go on sale in all 700 Coles stores.
Tyrrells CEO David Milner said the potential was huge because the Australians eat a similar amount of crisps to Brits and there was a large expat community in the country that already knows the brand.
He said there was also a limited number of premium rivals.
"We will be the only hand-cooked crisp on the market which is a lovely position to be in," said Milner.
Six flavours will go on sale in Coles including lightly sea salted, sea salt and cider vinegar, and sweet chilli and red pepper. Tyrrells sharing bags will retail for AUS $4.19 (£2.30) a 150g pack.
Overseas markets now account for about 25% of Tyrrells' turnover. The company's crisps are sold in more than 30 countries, with France being its biggest foreign market.
Milner said France continued to grow by double digits, while Italy – where Tyrrells is sold in one of the country's biggest supermarket chains, Esselunga – was its fastest growing overseas market.
"Since joining the company four years ago, our aim has been to bring a little piece of Englishness to every corner of the globe – Aussies being no exception," said Milner. "British products continue to be popular and we're delighted that the appeal of our brand transcends continents."