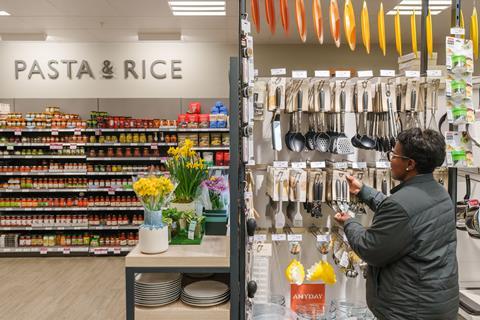 The John Lewis Partnership is expecting "more persistent and permanent" inflation as a result of Russia's invasion of Ukraine, chairwoman Sharon White said.
White said the group now anticipated inflation to rise "at a higher level than when we all gathered for the half-year results" as the crisis in eastern Europe added strain to the already mounting costs of living in the UK.
"Clearly with the situation in Ukraine, a human tragedy above all else, and although it doesn't directly affect the business in terms of the number of products that we supply, clearly it is building in more inflation in a more permanent and more systemic fashion."
Last week, JLP removed all Russian-made products from its stores, which included one Russian vodka line in Waitrose and one line of pizza oven pellets in John Lewis. It also raised over £1m for the British Red Cross in the span of a week, White said.
The JLP chief added the business was focused on "everyday greater value and affordability" for its customers as well as running operations "more efficiently" in the wake of the inflationary pressures.
Waitrose executive director James Bailey said maintaining a "strong relationship" with its supply base played a vital role in mitigating cost increases.
"If you ask anyone in the food supply business at the moment there's a real strong headwind on those costs, and the current situation in Ukraine is likely to make that worse in the short to medium term," he said. "Working with the supply base, not against them, is really important."
Bailey added the grocer was investing "a lot of time and effort in personalised offers for our customers" through the new myWaitrose loyalty scheme, which launched last month.
"We're trying to be very careful about the products we have to increase in price, and we're trying to reinvest heavily in myWaitrose to try and make sure the customers that are loyal to Waitrose can enjoy our products on a weekly and monthly basis – this way we present them with great value to offset some of those price increases."
Read more:
Bailey added the supermarket was also looking into "other ways of emphasising the fantastic quality and value in our essentials range" – although he emphasised there was "no way that some of this inflation doesn't find its way through" to shoppers.
"But I think by working all parts of the system carefully we can protect our customers as much as possible from that cost of living increase."
John Lewis executive director Pippa Wicks added: "Our costs are increasing through raw materials and so on, and we are passing on some small price increases, but we've also made some decisions in certain areas not to pass those on to our customers in order to maintain the right quality and value balance."
The Partnership executive team's remarks came after it announced a bump in profits in its full-year results driven by a strong rebound in sales for both John Lewis and Waitrose.
Waitrose sales were up 1% like for like on last year at £7.5bn, although trading profit fell 11% to £1bn as margins were diluted by inflationary pressures within supply chains, higher levels of staff absence due to Covid and higher fulfilment costs as a result of the increased levels of online trade.
The company also confirmed it was bringing back its popular staff bonus, which had been previously put on hold until group performance improved. The JLP paid its 10,000 staff a total bonus of £46m – the equivalent of 1.5 weeks' pay each.
It also raised pay for all staff by 2% in accordance with the Real Living Wage to support partners as living expenses increase.