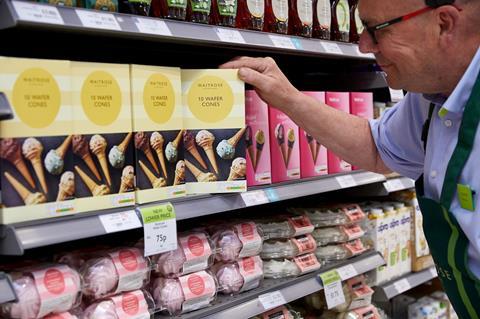 Waitrose is asking suppliers to add "deflation proposals" to joint business plans as it seeks to rebuild its margins in line with anticipated falls in the rate of food inflation.
In September, the supermarket met with representatives from much of its supply chain to discuss joint business plans for the 2024 financial year. During the meeting, suppliers were told the supermarket was anticipating deflation, following what has been a prolonged period of inflation.
Following on from the conference, last week Waitrose buyers circulated an email to suppliers which included a request for businesses to identify any areas of their supply chain where costs have fallen and therefore could facilitate a price decrease.
"As you will know from the supplier newsletter and conference information, we are starting to see some cost inputs fall and we will be reviewing these over the coming weeks and months," said the email, which was seen by The Grocer.
"We have in good faith supported you with cost increases and now our ask is that you engage with us where we are starting to see cost decreases," the email added, before inviting suppliers to submit "deflation proposals" into a template.
It signals what is likely to become a recurring theme of conversations between grocers and their supply base over the coming months, as supermarkets attempt to use slowdowns in the rate of inflation to recover margins that have been increasingly squeezed during the cost of living crisis.
Waitrose's request echoes a similar message relayed by Tesco in July, during which the supermarket told suppliers it expected them to drop prices, as part of a sweeping range review aimed at moving from "inflation to deflation".
A Waitrose spokesman confirmed to The Grocer that the supermarket had contacted suppliers about lowering costs.
"Market data shows that, following recent inflation, some elements of cost price have started to subside," he said. "We've asked suppliers to let us know where they're seeing costs fall to make sure we remain competitive."
The rate of food inflation decreased for the sixth consecutive month in October, according to the latest figures released by the British Retail Consortium and NIQ this week, falling to 8.8%, down from 9.9% in September.
However, many suppliers continue to face heightened energy and raw ingredients costs following Covid-19 and the war in Ukraine.
Operating margins across the UK's biggest 150 food and drink suppliers fell from 6.2% to 3.9% on average last year, according to a new report published by The Grocer this week. It marks an all time low in the 40 years that OC&C has been compiling the data for The Grocer.
There are also concerns that the cost of food production could further increase following the escalation of the conflict in the Middle East.
Waitrose has had less room to move on price
One supplier source with listings across most of the major mults said that while it was to be expected for supermarkets to look to cut prices as inflation slows, it was unusual to include deflation in a JBP investment template, and for deflation to feature so early in terms negotiations.
"How much pressure will be applied to suppliers to bring pricing down – we'll have to wait and see," the source said, adding that Waitrose had generally been accommodating of any CPI requests during the cost of living crisis.
Waitrose has struggled to decrease prices at the rate of its competitors due, in part, to its more premium offer and higher costs across its supply chain.
Executives have tried to counter some inflation through a £100m investment in lowering prices, which saw three separate tranches of price cuts. They've also been working to increase the number of offers, particularly meal deals and dine in options, while at the same time increasing the emphasis on the quality of its produce, and supply chain within its marketing.
While the price cuts have helped boost sales of the products included, it hasn't resulted in customers spending more in stores.
According to Waitrose's latest results, published in September, sales grew 4% to £3.7bn during the first half of 2023. However, the rise was driven by an average increase of 9% in the price of its products. Sales volumes were down 5% compared with the same period the previous year.