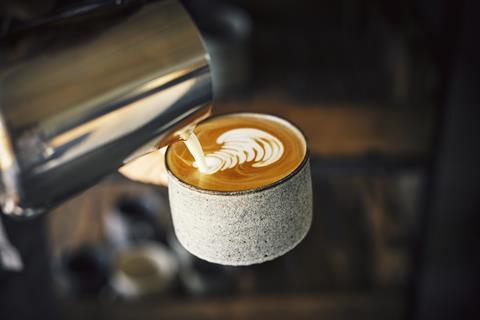 Waitrose is running a trial reopening of its cafés in a handful of stores from today (8 July) in the wake of an easing of coronavirus lockdown measures.
The cafés in Portishead and Bracknell will reopen as takeaway only and those in Swindon, Guernsey and Jersey will allow customers to sit inside.
The supermarket's farm shop café on the Leckford Estate will also reopen its seating area, having offered takeaway for a few weeks.
Customers at the newly reopened cafés, which closed in March as the country went into lockdown, will face new social distancing measures, including markings on the ground to maintain a two-metre gap in the queue and Perspex protective screens across the counter.
Staff have also been instructed to observe strict hygiene protocols, with increased wiping down of surfaces and handwashing. In addition, foot-operated hand sanitising stations have been installed at the entrances of the cafés for customer use.
Waitrose said by opening a handful of cafés it could test and learn best practice before a wider rollout across the estate.
Self-service coffee machines at the supermarkets remain out of operation, but Waitrose said it planned to reopen them when it was safe to do so under social distancing guidance from the government.
"We're looking forward to welcoming guests back to the cafés reopening as part of this trial," a Waitrose spokesman said.
"This initial period will give us time to test and learn how our cafés function with new social distancing measures in place to ensure they are as safe as possible both for our partners and guests. We're optimistic about reopening further cafés across our estate soon."
The move follows the reopening of more than 300 cafés in Morrisons stores last week and 118 dine-in cafés at M&S, with a further 64 open for takeaway hot drinks.
A Sainsbury's spokeswoman said: "We are reviewing how and when to reopen this service, while keeping the safety of our customers and colleagues our highest priority. We will keep everyone updated on our plans."
Tesco is taking a phased approach to reopening its cafés, with more than a third providing a takeaway service for the short term.