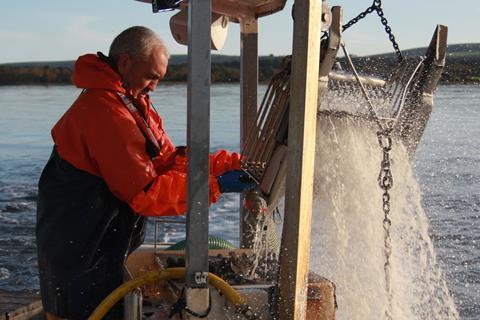 Waitrose is claiming a UK supermarket first after it announced it would start selling British-caught MSC-certified clams and cockles originally destined for upmarket restaurants.
The move to sell the shellfish at 150 of its stores will provide a lifeline for specialist supplier the Dorset Shellfish Company. It works with some of the top restaurants in the UK, but had seen trade dwindle following the coronavirus-led collapse in demand from the foodservice and hospitality sectors.
Sold through Waitrose's fish counters, the clams went on sale this week, while the cockles are due to go on sale later this summer. Waitrose said the move continued its responsible sourcing strategy to sell the widest range of British and MSC-certified seafood of any supermarket.
The Dorset Shellfish Company has never supplied produce directly to supermarkets, but has been forced to explore new avenues of revenue since the start of lockdown in March.
Tommy Russell, a Dorset fisherman and chairman of the Poole and District Fishermen's Association, said the support from Waitrose had proven an important lifeline.
"With MSC certification, we can proudly say both our clams and cockles are sustainable and we're helping to protect our seas' fish stocks for future generations," he said.
"The quality is so high that we typically supply the restaurant trade but with the foodservice industry closed down until now, Waitrose has shown their support and it's become an important lifeline during these difficult times," he added.
"Only a handful of small boats are seasonally allowed to catch clams and cockles [in Poole Harbour], supporting a sustainable stock," said local restaurateur Mitch Tonks. "The experience of eating them is incredible, the juices are salty and sweet, and the texture is wonderfully firm."
By stocking the Poole Harbour shellfish in its stores, Waitrose had made the seafood "widely available to hungry UK seafood consumers for the first time," said MSC senior commercial manager for the UK & Ireland George Clark.
Fresh Dorset clams are available on Waitrose counters at 150 stores now, priced at £12 per kg, with a promotion of 20% off.