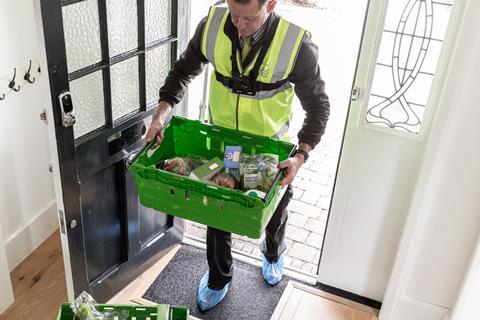 Waitrose plans to build three new state-of-the-art automated warehouses to turn its online operation into a £1bn business – with the help of Ocado co-founder Jonathan Faiman.
The announcement, which comes after Ocado formed a joint venture with M&S, will see three Waitrose customer fulfilments centres built in a deal with Today Development Partners, a new automation and artificial intelligence business headed up by Faiman to "step change" its capabilities.
Faiman was Ocado's COO but quit in 2009 following its IPO. He was appointed chairman of oil business Neos in 2015 but in 2018 co-founded TDP with Mo Gawdat, the former chief business officer of Google X, the internet giant's innovation arm.
Faiman said: "I am more excited about this new venture than anything I've done in my career. I am delighted and privileged to be back within the John Lewis Partnership family and we will deliver for Waitrose.com customers the world's best digital home delivery service."
The news follows Ocado's decision in March to sell half its UK retail business to M&S. As a result of which the Waitrose own-label range will no longer be sold on Ocado's website from September 2020.
As well as picking in stores, Waitrose currently fulfils online orders using its Coulsdon CFC and has already announced plans for a second CFC in North London.
The new deal with TDP is for a further three CFCs, and heralded a step-change in its development of automation that would triple its delivery capacity, said Waitrose MD Rob Collins.
"Waitrose.com is a popular and efficient home delivery service that is already growing strongly ahead of the market," he said.
"The plans announced today represent a clear commitment to achieve rapid step-change in Waitrose.com's capacity and capability as we build a modern, well-invested digital business that is fit for the future.
"The development of our new customer fulfilment centres will triple our delivery capacity, bringing our well-loved service and delicious food to more customers across the UK and setting Waitrose.com on the path to becoming a £1 billion turnover business."
Mo Gawdat said: "What we're aiming to build is the kind of platform that touches everyone's life. With the advancement in technology and with Waitrose.com as our partner we aim to make the experience of using this technology a great experience for the customer."
Waitrose has appointed Ben Stimson, currently retail director, to the new role of digital director with immediate effect to lead its online growth plans and manage the relationship with TDP.
Ocado currently has three CFCs, including its flagship highly automated 563,000 sq ft Erith facility. The business has sold its online fulfilment technology to retail partners across the world including Kroger in the US, Sobeys in Canada and Casino in France.