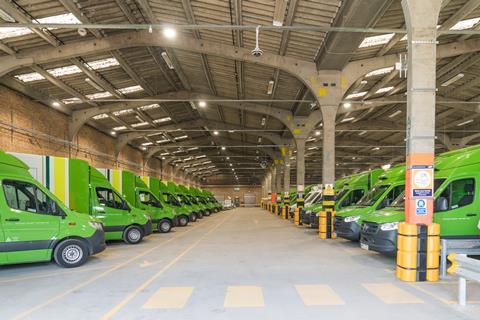 Waitrose has opened its third fulfilment centre today (4 March) to expand its online business across London.
The site in Greenford, west London will deliver 25,000 Waitrose.com orders every week by the time it is fully operational later this year. This will generate five times more online slots each week across the capital in comparison to before the Covid-19 outbreak.
Waitrose already runs customer fulfilment centres in Coulsdon, South London and Enfield, North London.
The upmarket grocer said e-commerce makes up 20% of its business currently, compared to just 6% a year ago.
The fulfilment centre has also helped create 800 new jobs including drivers and pickers. Staff will pick around 1.25 million products each week for customers.
The new site is being operated with third-party logistics provider Wincanton, which has worked with Waitrose for over 20 years. Wincanton will employ drivers to transport deliveries to cutomers in 150 new Waitrose-branded vans.
Wincanton drivers have undergone the same customer experience training as Waitrose's own drivers, and will wear Waitrose uniforms.
Food redistribution charity FareShare will be a partner of the centre too, meaning surplus food can be donated directly to vulnerable people.
"Despite the huge growth [of Waitrose.com] we know there are still more people who would like to shop online with us – so this new centre is a significant step in our future plans," said Laura Burbedge, director of Waitrose.com
Wincanton's MD of efulfillment Paul Durkin told The Grocer this was the first time a supermarket had engaged a third party to handle the online delivery process from goods in, to customer doorsteps.
"Particularly in grocery, dark stores and similar have been seen as very much part of the core service and offering. But that's changing. In this case clearly Wincanton had a facility which was perfectly located. We were able to move at speed. And most importantly we were able to satisfy Waitrose that we had the experience of managing the end customer delivery," he said. "The project took around six months to complete – from the gutting of the existing warehouse, to installation of frozen, chilled and ambient sections, and refining the process."
Through delivering homewares on behalf of M&S and others "we understand what a great customer experience looks like", Durkin added.
Wincanton also expects further similar partnerships in grocery, as supermarkets ramp up their e-commerce operations. "That end-to-end piece is a first and hopefully won't be the last. We'd like that to be an area of growth for sure," Durkin said.